History Pulls the Plug on Navy SEAL Drama 'Six' After 2 Seasons
History has pulled the plug on Six, their Navy SEAL drama, after two seasons. The show is currently airing its second season with four of 10 episodes still on the schedule, which will air as planned. Deadline is reporting that the timing of the cancellation coincides with having to renew cast contracts. The show started off as a hit for the network when it debuted in 2017 and earned a renewal before the first season finished airing. But ratings on the second season have been below 50% of season 1 in Live+same day data.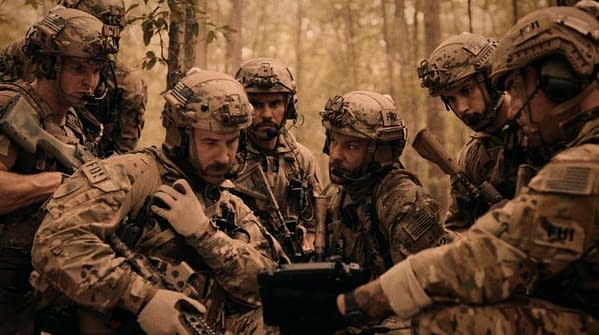 The series, which came from A+E Studios, followed the now-famous SEAL Team Six as they set out on a mission to eliminate the terrorist network responsible for shooting their former team leader Richard "Rip" Taggart (Walton Goggins). Season 2 introduced CIA officer Gina Cline (Olivia Munn), who worked with the team now led by Joe "Bear" Graves (Barry Sloane) as they head into Eastern Europe, infiltrating hostile territory like Chechnya in an attempt to find the jihadist network. Their search takes them dangerously close to the Russian border and could lead to World War III. The series stars Kyle Schmid, Juan Pablo Raba, Edwin Hodge, Jaylen Moore, Brianne Davis, Nadine Velazquez, Eric Ladin, and Nikolai Nikolaeff.
Six was created and written by William Broyles and military special operations veteran David Broyles. This leaves History's scripted series being Vikings, Knightfall, and the upcoming Blue Book from Robert Zemeckis.