Hit-Monkey Season 2 Return Gives Hope to Every Other Show Out There
In what feels like a very surprising move, Hulu confirmed that the adult-animated series Hit-Monkey will be returning for a second season.
---
Well, we didn't see this news coming. About eight months after most folks wrote off the adult animated series as being "dead show walking," turns out the joke's on us because Josh Gordon & Will Speck's Jason Sudeikis-starring Hit-Monkey will be returning for a second season. The series focuses on a Japanese snow monkey whose clan meets Bryce (Sudeikis), a stranded hitman, and nurses him back to health. But after Bryce passes, it's up to the simian (guided by Bryce's ghost) to follow in Bryce's "assassin footsteps" to seek vengeance and become the "killer of killers." Considering the shows that didn't make the cut (more on that below), we have to admit that we're still a bit… dumbfounded? But, hey, there's a teaser for the good news…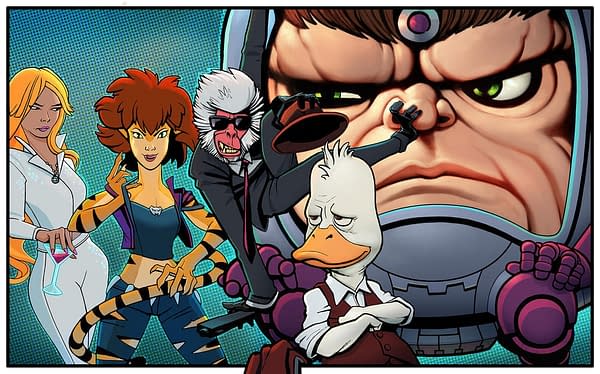 Here's a look at the teaser announcement that we had to look at twice (and double-check the validity of who posted it) to make sure that it was actually telling us that Hulu's Hit-Monkey would be back for a second season. Seriously. See for yourselves…
In December 2020, an important milestone happened in the world of Marvel Studios. That was when Hulu's Tom Austen and Sydney Lemmon-starring Helstrom was canceled after one season. Now while shows get canceled all of the time, this one was special because it also marked the final live-action project that ex-Marvel Television head Jeph Loeb would have under the new, comprehensive (and Kevin Feige-led) Marvel Studios banner. Marvel's Ghost Rider? Gone. Hulu's Marvel's Runaways? Done in three. Freeform's Marvel's Cloak and Dagger? Gone in two. ABC's Marvel's Agents of S.H.I.E.L.D.? Also done. And animated series Howard the Duck, Tigra & Dazzler Show, and The Offenders were canned before they ever hit the serious production stage.
The list grew in May 2022 with the news that Jordan Blum and Patton Oswalt's Marvel's M.O.D.O.K. would also not be returning for a second season, despite strong viewer and critical responses. And even in terms of Hit-Monkey returning, the series will head into Season 2 without "Marvel" in its name. Some say all of this was in response to how the power play within Marvel went down between now-Marvel Studio head Kevin Feige and then-Marvel Television head Jeph Loeb before Feige would finally claim the crown and go "scorched earth" on anything that had Loeb's name attached to it. Others see what we listed above as an organic ending of those projects that just so happen to go down at the same time some boardroom drama was in play.