Holey Moley II Preview: Rubber Duckies, Twins & A Final Hole at Uranus
Welcome back our weekly preview of NBA superstar, mini-golf course pro, and executive producer Stephen Curry and ABC's mini-golf competition series Holey Moley. We had a couple of "witty ways" we were going to go with this one, but to be perfectly honest? How do you one-up a week that includes large rubber ducks, a beatboxer, twins, golfers on opposite ends of their careers, and cymbal abuse that could possibly lead to permanent hearing damage? Did we mention that the finalists will square off on the brand new hole, "Uranus"? Yup, we're already running the innuendo through our brains as we write this. This week's round brings back commentators Rob Riggle and Joe Tessitore, as well as sideline correspondent Jeannie Mai, to host this week's eight contestants: Saeed from San Diego, CA; Dean from Belleville, IL; Mei from Salt Lake City, Utah; Niko from Diamond Bar, CA; Skyler from Chicago, IL; Spencer from Chicago, IL; Hannah from Miami, FL; and Kendra from San Diego, CA.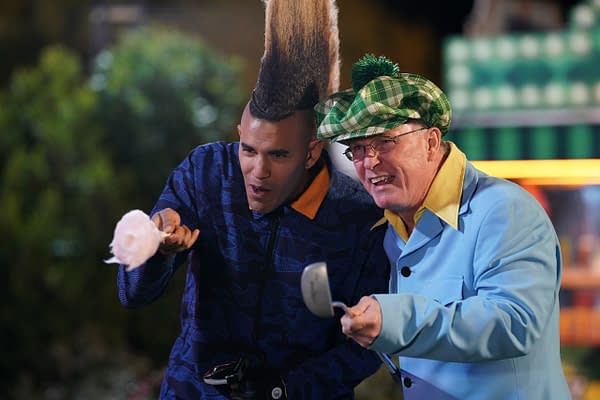 Out of those eight contestants, one will emerge victorious, earning them the iconic Holey Moley plaid jacket and golden putter from Curry himself. For the all-star grand finale, the season's winners will return to compete for the $250,000 prize. Now here a look at preview images for this week's episode "I Think We Just Made History on Uranus," followed by a look back to last week when competitor Desiree encountered some serious problems crossing the giant hot dogs of "Buns & Wieners"… only to rise from the flames like a phoenix! Actually, she climbed up the ladder but hey? It's all about the metaphor: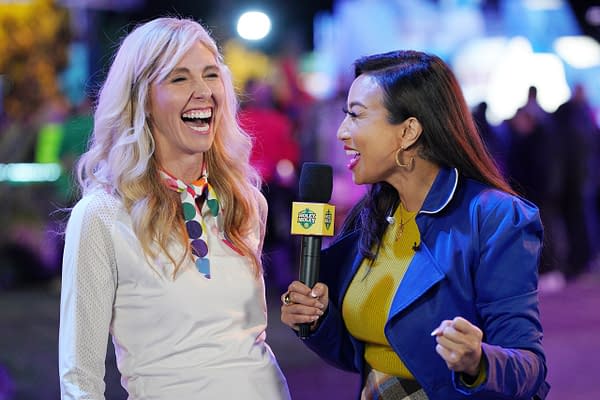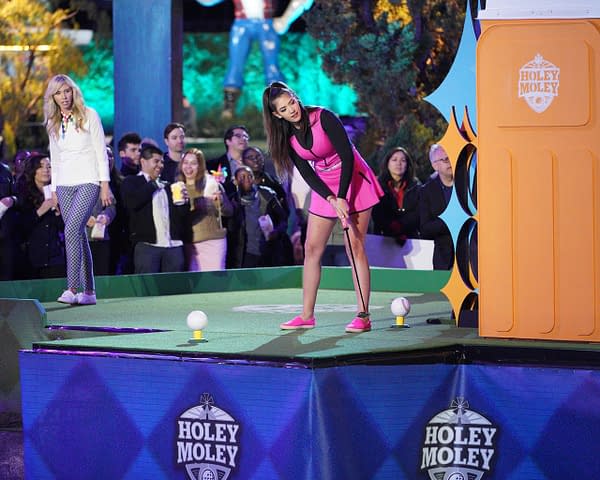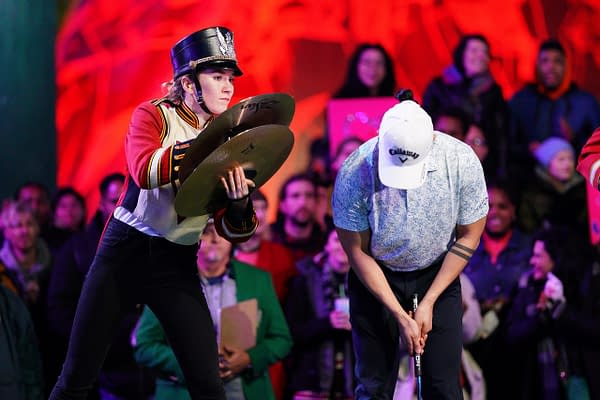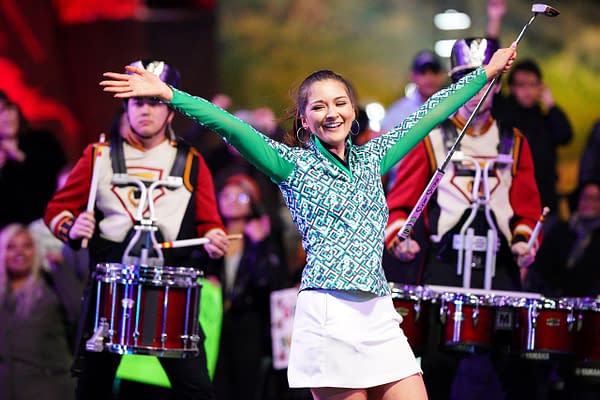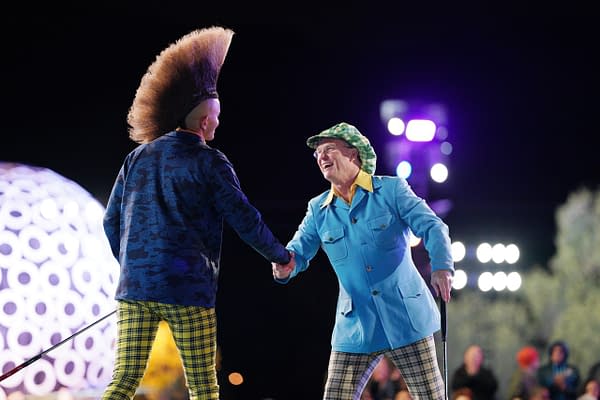 Holey Moley II: The Sequel season 2, episode 4 "I Think We Just Made History on Uranus" – On this week's adventures at the "Holey Moley" course, a bartender and government official face off against not only each other but also two massive rubber ducks on Putter Ducky, while an Instagram influencer and beatboxer take on the second Distractor of the season. Across the course, twin brothers dubbed "the twin tornadoes" find themselves trying to avoid a big slip on Water Hazard; and later, an aspiring pro golfer and a former pro golfer take the two-second run of their lives on Hole Number Two. When all is said and done, this week's finalists will go head-to-head on the second season's brand-new hole, "Uranus," where they'll have to literally cross the galaxy to earn a spot in the grand finale and the chance to putt for $250K.
Some new holes returning viewers can expect this season include Dragons Breath, Polcano, Beaver Creek, Putt The Plank, Double Dutch Courage, Hole Number Two, and the ominous-sounding Frankenputt. Epic putts and memorable wipeouts will be the order of the day each week, including one contestant who tries her hardest to literally jump the shark (you'll just have to see how that turns out), as well as the return of the fan-favorite "windmill wipeouts" and two zip-lines in play to double the potential for mishaps. Eureka Productions and Unanimous Media produce, with Chris Culvenor, Paul Franklin, Wes Dening, Charles Wachter, Michael O'Sullivan, Jeron Smith, Erick Peyton, and Curry executive producing. Holey Moley is an original format created by Chris Culvenor of Eureka Productions.