Turkey Day Leftovers: Animation We're Thankful to Stream- Aqua Teen, Archer, and More!
It's that time. Your holiday feast settles in, you're avoiding your family and/or sporting events and/or shopping adventures, and you're looking around for shows to binge. May we suggest some cartoons? These are a perfect chaser for all holiday activities that you can queue up right now. And, thanks to some great exclusive deals Hulu signed with Fox and Cartoon Network, they are now a premiere destination for most adult animation currently airing on network tv and cable,
Don't have Hulu? They offer great trial deals during the holidays so now might be the perfect time to try it out. Also if you have cable thenmake sure to look at the individual network's apps, too: for example, Adult Swim offers a ton of shows to choose, including "instant marathons."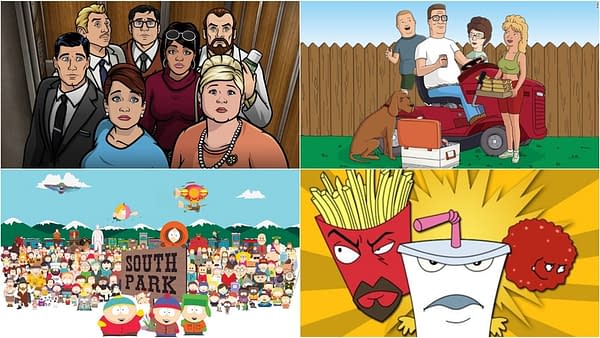 King of the Hill
This slice of Americana dropped all thirteen of its seasons on Hulu on November 1st, and it's something we're thankful for in this household. The low-key show from Mike Judge (Beavis and Butthead, Idiocracy, Silicon Valley) hasn't been available to stream since Netflix dropped it in 2013.
For the unitiated, King of the Hill centers around the Hill family. Propane and propane accessory salesman Hank Hill (Judge) presides over a household that includes substitute Spanish teacher Peggy (Kathy Najimi), their son Bobby (Pamela Adlon), and Peggy's neice Luanne (Brittany Murphy). Hank can often be found hanging out in the alley, drinking beers with neighbors Dale (Johnny Hardwick), Bill (Stephen Root), and Boomhauer (Judge, again).
https://www.youtube.com/watch?v=kX_TBjLvGuA
So, where to start? Since it's Thanksgiving, a few holiday-themed episodes to get your binge started – beginning with Season 5's Episode 4, "Spin the Choice."
Jon Redcorn tries to get closer to his son Joseph and have him connect to his Native American roots.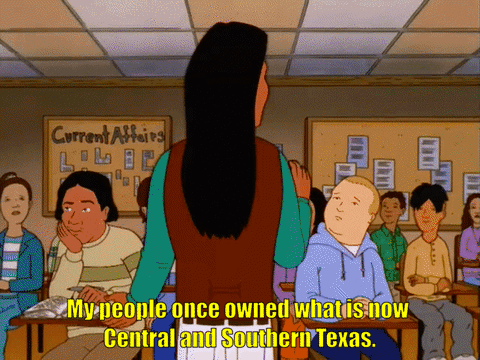 Instead, Bobby takes up the cause and disrupts Thanksgiving with his own "Thanks For Nothing" protest.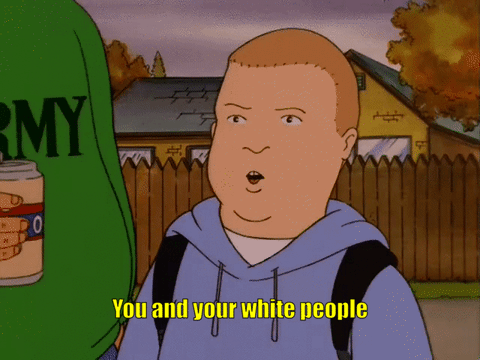 One of the best things about King of the Hill is how it satirized both down-home small-mindedness and pretentious liberal nonsense. Bobby's evolution from ignorant to crusader is a perfect example, especially in the problematic way he chooses to stage his protest.
Another great episode to consider is 'Happy Hanks-giving' an ode to the perils of holiday travel, and trying to smuggle a freshly-smoked turkey onto a plane. For Black Friday, nothing beats 'Nine Pretty Darn Angry Men': Hank turns a post-Thanksgiving focus group on the changes made to his favorite riding lawnmower into a personal crusade in this homage to jury room drama Twelve Angry Men. Want to get in on the Christmas spirit? Try 'Living on Reds, Vitamin C, and Propane,' where Hank rents a big rig truck to deliver some furniture to his mother and Peggy and Luanne try to compose a new, original Christmas carol.
You can watch King of the Hill on Hulu…finally!

Archer
Nothing says holidays like family. And nobody has family issues like Sterling Archer. Archer is the story of the International Secret Intelligence Service or ISIS (at least for the first few seasons) Yes, they make a self-aware joke about picking another name that isn't used by terrorists and then the show reinvents itself with a different ridiculous premise each new season.
H. Jon Benjamin plays Sterling Archer, master spy, lover of wordplay, drunk, and generally terrible person. His mother Malory Archer (Jessica Walter) leads ISIS, which also employs fellow spy and on-again/off-again love interest Lana (Aisha Tyler). Rounding out the voice cast is Chris Parnell as accountant Cyril Figgis, Judy Greer as administrative assistant/secret billionaire Cheryl Tunt, Amber Nash as Head of Human Resources Pam, Lucky Yates as Head of Applied Research Dr. Krieger, and Adam Reed as fiedl agent Ray
Archer sends up all the tropes of the spy genre but also manages to be a very cool action show on top of that. Reed's animation style for the show is so unique and distinctive, managing to evoke a Cold War style while still looking modern. A frequent question/meta-joke of the show is wondering exactly what decade this is supposed to take place.
Ultimately, what makes this perfect holiday binge-watching is that the show really is about family and friends. Even when these people are terrible, you stick with them for some reason – even when for some reason season 5 becomes Archer Vice, moves south; and becomes all about drug running, Columbia, and Charlotte/Cheryl deciding to become an "Outlaw Country" star. You stick together.
Take the Highway to the Danger Zone with Archer on Hulu….SPLOOSH!

Now in its *gasp!* 22nd? season, the venerable animated satire hasn't lost any of its bite. In fact, its desire to be timely has made it all the more required viewing. Its repeated backdrop of school shootings this season says everything about how desensitized we've become.
New characters like PC Principal and Vice Principal Strong Woman make me thankful that we have Trey Parker and Matt Stone poking fun at PC culture even while directly attacking actual hate, intolerance and incompetence. And remember the Memberberries from last season? While initially just a send-up of nostalgia and throwback culture, they made a strong argument that our obsession with the past has led us to disastrous results. And no, not Star Wars movies.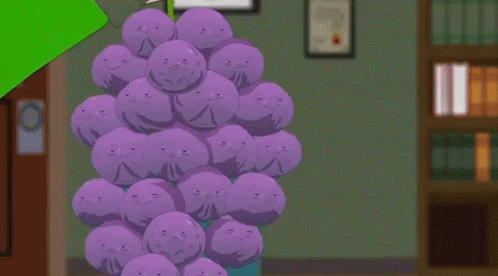 But when thinking about South Park and binge-watching for the holidays, nothing beats season 4's 'Helen Keller the Musical' The kids try to improve their Thanksgiving production of The Miracle Worker after Butters tells them the kindergarteners have special effects and pyrotechnics. This eventually leads them to try to recruit a trained turkey who can do tricks. While they eventually settle on a haughty show turkey, Timmy also befriends a turkey named Gobbles: a friendship for the ages.
South Park does the holidays better than most other shows, so it's definitely worth going back and watching all their Christmas episodes. You can also continue to celebrate Thanksgiving with them with 'A History Channel Thanksgiving,' 'Starvin' Marvin,' 'Starvin' Marvin in Space,' and the three-episode arc ode to consumerism and Game of Thrones 'Black Friday,' 'A Song of Ass and Fire,' and 'Titties and Dragons.' Start your binge there.
Watch all 22 seasons of South Park on Hulu.

Aqua Teen Hunger Force
Have you started hallucinating yet from all the food? Is your food talking back to you? Well, here's Aqua Teen Hunger Force (ATHF), the epitome of a "Dadaist stoner comedy" set against the backdrop of the New Jersey suburbs.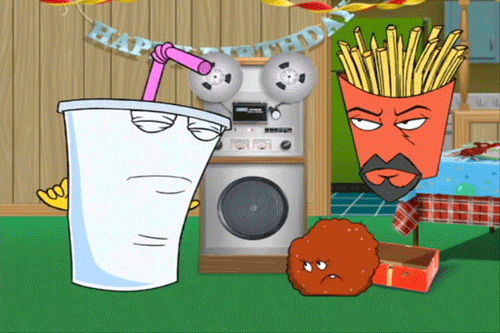 ATHF consists of Frylock, Meatwad, and Master Shake who live next to walking Jersey stereotype Carl. While the first season attempted to give them a backstory or pretend they are a detective agency, that quickly goes out the window as the writers embrace the absurdist, arbitrary nature of the humor.
The pinnacle of holiday greatness comes in a pair of interrelated episodes, the first of which is 'Cybernetic Ghost of Christmas Past from the Future.' The eponymous robot breaks into Carl's house to tell him of holidays of yore, including the origin of Santa as a giant red ape from space. Oh, and Danzig shows up because Carl's pool is full of blood.
It's a holiday classic.
A few seasons later, we follow this up with the cybernetic turkey Turkatron, who appears in the second season episode 'The Dressing.' Turkatron is here to save an ancestor of Goblox, the turkey revolutionary who will free the enslaved turkeys in the year 9595. It gets weirder…
We could all use more absurdity in our lives – but the one downside with ATHF? While you can stream the final two seasons on Hulu, other episodes are only available periodically at adultswim.com. However, they change the episodes regularly, so check back over the holiday season to find your favorites.
Watch select episodes of Aqua Teen Hunger Force on adultswim.com