Hulu Creating "Grisham Universe" with The Rainmaker, Rogue Lawyer Series Adapts
Hulu is getting into the John Grisham business in a major way, announcing a two-series "shared universe" project based on two of Grisham's novels, The Rainmaker and Rogue Lawyer. Tentatively titled "The Grisham Universe," the multi-series franchise effort stems from writers Michael Seitzman (Quantico, Code Black), Jason Richman (Detroit 1-8-7), Grisham, ABC Signature, and ABC Studios-based Maniac Productions. The author met with Seitzman and Richman prior to the news and gave his blessing to their approach to the adaptation.
Here's a look at some of the highlights that make Hulu's Grisham deal different from past adaptations:
● Described as "two books, two shows, one shared storyline," The Rainmaker-Rogue Lawyer will have Seitzman and Richman as co-showrunners and will work on both shows (Seitzman focused on The Rainmaker and Richman on Rogue Lawyer).
● The assembled writing rooms will work simultaneously on both series, with an expectation of eight scripts per series.
● Though each series will be based on one of the books and have its own storyline/cast, every episode is basically a "crossover" in that the two shows' will share a common villain (identity still being kept a secret) and some characters from one show will appear on the other.
● Both series will film concurrently, and viewers can watch all the episodes of one series and get a complete story without having to watch the other series. Viewers who watch both series will get a fuller "picure" of the overarching storyline – and can also watch both series "horizontally": first episode of The Rainmaker, the first episode of Rogue Lawyer, followed by the second episode of each, etc.
● Deadline Hollywood reports that characters from others Grisham novels may be introduced during the two series as a way to gauge viewer interest in spin-off possibilities.
Here's an overview of Grisham's 1995 The Rainmaker and 2015's Rogue Lawyer:
The Rainmaker: Grisham's sixth spellbinding novel of legal intrigue and corporate greed displays all of the intricate plotting, fast-paced action, humor, and suspense that have made him the most popular author of our time. In his first courtroom thriller since A Time To Kill, John Grisham tells the story of a young man barely out of law school who finds himself taking on one of the most powerful, corrupt, and ruthless companies in America — and exposing a complex, multibillion-dollar insurance scam.

In hs final semester of law school Rudy Baylor is required to provide free legal advice to a group of senior citizens, and it is there that he meets his first "clients," Dot and Buddy Black. Their son, Donny Ray, is dying of leukemia, and their insurance company has flatly refused to pay for his medical treatments. While Rudy is at first skeptical, he soon realizes that the Blacks really have been shockingly mistreated by the huge company, and that he just may have stumbled upon one of the largest insurance frauds anyone's ever seen — and one of the most lucrative and important cases in the history of civil litigation. The problem is, Rudy's flat broke, has no job, hasn't even passed the bar, and is about to go head-to-head with one of the best defense attorneys — and powerful industries — in America.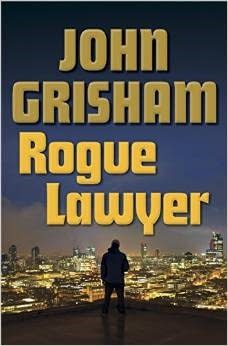 Rogue Lawyer: Sebastian Rudd is not your typical street lawyer. He works out of a customized bulletproof van, complete with Wi-Fi, a bar, a small fridge, fine leather chairs, a hidden gun compartment, and a heavily armed driver. He has no firm, no partners, no associates, and only one employee, his driver, who's also his bodyguard, law clerk, confidant, and golf caddy. He lives alone in a small but extremely safe penthouse apartment, and his primary piece of furniture is a vintage pool table. He drinks small-batch bourbon and carries a gun.

Sebastian defends people other lawyers won't go near: a drug-addled, tattooed kid rumored to be in a satanic cult, who is accused of molesting and murdering two little girls; a vicious crime lord on death row; a homeowner arrested for shooting at a SWAT team that mistakenly invaded his house. Why these clients? Because he believes everyone is entitled to a fair trial, even if he, Sebastian, has to cheat to secure one. He hates injustice, doesn't like insurance companies, banks, or big corporations; he distrusts all levels of government and laughs at the justice system's notions of ethical behavior.