Impact Wrestling 7/21/20 Report Part 2: New Champions are Crowned
The first hour of Impact after a successful Slammiversary PPV featured… a couple of dud matches and some lackluster promos. Well, maybe things will pick up in the second hour. Let's find out. We see a teaser for Curt Hawkins (that'll put butts in the seats) and then a video package promoting Impact's roster. Gia Miller interviews Deonna Purrazzo outside Purrazzo's locker room. Side note: every Impact interview outside someone's locker room appears to use the exact same locker room.
They just change the name on the door. Miller wants to know Purrazzo's plan now that she's Knockouts Champion. Deonna won't divulge that. She's the greatest technical women's wrestler in the world and she painted a masterpiece to win the Knockouts Championship. Blah blah blah. Jordynne Grace has a separated shoulder, so Purrazzo has no opponents right now. But wait! Kylie Rae introduces herself. She won the number one contender gauntlet match at Slammiverary so Deonna has an opponent after all. Deonna says she's looking forward to it and offers her a handshake. Kylie is pleased and takes her hand. Purrazzo attacks her.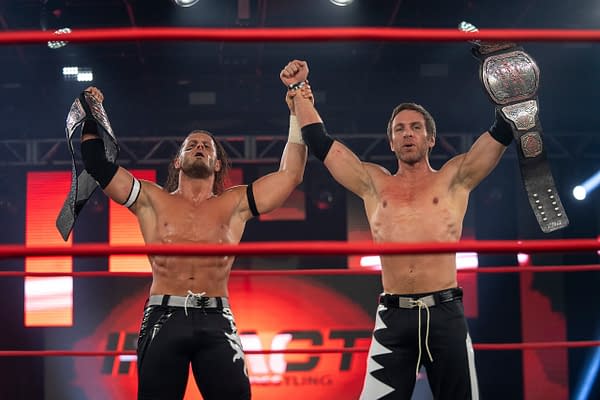 Impact Promo: Eddie Edwards
Eddie Edwards comes out with his newly won Impact World Championship. He says it feels right to be champion. Leading up to Slammiversary, he talked about his journey. Despite all the hardship, that journey brought him back to the world championship. Now it's time for a new journey to begin. Over the past few years, there's been something missing in Impact: stability. Edwards has a goal to be a champion that the company, the locker room, and the fans can be proud of. The only thing harder than becoming champion is staying champion. The Impact Championship has been sparsely defended for the past few years, but that's about to change. People have called Edwards crazy, but as world champ, he's gonna defend the belt every week against anybody who wants a shot. He's gonna be a fighting champion. He's living proof that anything is possible. His new journey is to bring stability and credibility to the Impact World Championship.
Eric Young comes out to the stage. Before he can speak, Edwards interrupts. Edwards isn't happy with what Young did to Rich Swann. Young doesn't deserve anything but a good old-fashioned ass-kicking. Young thinks Edwards is pathetic. Edwards has no sway in the fate of the world title because Impact now belongs to Eric Young. He says Edwards should be thanking Young that Young targetted Swann and not Edwards. It could be Edwards in the hospital. That's what happens when you stand between Eric Young and what he deserves. Eddie's journey doesn't mean anything to Young. The only reason they're talking about the title right now is that Eric Young made it so. So Eric Young's gimmick is that he's delusional now? Edwards dives out of the ring and attacks Young. Referees break it up, and Young retreats backstage.
Gia Miller interviews Moose backstage. She asks about Eddie Edwards's open challenge. Moose says he doesn't want the Impact Championship because the title he already has is the most prestigious title in wrestling. And anyone Moose invites can get a shot. Miller offers some suggestions, including EC3. Moose says no to EC3. But he will challenge Fallah Bahh tonight. Impact goes to commercials.
Gia Miller interviews Eddie Edwards backstage. She asks if he has anyone in mind for his first challenge. Edwards says Impact has the best wrestlers in the world and he'll defend the belt against anyone. Trey walks up. He's interested in the challenge next week. Edwards says if he wants it, he's got it.
Moose comes to the ring to put his TNA World Championship on the line against Fallah Bahh. Josh Matthews complains about the illegitimacy of the TNA World Championship. I heard on Reddit it's a replica belt from Pakistan. Fallah Bahh comes out with TJP. David Penzer introduces Moose as a pro wrestling god. You know the schtick.
Moose vs. Fallah Bahh
The match gets underway and after a brief exchange of grapples to see who is strongest, Moose gets nasty. He chokes Bahh in the corner, but Bahh turns him around and delivers some chops. Bah hits a splash in the other corner. Moose tries a goozle, but Bahh chops out. Moose hits Bahh with a big boot. In control now, Moose goes on the attack with his methodical (read: slow) offense. He calls Bahh a fat piece of crap while he beats him up. That fires Bahh up. Bahh hits a couple of splashes and a butt attack in the corner. Oh my god, could we have a new TNA Champion?! No. Moose rakes Bahh's eyes and hits the spear. That'll be all.
Winner: Moose
As Moose celebrates, EC3 appears behind him. He hits a reverse DDT and walks off. The Good Brothers are walking outside when Ace Austin and Madman Fulton pull up in an SUV and talk some trash. The Brothers approach the car, but Reno Scum attacks them from behind. Gallows and Anderson bury Reno Scum real quick and turn back to the SUV. Austin and Fulton drive off. Impact goes to commercials.
John E. Bravo brings Rosemary to an Airbnb he's rented. She's happy to be alone with him. She wants to teach him how to cook. Bravo says that's fine as long as she doesn't mind using olive oil. Extra virgin olive oil. Rosemary decides she's into it. However, Taya Valkyrie appears. Rosemary isn't happy, but she says that three's a crowd unless it's a party. Threesome? No. There's no way Bravo would survive that.. Rosemary snaps her fingers a few times and a bunch of other Impact wrestlers appear. This turns out to be a promo for a reality show segment called Wrestle House which will debut next week. Okay then.
Josh Matthews and Madison Rayne introduce a clip from Slammiversary showing the Motor City Machine Guns challenging The North to a match. That match is happening now. The Motor City Machine Guns come out first, then The North. Impact goes to commercials.
The North vs. The Motor City Machine Guns
Alex Shelley and Ethan Page start the match off. They feel each other out with a series of submissions and reversals, then tag in their partners. Josh Alexander and Chris Sabin do the same This match is competitive, with neither team getting the upper hand up to the first set of commercials. After that, a little rule-bending by the North allows them to get Shelley into a face in peril situation. You know, once in a while, I'd love to see the strategy of isolating one member of a tag team actually work out and the heels get the pin before a hot tag can occur. Alas, that won't be tonight. The hot tag occurs and Sabin knocks Alexander to the floor. He hits a hurricanrana and a dropkick on Sabin. Alexander is back in, so Sabin hits a tornado DDT on him off of Page. Then another on Page off the ropes. That gets a two-count.
Sabin and Shelley hit a big boot/roundhouse combo on Page, then Sabin dives through Shelley's legs onto Page on the floor. Shelley tries for a stomp on Page but Page ducks. Shelley hits a blockbuster and gets two. The Machine Guns hit Page with a series of kicks. Shelley hits a DDT and puts Page in a crossface. Sabin gets Alexander in a Texas Cloverleaf. Page rolls up Shelley and Sabin breaks his hold to break up the pin.
Sabin and Alexander get back to their corners and wait for tags, which they get. They exchange blows. Chaos breaks out with all four men in the ring. Sabin hits a shining wizard on Page, then grapples with Alexander. He goes for a springboard something, but Page catches him. Page tags in and big boots Shelley to the floor. They hit a series of combos but Sabin breaks up a pin. They get Sabin up for their finisher but Sabin rolls up Alexander and gets the win.
Winners: Motor City Machine Guns
The Motor City Machine Guns are the new Impact Tag Team Champions. Well, once The North broke the record for longest-reigning champions of any kind, what else was there for them to do? As the show ends, Heath Slater sneaks in through the back door.
It wasn't a bad episode of Impact. For sure, the second hour was better than the first. Impact has a lot of new blood (or new old blood) which offers opportunities for some fresh matchups. That makes the matchups we've seen what seems like a dozen times in the last couple months, like Havok and Neveah vs. Kiera Hogan and Tasha Steelz, or Chris Bey vs. Willie Mack, feel stale. Hopefully, everyone can move on to new things because Impact is loaded with potential at the moment and Slammiversary was a really strong PPV.