Inside No 9 is the comedy horror anthology series by two of the League Of Gentlemen, Reece Shearsmith and Steve Pemberton.
Last night on BBC 2 they gave us a live edition of the show. Heavily hyped but detail light, I wondered what they were going to show us.
Is there any way that whatever Inside No 9 is planning for their live show on Sunday, it could be comparable to Ghostwatch?

— Rich Johnston (@richjohnston) October 25, 2018
Ghostwatch was a Halloween-scheduled TV show that will live in infamy in media courses. I had the good fortune to watch it live (ar rather pre-recorded but presented as live) in 1992. Ghostwatch purported to be live phone-in show with paranormal experts and well known TV personalities investigating reported hauntings, with Craig Charles, Sarah Greene, Mike Smith and Michael Parkinson playing themselves.
A haunting is investigated with CCTV, thermal cameras, the kind of things that would one day be a staple of actual reality shows such as Most Haunted, and we get researchers looking into the history of the property from which they are broadcasting live. Through the show it is revealed that there have been haunting reported, and histories of the property unveiled, suggesting that a ghost has itself even possessed by a ghost and is harming the family living at the house. Glitches in the cameras suggest supernatural activity to some and images of figures appear on the screen that don't appear when the footage is replayed in the studio. And the possession grows, emboldened by the TV audience itself.
Despite being trailed as a work of fiction, many members of the audience were convinced that what was happening was real, and the BBC received over 30,000 calls in the hour it was on air. The broadcast was even implicated in a suicide of a disturbed young man. The furore caused the BBC to commit to never repeating the show and it took a decade to get a limited release on DVD.
It was most definitely an inspiration for what Inside At No 9 aired last night. Spoilers from here on in.
A live episode of the show showed Steve an elderly man who has found a mobile phone in a church graveyard and a visiting vicar who comes to claim it. The live episode leads to camera pans from one side of the room to the other to indicate the passing of time, but on transmission, the sound began to cut out. And the actors performed in silence.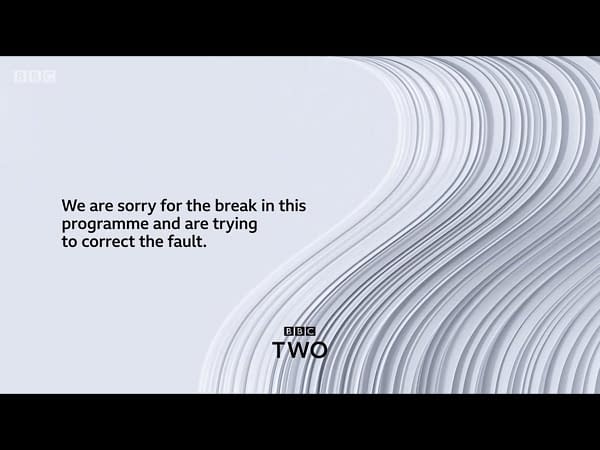 The show cut to the BBC 2 continuity announcer to apologise for the technical difficulties, but a return to the live recording had the same problem, so the BBC decide to show a past episode, appropriately the classic silent episode of Inside At No 9, A Quiet Night In. People had lots to tweet.
Here's some of what was being tweeted out during its transmission.
Nooooooooo! Can't believe BBC messed up on the sound during live TX of #InsideNo9. All that work that's gone into producing it…. aghhhh I really feel for the team behind it. Hope they can reschedule for the original Halloween TX.

— Jen Smyth (@Jensville) October 28, 2018
So the sound f-cks up and then they put the silent episode on?! Brilliant or spectacularly stupid?! #InsideNo9

— Lee Fountain (@leefount7) October 28, 2018
#InsideNo9 Shame about the sound issues. Can't wait for it to be back on.

— Steve (@Steve_o666) October 28, 2018
So bbc mess up the sound and stop airing the live episode and to make up for it they put a silent episode on from series one. Mocking much? Classy #InsideNo9 #insideno9LIVE

— sarah wisher (@misswish) October 28, 2018
#InsideNo9LIVE oh dear! WHAT a shame the sound has gone and they have abandoned it. #InsideNo9

— Lynnette Hecker (@lynnettepeck) October 28, 2018
Such a shame they've had to abort the #InsideNo9 live episode due to sound issues 😩 #InsideNo9LIVE

— Matt Mundy (@MattLMundy) October 28, 2018
You think there would be precautions for a live show to stop the pissing sound from cutting out. What a nightmare #InsideNo9

— Will Neill (@NillWeill) October 28, 2018
Such a shame about the sound troubles on #InsideNo9 live. Looking forward to watching it at a future date.

— Sarah Gadd (@shgadd) October 28, 2018
Piss funny. Replace the Inside no9 that's having sound issues, with the silent one!

— Paul Coleman (@PColemanchester) October 28, 2018
Oh noooo they let the work experience kid do the sound on #InsideNo9 Live 😭

— undead undead undead (@AndDarkWithin) October 28, 2018
Ironic choice of episode with no speech to follow the technical no sound #InsideNo9

— Meatbag (@_MEATBAG_) October 28, 2018
Gutted… #InsideNo9 #LIVE sound issues – 😭 A great back up episode though 👍🏻

— John (@JohnyByrne) October 28, 2018
But this episode too had transmission problems… and then everyone realised. Well, I man, almost everyone.
Well the live show of Inside No.9 was shite, the sound kept buggering up.
Turned it over to Deepwater Horizon on Channel 4

— joe heenan (@joeheenan) October 28, 2018
Inside no.9 …..live, weird and creepy even Steve Pemberton and Reece Shearsmith couldn't have predicted that the sound would go it's like a throwback to the early 60's. Given up the ghost switched channels and watching the news ..which is even more creepier

— Swinkle (@swinklestar) October 28, 2018
As we saw a new figure appearing on the screen who was not on the original show…
Oh my god #InsideNo9 the thing at the window no I can't no this is amazing

— Harry, #1 Pipes (spooky Ghostwatch ghost) fan (@bowtieanimation) October 28, 2018
Inside No.9 are evil geniuses! Getting total flashbacks of "Pipes" on Ghost watch which scared the crap out of me 25 years ago! 👻👻👻

— Craig G (@derbadian) October 28, 2018
Which lead to another cut away to the continuity announcer, as well as strange whispering voices heard when she spokes. She asks who is speaking only to scream out, and the camera cutting to security footage behind the scenes of the show. We see Reece and Steve in their changing room, complaining about the production, checking Twitter to wonder what people are talking about and reading out live tweets as well as slagging off Black Mirror.
Are me and Steve Pemberton on BBC two now?

— Reece Shearsmith (@ReeceShearsmith) October 28, 2018
We see Stephanie Cole, an actress they were complaining about, answering the phone. Then we get footage about Granada Studios where the show was being filmed, including a Most Haunted episode set at the studio, and famous footage of comedian Bobby Davro suffering a serious injury live on TV.
The show then got even darker and stranger… and everyone who was left was along for the ride.
No9 live tonight. A televisual leap forward.

— Victor Lewis-Smith (@TVOFFAL) October 28, 2018
The episode is on the iPlayer. Just don't stop watching or try to fast forward when the sound goes out and the continuity announcer kicks in.
#insideno9 we tried to watch it on bbc iplayer but it's missing sound. Any chance it will be available anywhere else?

— StoneTheCrow (@Followthepath2) October 28, 2018
All credit to the production crew for fooling so many… and then spooking out everyone even when we knew what was going on.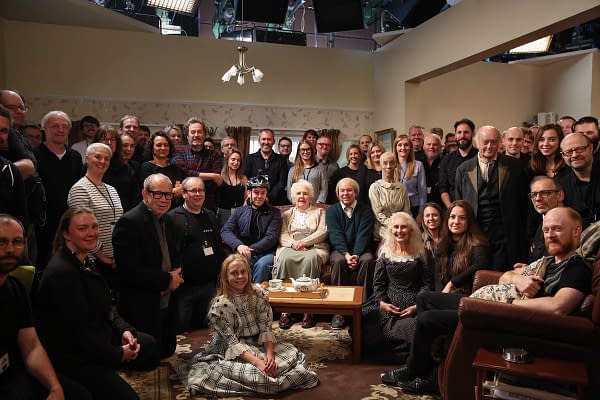 And kudos for whoever managed to plant this article in the Sun newspaper a few days before…
Enjoyed this article? Share it!