Into The Dark Will Debut a New Holiday Horror Episode on Hulu Every Month For a Year
Into the Dark debuted a trailer today. The horror show, exclusively on Hulu, will feature a new episode every month for a year, all based around a different holiday. The show is from Blumhouse Television, and will debut on the streaming service on October 5th with a Halloween episode titled 'The Body'. Check out the trailer below!
The year of fear begins Oct. 5.

12 months. 12 tales.

In partnership with Blumhouse Television, Into The Dark is a horror event series from prolific, award-winning producer, Jason Blum's independent TV studio. The series includes 12 super-sized episodes, with a new installment released each month inspired by a holiday and will feature Blumhouse's signature genre/thriller spin on the story.
Each episode will be feature-length, meaning we are basically getting a new Blumhouse holiday film on the first Friday of every month for a year! That is great news for Blumheads like myself. Here is the synopsis for 'The Body':
"The Body" follows a sophisticated, overconfident hitman who always carries out his work in style. He decides to take things even further one day by transporting his latest victim in plain sight, correctly assuming that self-absorbed LA partiers will simply be enamored with his elaborate "costume." Eventually, as his window of opportunity to dispose of the body begins to close, Wilkes' true colors reveal themselves to some groupies that have latched on to him. It becomes a battle of will and wits.
It will star Rebecca Rittenhouse, David Hull, Aurora Perrineau, and Tom Bateman. The Halloween debut goes live October 5th.
The second episode is titled 'Flesh and Blood' and will be Thanksgiving-themed. Starring Dermot Mulroney, Diana Silvers, Tembi Locke and Meredith Salenger, and will be live on November 2nd.
Kimberly, a teenager suffering from agoraphobia, has not left the house since her mother's murder, which remains unsolved. While under the care of her doting father on the eve of Thanksgiving, Kimberly begins to suspect that she is in danger, and that it's always the ones you love that hurt you the most.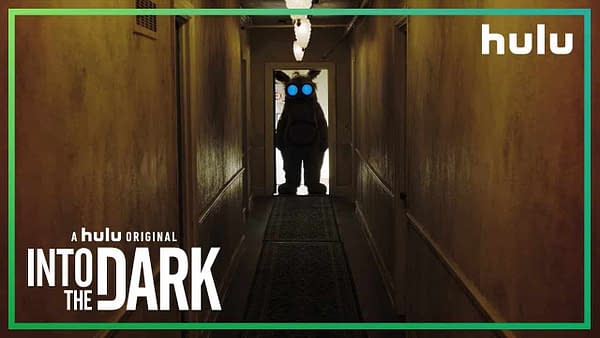 Into the Dark will debut new episodes the first Friday of every month for a year on Hulu.