Marvel's Iron Fist Season 2 Has Wrapped Production
We first learned that there would be a Marvel's Iron Fist season 2 during last year's Marvel's Defenders panel at SDCC 2017. It was not a lock being the least well received of the Marvel/Netflix series of shows. But along with the announced renewal came word that showrunner Scott Buck would step down so he could go focus on Marvel's Inhumans and Raven Metzner (Sleepy Hollow) was taking over. Little else has been revealed about the series, and with Marvel's Luke Cage season 2 set to release on June 22nd and both Marvel's Daredevil season 3 and Marvel's The Punisher season 2 in production, we're not sure when the series will air.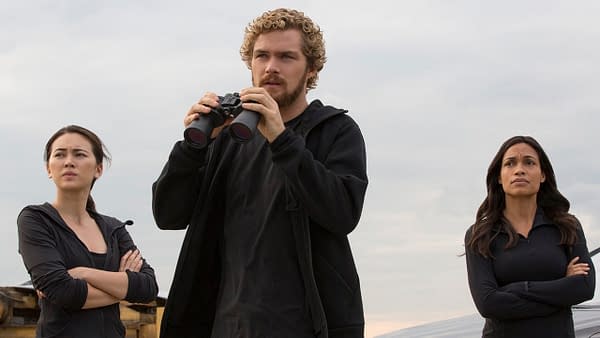 Danny Rand (Finn Jones) was last seen in Defenders, sitting on a rooftop watching over Hell's Kitchen and trying to fill in for the presumed-dead Daredevil (Charlie Cox). He's slated to appear in the new Luke Cage season to show Luke (Mike Colter) how to use his abilities to fight better. It's expected that Colter along with Rosario Dawson will appear in the second season of Iron Fist, moving the Heroes for Hire partnership along.
It was announced that Alice Eve (Star Trek: Into Darkness) would be joining the cast in an undisclosed role, and a few set photos showed her done up in a hoodie and working with Danny. No word if any of the previous casts will return, but a recent photo that was posted to the Y-CATS Craft Services Instagram and then removed shows us Jessica Henwick (Colleen Wing) and Sacha Dhawan (Davros) at a wrap party for the season. This tells us that they've finished principal photography on the season and we should be seeing more of Colleen and Davros.
Colleen was absolutely expected being Danny's love interest, and her ties to Misty Knight (Simone Missick) are expected to be played up. Davros, whose comic character goes on to become the Steel Serpent, might be moving farther along that path. Whether we see more of Jeri Hogarth (Carrie-Anne Moss), Joy Meachum (Jessica Stroup), or Ward Meachum (Tom Pelphrey) is unknown.
With production wrapping now while the other series are still going, it would make sense for Iron Fist to be the next in line for release — and if Netflix is keeping with the schedule it has been on, then we might see Marvel's Iron Fist season 2 in the fall. I would expect to hear more about all of the Marvel/Netflix series at this year's San Diego Comic-Con.