With its 14th season renewal order, FXX's long-running sitcom It's Always Sunny in Philadelphia became tied with ABC's The Adventures of Ozzie and Harriet as longest-running live-action comedy series. Now that's a title Mac (Rob McElhenney), Dennis (Glenn Howerton), Charlie (Charlie Day), Dee (Kaitlin Olson), and Frank (Danny DeVito) would be more than happy to hang behind the bar. On top of that, they're coming off a "lucky" 13th season considered by many to be one of its best – so things couldn't be better for The Gang from Paddy's Pub.
Even better news – especially for the fans? That long, pothole-strewn South Philly street they've had to travel to get back to Paddy's Pub is showing a light off in the distance. At the end of May, McElhenney and Day posted on Instagram the announcement fans everywhere had been waiting to hear…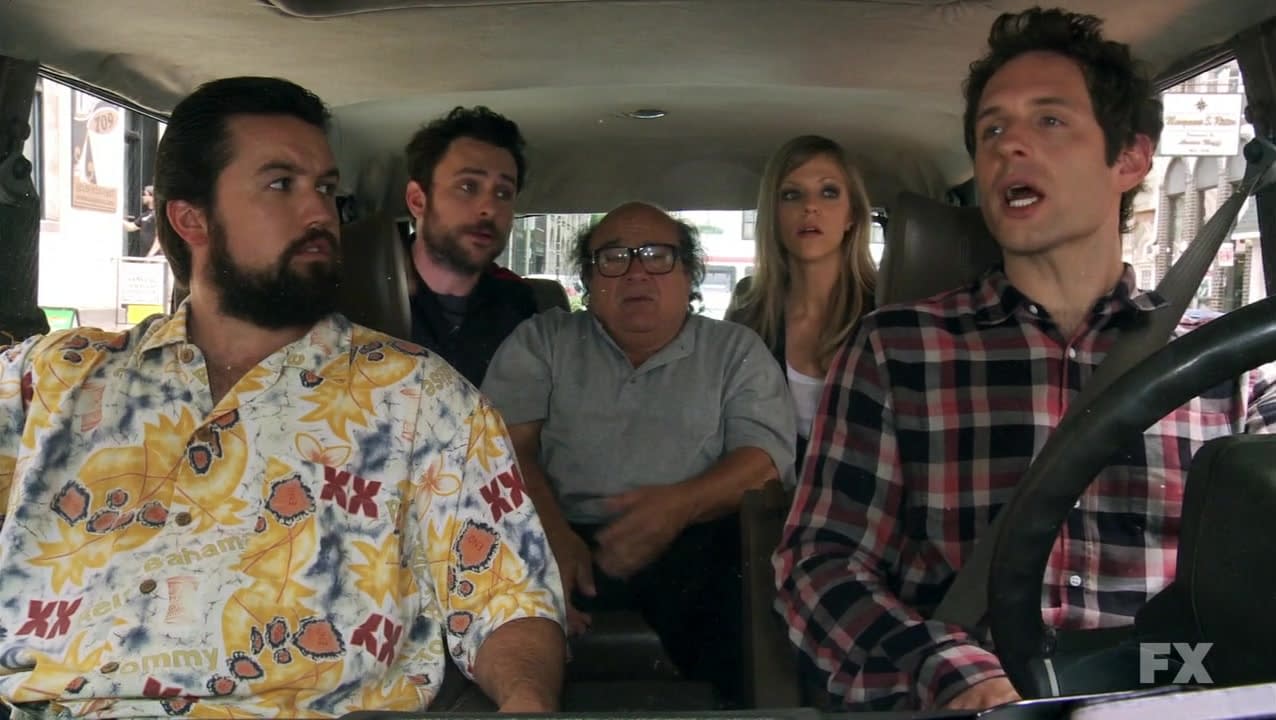 "It's Always Sunny in Philadelphia" is Back in Business!
So now we're getting some goof stuf, thanks to the cast's social media accounts. First up, Day posted a video showcasing the first scene of filming – with some very familar faces. Needless to say, the masses were pleased…
Meanwhile, Howerton proudly revealed that he is directing the season's second episode, with filming on the season's first two episodes (they're filmed together) starting on June 13 with the first slate:
In the next two posts, we get a chance to see Olson's Dee and how she "method acts" her way into embracing her "inner Bird" – and for the record? We think she delivered those lines perfectly… almost Streep-like perfect:
Finally, Day and Olson posted the final exclamation point to show that production running like it's on extra slices of Rum Ham and a second glass of bath salts-flavored milk:

Developed by McElhenney and Howerton, and written/executive produced by McElhenney, Howerton, and Day, It's Always Sunny in Philadelphia was FX's first comedy hit before moving over to FXX – a fact that FX CEO John Landgraf does not take lightly when he explained at the Television Critics Association (TCA) why the series has been so successful for so long – even after all this time: "It was the fist successful deconstruction and reconstruction of a sitcom," praising the leads as "five really hilarious degenerates who are most active schemers" as well as the main reason for the show's success – while also acknowledging the various "social issues" that the series addressed so effectively in the past.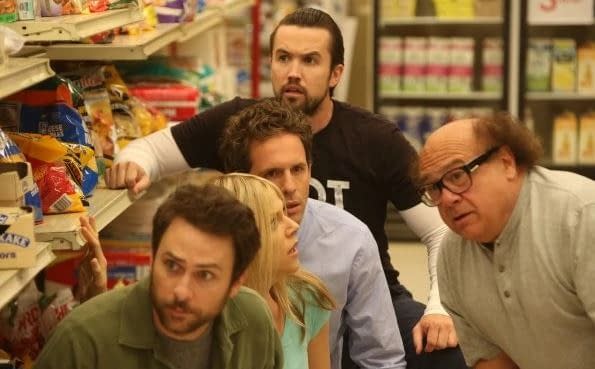 Another bonus this pre-season? No "drama" regrading Howerton's involvement in the 14th season, telling The Hollywood Reporter back in March 2019 that although work on the upcoming season wasn't starting until later in the year, there was a very good chance there would be more Dennis in fans' lives when the series returns: "We're in talks about season 14 right now. The writers room on that is going to start in a couple months." As for Howerton's Dennis being a larger part of that? "That's the plan."
Enjoyed this article? Share it!