"It's Always Sunny in Philadelphia" Season 14 "The Gang Gets Romantic" Should Definitely Play in Middle America [SPOILER REVIEW]
With season 14 having had its official world premiere this week, FXX's It's Always Sunny in Philadelphia is now tied with ABC's The Adventures of Ozzie and Harriet as the longest-running live-action comedy series.
Now that's a title Mac (Rob McElhenney), Dennis (Glenn Howerton), Charlie (Charlie Day), Dee (Kaitlin Olson), and Frank (Danny DeVito) would be more than happy to hang behind the bar – and one they're expected to hold on their vey own very soon.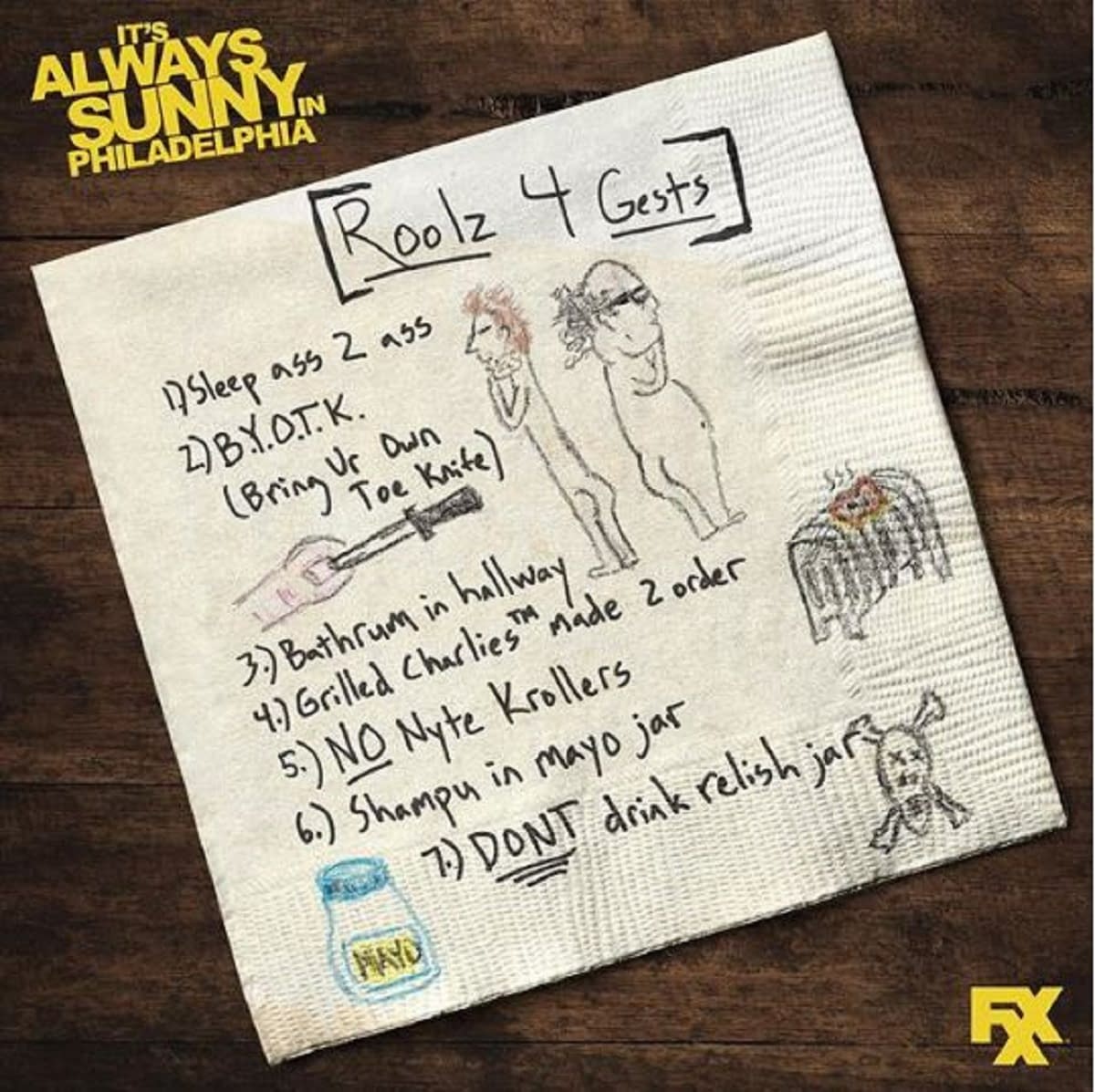 Safe to say things are pretty good for The Gang from Paddy's Pub – and from the sounds of FX CEO John Landgraf, the network would like things to keep going "pretty good" for two more seasons (at least).
But before we start looking ahead too much, let's take a look at what our thoughts and main takeaways were from season-opener "The Gang Gets Romantic":
https://youtu.be/zhbcZluEDNs
"It's Always Sunny in Philadelphia" season 14, episode 1 "The Gang Gets Romantic": Mac concocts a scheme to attract single women to rent Dennis' bedroom while Frank and Charlie make similar plans to draw in young, European coeds, but neither ad attracts their intended target. Directed by Glenn Howerton, and written by Rob McElhenney & Charlie Day
Considering you have Howerton, McElhenney, and Day at the creative helm of the season opener, I'm presented with the impossible task of reviewing an episode that was exactly what I wanted – from a team that's proven its ability to keep its fanbase happy while still evolving as a show.
The episode didn't miss a beat – nothing about it felt as if there had been any delay between seasons, yet each of them were placed in situations that reminded us of the core traits. Dennis still sees dating as a "hunter/prey" endeavor with all of the emotion of a killer robot, while Mac continues his "control freak" ways – while Dee continues to both over-estimate her acting skills and blur the lines between her brain and reality. Charlie and Frank are still the show's disturbing "dynamic duo" – though there continues to be a touching father-son dynamic that never comes close to "A Very Special Episode…" mode.
Granted, that's tough to do when you're having a heart-to-heart naked from the waist down, with two strung out Eastern European women passed out in your bed.
While the premise behind the episode was built around The Gang putting up their apartments as AirBnB options to increase their "romantic options," what we were really presented with was a coda on the previous season's finale and the direction of Mac's character. Dennis' references to Mac being the focus of the "apartment rom-com" as something that "might not play in Middle America" was a clear statement on reaction they received from parts of their fanbase – and how the show doesn't (rightfully) care.
The show has always been about (tough) love and familial bonds that extend beyond blood, and that who and what we love make us who we are – not something to be judged by. Charlie and Frank got their wish – but it wasn't what they truly wanted. Their "apartment rom-com" happy ending was being with those who made them feel at home: Alexi and Nicky – not the sexy drud addicts. Of course, I could add in the tragic irony of Mac being deprived his "apartment rom-com" happy ending and what that represents…

Now here's a look at some random quick-hits…
● …starting with the greatest apartment-sharing ad ever. Our two favorite parts? They make sure everyone knows where the the "shitter" is located prior to arrival – and Frank's email address (which we tried sending a message to but it didn't work):
● Didn't anyone know that "meat cubes" have been around for awhile? No one's ever seen a Swiss Colony catalog around the holidays.
● Frank has spent quite a bit of time mapping out the rules of a threesome with Charlie. Needed to be said.
● Mac needs a boyfriend – except there's one problem: we're pretty sure he wants Dennis in that role.
● While I suspected Teddy was their kid, I was still taken aback by the fact that he died – from leukemia. And just to be clear? Nothing on the Dirty Dancing soundtrack can cover that one…
● At some point, we'll also need to address the fact that Dee lets out faint bird sounds as she approaches.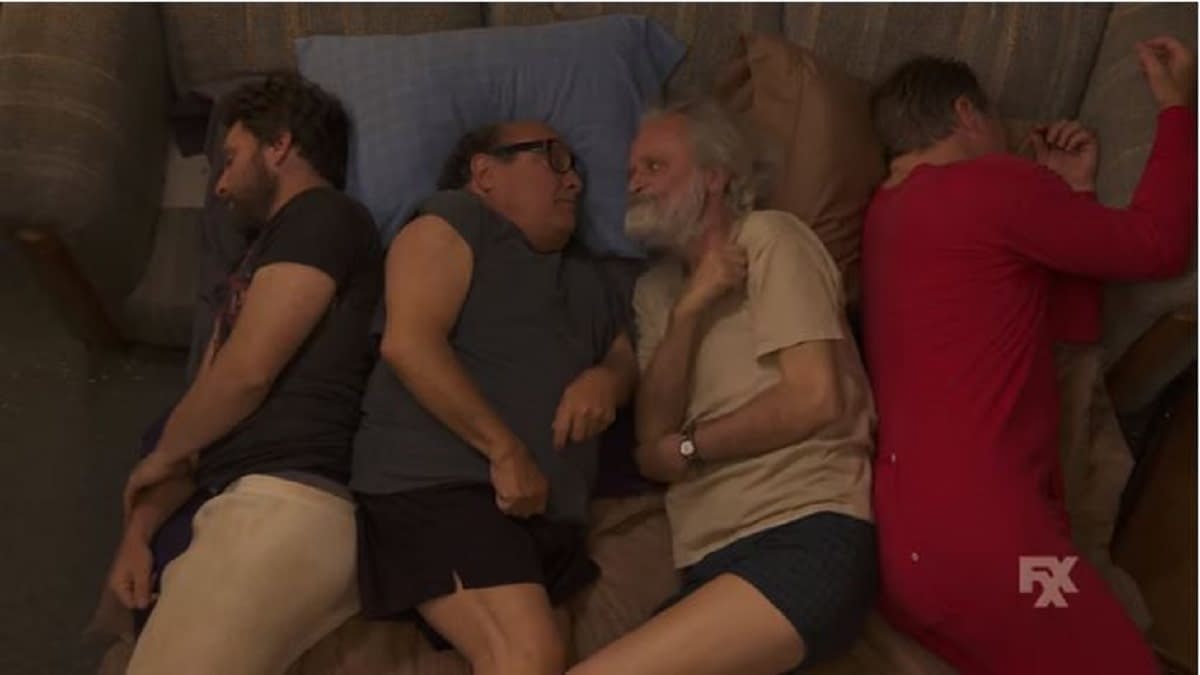 In the following preview, viewers get an overview of what lies ahead this season, including more clues on that whole "Casaba" mystery (see below), a demonstration of just how much Frank repects the elderly, and Charlie clearly confused by what an actual "joke" is…
https://youtu.be/z1P-7X29RQM
In this previously-released look at the upcoming season, the disturbing Frank/Casaba melon mystery deepens as an essential question is put forth: What fruit would you "bang"?
https://youtu.be/vfXSLjK5Wr4
That clip followed up on an earlier McElhenney Instagram post that had us seriously concerned about what's going on with Frank and that Casaba:

McElhenney also gave us a look inside the editing room at a scene he referred to "as Sunny as it gets." Without spoiling what you're about to see, here are a few things to keep in mind: Mac is still way too submissive to Dennis, Frank's behind on getting his teeth sharpened, Dee finds herself on the losing end of a comment once again – and a familar face returns:
When filming was officially complete, McElhenney shared a video that shows that even after 14 seasons-and-counting, McElhenney, Howerton, Day, Olson, and DeVito still find ways to make each other laugh – and that speaks volumes for the show's incredible success: