'iZombie' Season 5, Episode 2 "Dead Lift": 'Roid-Raging Return to Form Doesn't Need a Spot [SPOILER REVIEW]
After a very disappointing premiere episode of the CW's iZombie, second episode "Dead Lift" spun quickly out of control. Talk about putting on the breaks and then cutting the break line while going 90 mph on the freeway. Two zombie-human attack cover ups, two of our beloved cast members dead, the return of the guillotine, and a hoax crime: "Dead Lift" had my emotions all over the place, scrambling to make sense of every scene and at one point praying for a commercial so I could process and get my inner chi centered. I felt angry and sad at losing Jordan (Jade Peyton) and Baron (Francis Capra). I was exited to watch Major (Robert Buckley) and Liv (Rose McIver) have a romantic evening at home and surprised at how much screen time Ravi (Rahul Kohli) and Peyton's (Aly Michalka) sexual indiscretions got.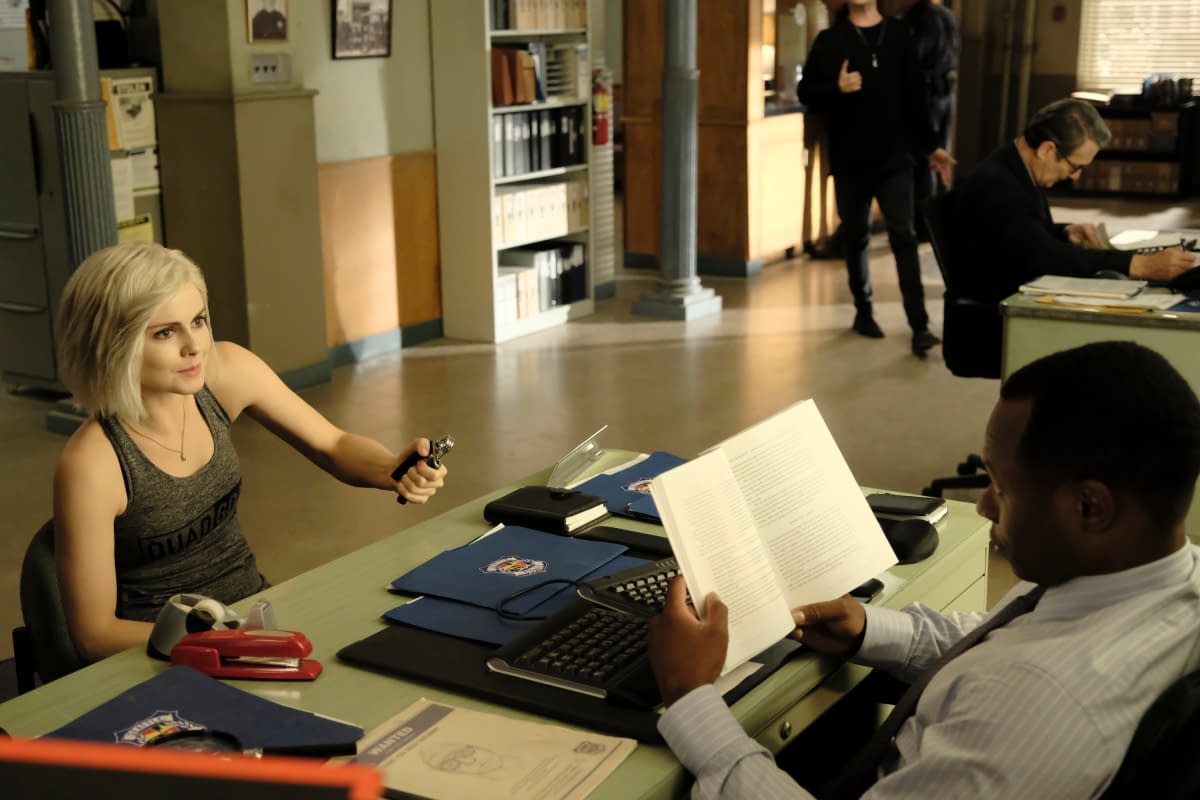 As a continuation of "Thug Life," Liv on "Fitness Nut Brain" and Clive (Malcolm Goodwin) are actively investigating the convenience store zombie-human murder, courtesy of a video that went viral. With still no body and no crime to speak off, the investigation leads to a forest where the potential victim's cell phone was found. The "victim" Lisa is very much alive and well, and her work retreat was more of an adulterous, drug induced hiatus with another man, [cue: crying soon-to-be-ex-boyfriend].
The pursuit of the alleged murder yields comedic anecdotes of Liv giving Ravi sex tips in the form of Omega 3, embarrassing Clive with her excessive exercise regiment while interviewing potential victims, and a slew of uninvited calorie intake advice.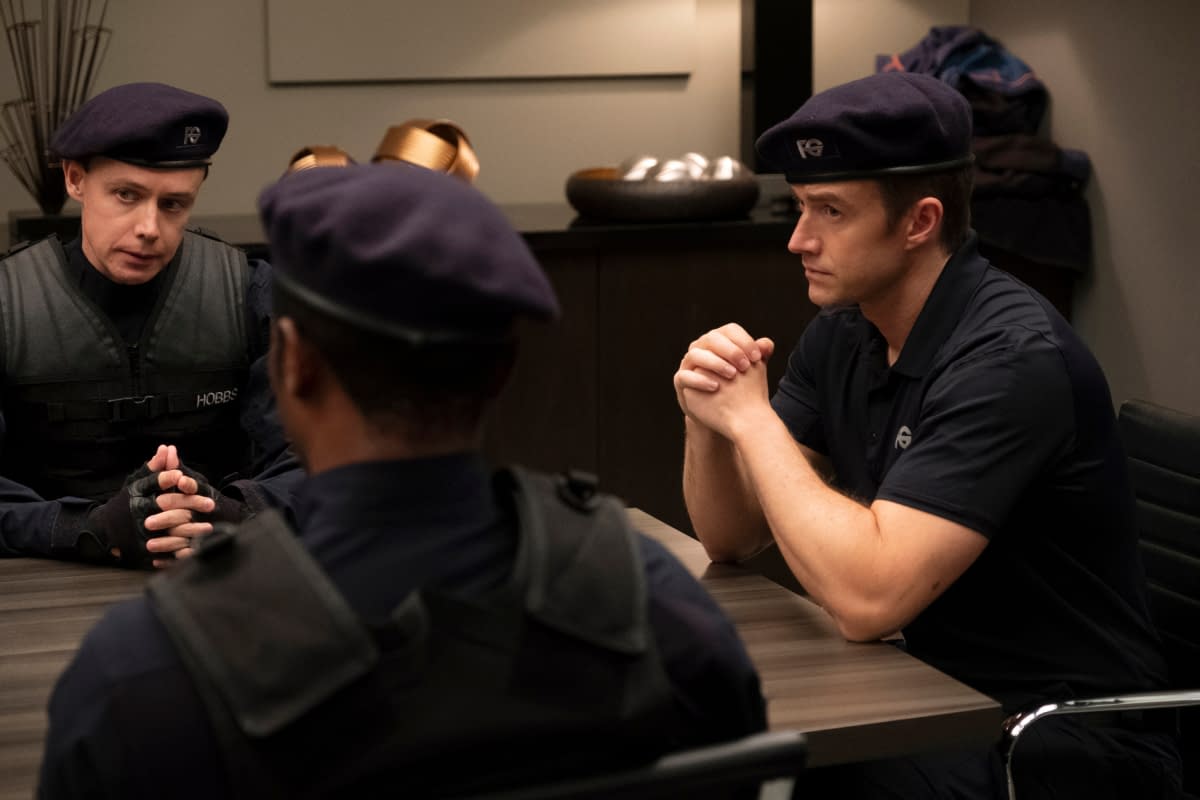 Major is losing some serious loyalty points from his team. His commander-in-chief approach is called out as being too delicate, with "community outreach and conflict resolution as a waste of time." Although I agree that 10,000 zombies vs half a million humans are terrible odds and that trying to keep the peace amongst the 2 groups is crucial to avoid all out war, Major needs to spend less time having conversations and shedding tears, and more time taking action and protecting the city of "New Seattle".
After a grueling day at Fillmore, Major comes home to find Liv in the kitchen making him dinner. Must say, although I've quasi-rooted for these two, this scene caught me a smidge off guard in typical iZombie fashion.
This episode we also mourn the loss of Jordan, Major's beloved protégé. While on patrol, Fillmore-Graves soldiers get ambushed by a shooter: while the less than loyal posse scrambles to hide from the flying bullets, Jordan attempts to save another soldier and takes a bullet to the head in the process.
As acting mayor, Peyton is struggling to find a way for zombies to be seen in a more positive light, so a solution: zombie PR and a cameo from Councilman Zed (Kareem Abdul-Jabbar). With no room in the budget for that kind of work, Peyton makes an underhanded decision to sell the naming rights of the space needle to fund "Hi Zombie", a show which will depict zombies and humans living amicably behind white picket fences, next to the other.
Unfortunately, we also lost the beloved Cayote Baron this epsiode – who was enroute smuggling three foster children into New Seattle. After two of them were discovered last episode at a checkpoint in Washington and brought into the police station, Baron orchestrates an escape plan by hotwiring a police car and making a quick getaway. At last, freedom as the four approach the Seattle wall… only to be ambushed. To save the three kids, Baron takes multiple bullets to the chest. Here I really wasn't buying how it all went down: he didn't really even try to run, just kind of hid behind a car and took the shots. The three foster children make it safely to Renegade's hideout. Now while the terminal boy was zombified by Liv to save his life, I'd like to know why the other two kids had to meet the same fate since they weren't dying. A questionable plot choice…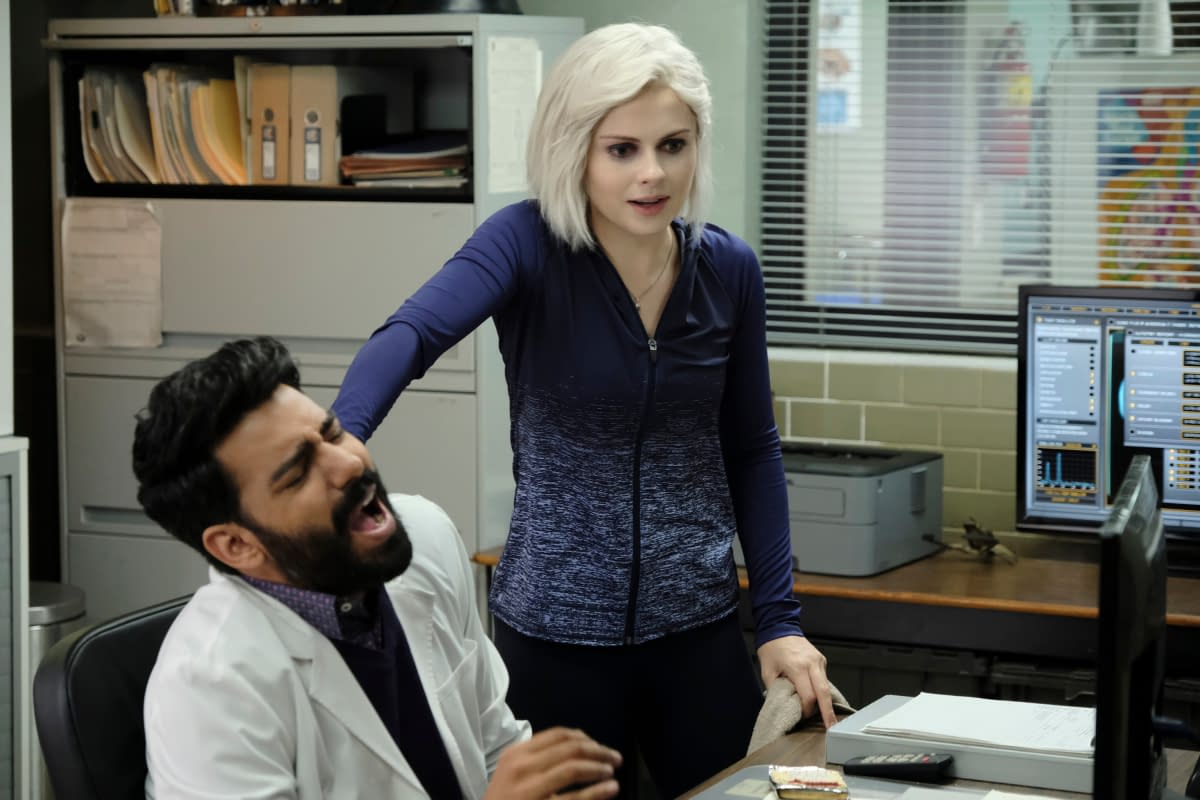 Ravi makes a startling discovery when the viral video victim's vehicle is found stashed in a garage. The blood found at the crime scene is actually corn syrup? Yep, the entire thing was a hoax, staged to justify the need for humans to take action and retaliate against the zombies. Speaking of retaliation, a car intentionally crashes into a dive bar and kills one of it's occupants while injuring three others, adding more human-zombie "love" to the fire. A lot of twists and turns and interlocking plots, so how does one resolve all this: cover-up – and where was Blaine (David Anders)?
Three innocent humans volunteer to take the blame for "faking" the viral video crime in exchange for Zombieland freedom beyond New Seattle walls. That's a solution, I guess? But will no one want to know what happened to them? Has New Seattle completely absolved itself from the court system? Guess so, didn't get that memo. Now hope you are still following: this puts humans in a bad light… and we just can't have that, so a balance must be maintained. Thus, second cover up! Major brings back the guillotine in a "secret" video recorded at Fillmore-Graves showing the execution of two soldiers responsible for the drive-by shooting. Insubordination = Death. All of this was just too easy for me, like slapping on a band aid when you actually need stitches.
So who was really behind these crimes? Not surprising, Food Truck Sociopath owner Dolly Durkins (Jennifer Irwin) and her team of "Dead Enders" (catchy). Her goal is to kill off as many zombies as she possibly can… and apparently, she won't hesitate to knock off members of the living as well. The episode wraps up with her giving one of her goons the green light to kill a teammate who wants to go public to expose the hoax and take credit.
I'm exited and a little nervous for next week's episode. Will we be plagued with locusts, rivers of blood, and boils? Or will thunderstorms of hail and fire descend?
https://www.youtube.com/watch?v=RXIidGznHSQ
iZombie season 5, episode 3 "Five, Six, Seven, Ate!": SO YOU THINK YOU CAN DANCE — While investigating the deaths of Gulliver and Nancy, the dynamic duo of Seattle's winning dance team, Liv (Rose McIver) and Ravi (Rahul Kohli) go undercover as dance partners to size up the other contestants aka the prime suspects. Meanwhile, Peyton (Aly Michalka) confronts Major (Robert Buckley) after she's told that one of his soldiers was out of line during a routine lice check at the school. Lastly, Clive (Malcolm Goodwin) and Bozzio (guest star Jessica Harmon) receive a shocking surprise during Lamaze class. David Anders and Bryce Hodgson also star. Viet Nguyen directed the episode written by Diane Ruggiero-Wright
CW's iZombie stars Rose McIver as Olivia "Liv" Moore, Malcolm Goodwin as Clive Babineaux, Rahul Kohli as Dr. Ravi Chakrabarti, Robert Buckley as Major Lilywhite, David Anders as Blaine DeBeers, Aly Michalka as Peyton Charles, and Bryce Hodgson as Don E. Filmed in Vancouver, British Columbia, Rob Thomas, Diane Ruggiero-Wright, Danielle Stokdyk, and Dan Etheridge serve as executive producers. Production is handled by Bonanza Productions Inc., in association with Spondoolie Productions and Warner Bros. Television.
iZombie airs Thursday nights at 8 p.m. ET/PT on the CW.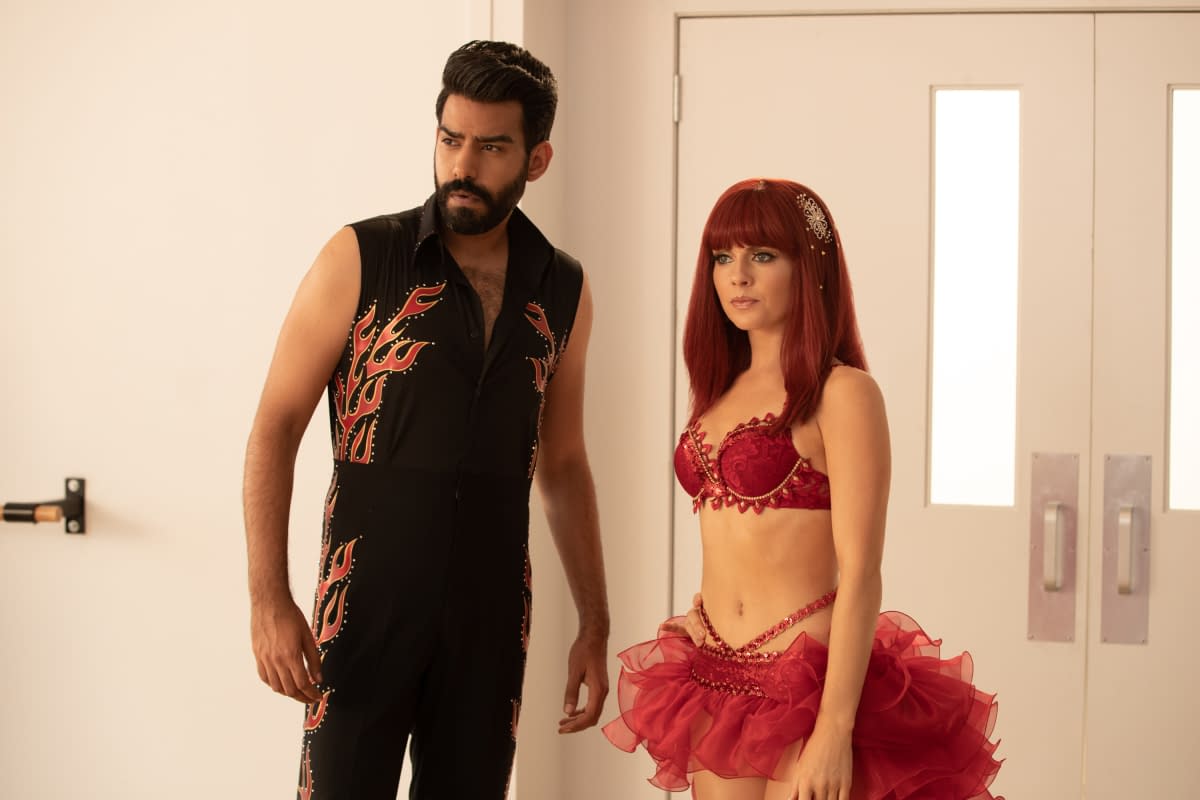 Margo Staten is a Ukrainian born, raised in Brooklyn, organically driven, coffee loving, twice-divorced mother of one baby Einstein. Has a passion for books, yoga in the park and all things 80's and New Orleans.