'iZombie' Season 5, Episode 6 "The Scratchmaker": Wait, We Thought Liv Was Major's Match?!? [PREVIEW]
If you've been following Bleeding Cool's weekly coverage of the fifth and final season of the CW's iZombie – especially coming out of last week's episode "Death Moves Pretty Fast" – then you know that our "New Seattle" heroes have been facing a building tension between humans and zombies that doesn't look to be ending any time soon. Worse than that, when it does end? It's not going to be pretty…
Case-in-point? This week's episode "The Scratchmaker" – which finds Liv (Rose McIver) playing "matchmaker" for Major (Robert Buckley… huh???), Blaine (David Anders) looking to play a round of "CYA" no matter what it takes, and Clive's real-world alter-ego Malcolm Goodwin stepping into the director's chair. Like we said… none of this bodes well for what's still to come…
https://www.youtube.com/watch?v=i2yd3qyAE2M
iZombie season 5, episode 6 "The Scratchmaker": MALCOLM GOODWIN DIRECTS THE EPISODE — After consuming the brain of the ultimate matchmaker, Liv (Rose McIver) is determined to find the perfect match for Major (Robert Buckley). Meanwhile, Blaine (David Anders) will stoop to any level to protect himself. Lastly, Don E (Bryce Hodgson) contemplates an interesting offer. Malcolm Goodwin, Rahul Kohli and Aly Michalka also star. Malcolm Goodwin directed the episode written by Joshua Levy & Prathi Srinivasan
Now here's a look at the official preview images for this week's episode "The Scratchmaker," which appear to (say it with me now)… raise more questions than they answer! See? You're starting to learn how this works…

In season 5 of iZOMBIE, our heroes try to keep the peace in the zombie state that is New Seattle, but with starving zombies on one side, and terrified humans on the other, they'll have their work cut out for them. Liv faces off with the U.S. military trying to prevent her from bringing the sick and dying into Seattle to give them a lifesaving scratch.

Major, now the head of Fillmore Graves, has to worry about dissent in the ranks dissatisfied with his warmhearted treatment of humans. Peyton, still the acting mayor, will use her power to attempt to make the rest of the world see Seattle as something other than a lawless wasteland. Ravi will work tirelessly on a cure that may be the only thing that can stave off widespread violence. And through it all, Liv and Clive will continue to solve the murder cases that come across Clive's desk, the murders themselves becoming more and more tied to the societal breakdown taking place all around them.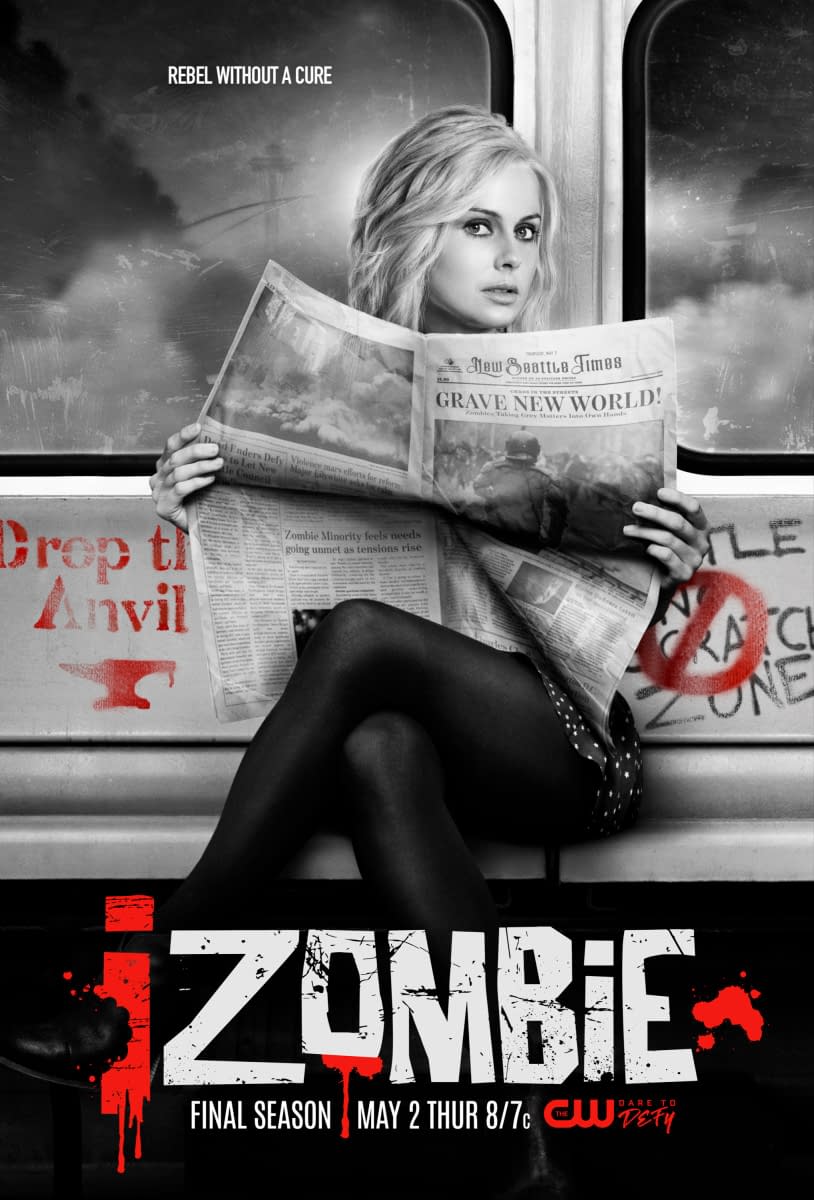 CW's iZombie stars Rose McIver as Olivia "Liv" Moore, Malcolm Goodwin as Clive Babineaux, Rahul Kohli as Dr. Ravi Chakrabarti, Robert Buckley as Major Lilywhite, David Anders as Blaine DeBeers, Aly Michalka as Peyton Charles, and Bryce Hodgson as Don E. Executive producers include Rob Thomas, Diane Ruggiero-Wright, and Dan Etheridge; with the series produced by Bonanza Productions Inc. in association with Spondoolie Productions and Warner Bros. Television.
iZombie airs Thursday nights at 9 p.m. ET/PT on the CW.