James Gunn on Harley Quinn Continuing at HBO Max: "Oh Yes"
James Gunn had two very encouraging words for EPs Patrick Schumacker & Justin Halpern's Kaley Cuoco & Lake Bell-starring Harley Quinn series.
---
When it comes to the immediate future of EPs Patrick Schumacker & Justin Halpern's (with series writer Sarah Peters taking over as showrunner with the upcoming new season) Kaley Cuoco & Lake Bell-starring Harley Quinn, things are looking pretty bright. We learned back in August that the adult animated series would be returning for a fourth season, and then there's the Kite-Man (Matt Oberg)-focused spinoff Noonan's to look forward to. And in the more immediate future, February 9th brings Harley Quinn: A Very Problematic Valentine's Day Special. But we're living in the age of James Gunn's & Peter Safran's DCU now, with Tuesday bringing a first wave of impressive rollouts. So it never hurts to know where you stand with the new bosses, and that's what Schumacker, Halpern & Peters learned when Gunn was asked about the animated series continuing on HBO Max in an Instagram post earlier today. Once again, Gunn didn't mince words, answering with a definitive, "oh yes."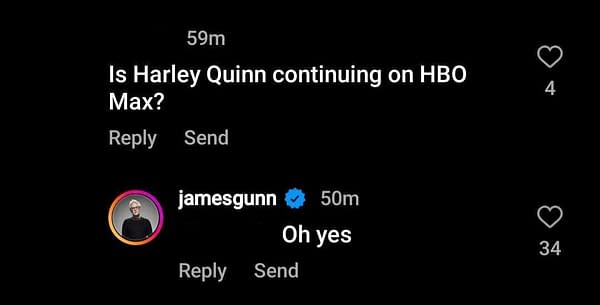 And when it comes to Creature Commandos (one of the five series announced during Tuesday's presentation), Gunn confirmed in the comments that all seven episodes have been written and are in production. And as for Viola Davis continuing to play Amanda Waller in Waller and possibly other DCU projects moving forward, Gunn explained that Flashpoint "resets many things, not all things" and that "come characters remain the same" while "some do not." Here's a look at the full post:
And for those of you nervous about the future of Harley & Ivy, here's a look back at Schumacker's tweet in response to a fan seeking some soothing reassurance that "Harlivy" will still be a meaningful hashtag moving forward… one that doesn't leave a lot for wiggle room: "They will never break up." Here's a look:
Joining Cuoco and Bell are Alan Tudyk, Matt Oberg, James Wolk, Natalie Morales, Chris Diamantopoulos, James Adomian, Jim Rash, Vanessa Marshall, Janet Varney, Rachel Dratch, Leila Birch, Tyler James Williams, Josh Helman, Casey Wilson, Michael Ironside, and others, here's a look at the official trailer & overview for HBO Max's Harley Quinn: A Very Problematic Valentine's Day Special:
As Harley goes to obsessive lengths to ensure that her first Valentine's Day with Ivy is the best ever, Bane's efforts to impress an unexpected date go horribly awry. Meanwhile, after an unfortunate online dating encounter, Clayface engages in some self-love.
Back in December 2022, Schumacker offered a heads-up that he had watched the special with songwriter Jefferson Friedman's music included for the first time and that he was "even prouder of it" now than he was with previous screenings:
But when asked if that meant that he wasn't that proud of it before, Schumacker makes it clear that "prouder" doesn't mean that you didn't already have a high level of pride in something. It just means you found another level of appreciation for it. "I'm just saying I WAS super proud of the show, and now I'm even prouder, seeing it with the final music. The music for this episode is maybe my fave in the series. New sounds and new interpretations of familiar ones from past episodes. Very proud of
[Jefferson Friedman's] work," Schumacker wrote in response, dropping some high praise for Friedman's work. As for where the special sits on the Harley Quinn timeline (after Season 3 or "someplace in limbo in the story till season 4"), the executive producer responded with a GIF of someone limboing… which should pretty much clear up that question.