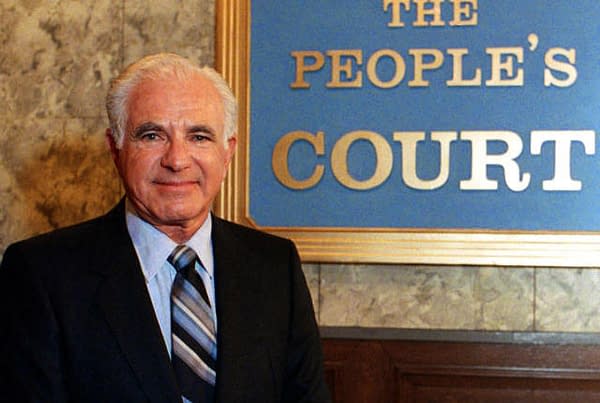 TMZ is reporting that Judge Wapner has passed away. Joseph Albert Wapner's The People's Court was on the air from 1981 until 1993, and was the forerunner of all of the adjudicated reality shows including Judge Judy, Judge Mathis, and myriad others.
The show was part of the early reality show genre, and Wapner's strong personality and unflappable resilience towards difficult plaintiffs and defendants made him a household name. His peak of cultural awareness came when he was name-dropped by Dustin Hoffman's character in Rain Man with the now-famous line, "three minutes to Wapner".
Before The People's Court, Wapner had been appointed to the Los Angeles Municipal Court in 1959 by then-Governor Pat Brown. He served for two years in the Municipal Court before being raised to the Superior Court where he served for the next 18 years.
In celebration of his 90th birthday, he received his own star on the Hollywood Walk of Fame. It was noted that back in 1989 when The People's Court's popularity was in full swing, a Washington Post poll found that 54% of those polled could identify Judge Wapner, while under 10% were aware that William H. Rehnquist was the then Chief Justice of the Supreme Court.
Wapner is survived by his wife Mickey and two sons, David and Fred, both of whom became attorneys, and Fred further followed in his fathers footsteps by becoming a judge.
Enjoyed this article? Share it!