Justin Roiland Dropped from Hulu's Solar Opposites, Koala Man
Hulu & 20th TV Animation "have ended our association with Justin Roiland," officially dropping Roiland from Solar Opposites & Koala Man.
---
The fallout from Justin Roiland being charged with one felony count of domestic battery with corporal injury & one felony count of false imprisonment by menace, violence, fraud, and/or deceit continued earlier today. Following Adult Swim parting ways with the Rick and Morty co-creator (though the adult animated series will continue) and Roiland resigning from Squanchy Games (which he founded), Hulu & 20th TV Animation released a statement saying that "we have ended our association with Justin Roiland." That means when it comes to Solar Opposites, and the recently-debuted Koala Man, Roiland's name will be dropped from the animated series moving forward.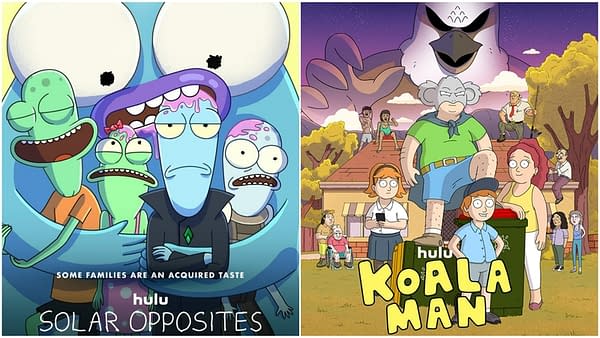 NBC News Reports on Protective Order Filed Against Justin Roiland
Based on a copy of the complaint obtained by NBC News earlier this month, as well as available public documents seen by the news organization, the incident in question took place around January 19, 2020. It involved an "anonymous Jane Doe" who Roiland was dating at the time. Based on NBC's reporting, Roiland was charged in May 2020 and then arrested & released on a $50,000 bond in August 2020. Roiland would be arraigned in October 2020, where he would plead not guilty to both felony domestic violence charges. Roland's most recent court hearing took place in Orange County, California, on Thursday. NBC reports that Roiland's attorney confirmed that a plea offer was made available to Roiland, though no details were made available, and another hearing was set for April 27th (with the 42-year-old required to attend).
NBC News also offered details of the protective order filed against Roiland in October 2020, as well as the court minutes. Set to run through October 2023, the order states that Roiland "is not to harass, threaten or surveil the person" who was named in the protective order (though not named in public reporting). In addition, Roiland was instructed not to "go within 100 feet" of the individual and to "turn in any firearms" that were in his possession. Beyond the criminal complaint and available public documents, other details of the case (police body camera footage, police reports, abuse investigation reports, medical reports, interview recordings, etc.) are being shielded from the public under a protective order (as is the affidavit supporting Roiland's arrest).
"It is hard to overstate how inaccurate the recent media coverage of this situation has been. To be clear, not only is Justin innocent, but we also have every expectation that this matter is on course to be dismissed once the District Attorney's office has completed its methodical review of the evidence," said Roiland's attorney, T. Edward Welbourn, said in a statement not long after the news broke. "We look forward to clearing Justin's name and helping him move forward as swiftly as possible."