Kay Scarpetta: Amazon, Blumhouse, Kidman, Curtis Eyeing Series Adapt
Patricia Cornwell's Kay Scarpetta could hit the small screen in a series adaptation from Amazon, Blumhouse, Nicole Kidman & Jamie Lee Curtis.
---
Fans of author Patricia Cornwell's Kay Scarpetta are going to see one of their favorite literary characters come to life, with Deadline Hollywood reporting exclusively that Oscar winner Nicole Kidman is set for the title role in a television series adaptation. In addition, Jamie Lee Curtis will be taking on the role of the forensic pathologist's sister, Dorothy. Set to be produced by Amazon Studios and Blumhouse, the project is reportedly nearing a straight-to-series order for two 8-episode seasons (though a rep for Amazon declined to comment to DH as negotiations are still underway). Stemming from writer-showrunner Liz Sarnoff (Barry) and Blumhouse Television, Kidman will executive produce via Blossom Films and Curtis through Comet Pictures. Kidman's Kay Scarpetta is a brilliant forensic pathologist who was inspired by the work of former Virginia Chief Medical Examiner Marcella Farinelli Fierro, while Curtis' Dorothy is also the mother of Lucy Farinelli (a recurring character in the novels).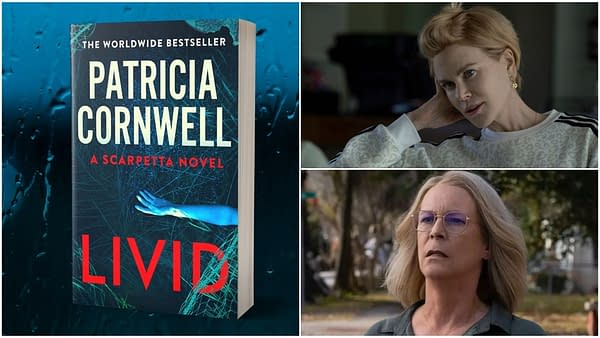 Stemming from her first-look deal with Blumhouse, Curtis has proven to be a big fan of Cornwell's work and has developed a personal relationship with the author over the years. Curtis and Blumhouse Television would go on to secure the rights to the Kay Scarpetta series in 2021 in a deal that includes 26 novels in total (including 2022's Livid), with Curtis originally announced as only executive producing. "Patricia Cornwell is a bonafide literary trailblazer, and collaborating with her to bring her beloved character Kay Scarpetta to life through the power of television and to introduce her to an entirely new audience is exciting," Curtis shared when first announcing that the book rights had been secured. "The confluence of Blumhouse and Comet bringing to life a dark, fun, and layered work world and family life, spearheaded by the smart and sexy indomitable Kay Scarpetta, is going to be a thrilling ride." Cornwell, Curtis via Comet Pictures, Kidman & Per Saari via Kidman's Blossom Films, and Blumhouse's Jason Blum, Chris McCumber & Jeremy Gold are all set to executive produce.