Showtime's second season of Jim Carrey, Michel Gondry, and Dave Holstein's award-winning and critically-acclaimed series Kidding continues finding a way to be the "quietest loud show" on television, with last week's two-episode opener driving that point home.
The show's "quiet" in the performances, look, and overall vibe of the series: there's a gentleness and a tinge of the fantastic in every episode that doesn't distract from the seriousness of the issues raised – the "loud".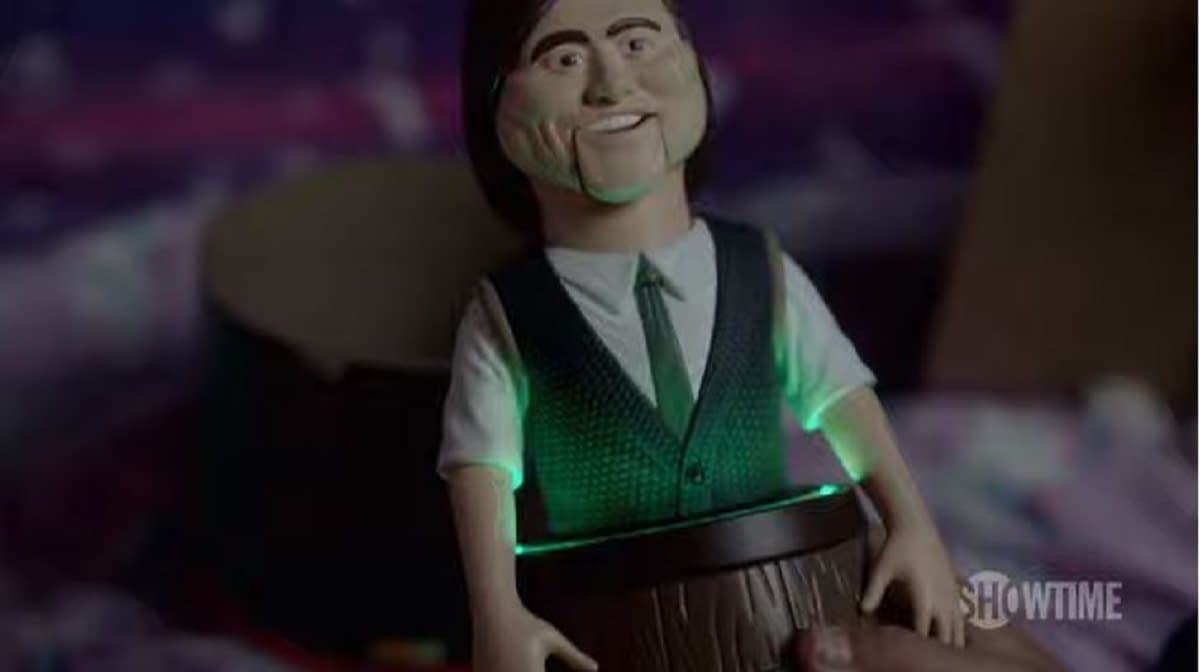 Heading into this week's episode "I'm Listening", there's a lot of "loud" that needs to be unpacked:
Is giving Peter (Justin Kirk) a piece of his liver as a peace offering going to be enough to make up for the accident?
Exactly how done is Jill (Judy Greer) with Jeff at this point?
What's Seb's (Frank Langella) "Plan B" now that he's no longer executive producer?
Now that Jeff's commited to a comeback, what exactly will that mean?
Is Deirdre (Catherine Keener) ready to take the reigns – and does she want to?
How long before the sound of Maddy's (Juliet Morris) dragging axe Juliet Morris?
In the following preview clip and promo for this week's episode, we start to get answers to some of those questions – including what appears to be the origin of "Mr. Pickels v2.0":
"Kidding" season 2, episode 3 "I'm Listening": Jeff has an idea for how he can speak directly to the children of the world; Seb hands over the reins of the Pickle empire to Deirdre; after finding a book of magic spells, Will finds himself face to face with the past.

With his beloved Mr. Pickles' Puppet Time off the air for the first time in 30 years, Jeff Pickles must find a way to communicate with his many fans who still need him. Jeff creates a new and controversial method to talk directly to children across the world only to become the target of animosity for the first time in his career. As Jeff navigates the most complicated moral gray areas of his life, he discovers a new side of himself in a season full of music, magic, puppets and pathos.

Kidding was created and is executive produced by Holstein (Weeds, Raising Hope), who wrote the pilot and serves as showrunner. The series is also executive produced by Oscar winner Gondry (Eternal Sunshine of the Spotless Mind), who is directing several episodes, including the premiere. In addition, Kidding is executive produced by Carrey, Michael Aguilar (I'm Dying Up Here), Roberto Benabib (Weeds), Raffi Adlan (The Green Hornet), Emmy nominee Jason Bateman (Ozark, Arrested Development) and Jim Garavente (Bad Words).