Now how's that for timing? Only minutes after we posted an article about pop singer Ariana Grande appearing in the second season of Showtime's award-winning and critically-acclaimed series Kidding, the cabler is giving us both an official trailer for the upcoming season and a launch date: Sunday, November 3, at 10 p.m. ET/9 p.m. CT.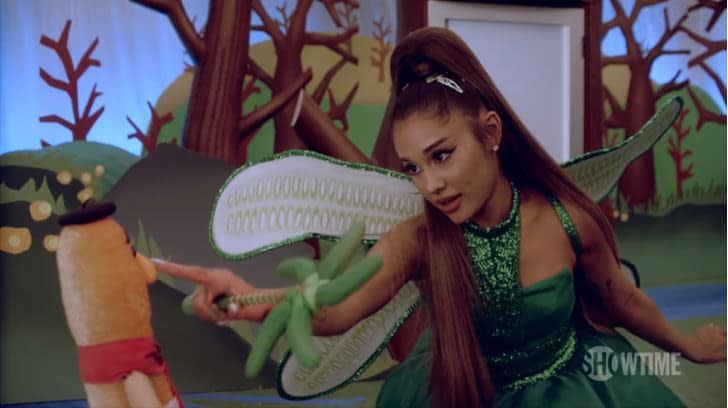 In the following trailer, not only do we get a look at Grande in full-on "pickle fairy goddess" mode, but we get to see where Jim Carrey's Jeff is heading without a show to anchor him. From the looks of things, it appears Jeff is "headed" towards processing some serious anger issues – especially with Jill (Judy Greer); finding a new way to reach his audience – that a lot of people are not going to be fans of; and what appears to be a pretty sharp, new haircut:
With his beloved Mr. Pickles' Puppet Time off the air for the first time in 30 years, Jeff Pickles must find a way to communicate with his many fans who still need him. Jeff creates a new and controversial method to talk directly to children across the world only to become the target of animosity for the first time in his career. As Jeff navigates the most complicated moral gray areas of his life, he discovers a new side of himself in a season full of music, magic, puppets and pathos.
Kidding was created and is executive produced by Dave Holstein (Weeds, Raising Hope), who wrote the pilot and serves as showrunner. The series is also executive produced by Oscar winner Michel Gondry (Eternal Sunshine of the Spotless Mind), who is directing several episodes, including the premiere. In addition, Kidding is executive produced by Carrey, Michael Aguilar (I'm Dying Up Here), Roberto Benabib (Weeds), Raffi Adlan (The Green Hornet), Emmy nominee Jason Bateman (Ozark, Arrested Development) and Jim Garavente (Bad Words).
Enjoyed this article? Share it!