A very interesting change in dynamics came into play on "Nice and Neat", the latest episode of Killing Eve.
Villanelle (Jodie Comer) was very much the victim for once.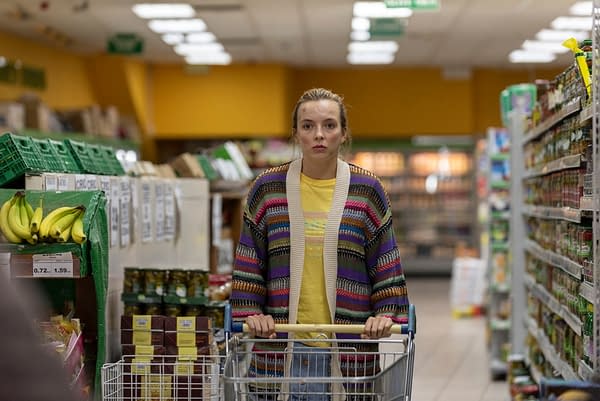 It was an interesting choice, showing Villanelle off her guard and much worse off than it appeared in episode one. She's obviously not mending from her run-in with Eve's (Sandra Oh) knife, and looks to be running a pretty severe infection and fever.
That's not to say that she's any less clever- Villanelle, now in England, makes her way to a grocery store, and starts playing confidence games with male customers, hoping to find a mark that will take her in so that she has a place to lay low and recover a bit.
She meets a supposedly nice man (Julian Barratt), who takes her back to his house- a house which is filled with dolls. And his old, ailing mother, who has dementia. It's a pretty creepy place to lay low, but Villanelle tries to make the most of it.
Eve is brought back into the fold at MI6, where she meets her new crew. They begin to unravel one of Villanelle's old murders, only to find that the assassin may not have been the one behind the killing, simply because it lacked any flair.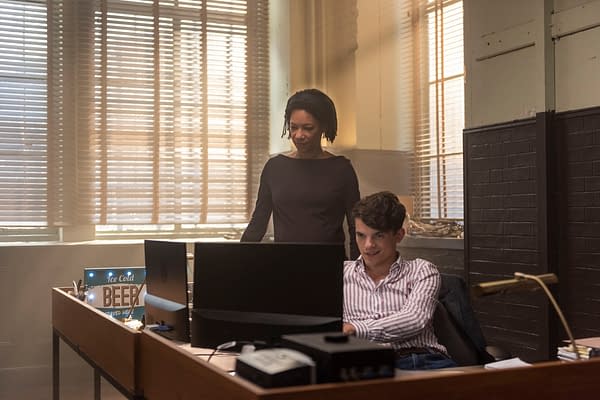 Oh, boy. There's a new assassin in the works!
Let's get into spoiler territory, there's far too much to get into without spoilers!
Eve figures out that Villanelle is still alive after finding a news story on Gabriel's death, and the clue that was left for her to find. Villanelle left an apple in Gabriel's hand, with a bite taken out of it. Eve puts the biblical connection together, and gets excited in a terrified sort of way.
Creepy Guy- There was something off about Villanelle's "savior". It wasn't just the house of dolls, the barred windows, or any of his quirks. He had an air of subtle menace to him, and Villanelle was just out of it enough to not realize any of that- until it was too late.
Still, Creepy Guy had no idea who he was dealing with, suckered into thinking he had saved "Elizabeth", a frail British girl with an abusive father.
Seeing the tables turned on her like that was an unexpected treat, especially since Creepy Guy was so sure of himself with his new "doll". But even a severely wounded Villanelle is dangerous as hell, and his comeuppance is kind of glorious.
Jodie Comer is astonishingly good. The faces she keeps making throughout the episode, first simpering, then rolling her eyes in disgust, effortlessly shifting accents, and still grimacing through the pain of an abdominal wound? Absolutely amazing work. It would be easy to make Villanelle hard to like- she's clearly horrible- but Comer makes her so personable that you end up rooting for her to win.
And Comer's just the tip of the talent iceberg on Killing Eve– Sandra Oh's Eve Polastri is smart, quirky, and oh-so endearing; Fiona Shaw's Carolyn, the director of Eve's task-force, takes to each scene with enough swagger for 10 extras on any episode of Mad Men, and that's just the primary cast!
Kenny (Sean Delaney) is back, and brings his own awkward charm into the investigation. It's good to see Kenny and Eve back together, since they make such a wonderfully weird dynamic duo- so much so, that new guy Hugo (Edward Bluemel) thinks they're having an affair.
It's really hard not to feel bad for Villanelle, who finds herself with a new handler at the end of the episode. A new handler (Adrian Scarborough) who is not the least bit charmed by his new assignment, and nearly chokes her out to make a point.
The last we see of Villanelle, she's being driven right past Eve, probably wishing she had stuck around for just a few minutes longer.
Oh, that ending. It's wonderful seeing the super-charming smarminess of Konstantin (Kim Bodniaback) in the flesh! He was far too good an antagonist to be dead!
Now the dynamics have changed- Carolyn knows that Eve is in danger, and wants to protect her. The new assassin is a ghost to the team, but the new focus of their investigation, and Villanelle may be in more danger than ever before. Then again, her new handler may be for a world of hurt once she's back on her feet!
The soundtrack is its own beast, too. Killing Eve has a retro Euro-pop soundscape unlike any other show in production, with more musical, listful "la la's" going than the most whimsical Gilmore Girls entry. The playlist is on Spotify if you want to give it a listen.
Sunday, April 21st, AMC and BBC America will both air "The Hungry Catepillar" (that's kind of ominous!). Here's a peak at what's to come:
Enjoyed this article? Share it!