Krypton Season 1: Sneak Peek at the Season Finale
The Krypton season 1 finale is this Wednesday, and if you've been following along, you know things have gotten pretty crazy with time travel and bloodlines to the point where viewers can't even be sure who to root for anymore.
The show has been so much more than the basic concept seemed when it was pitched as the story of Superman's home world 200 years before he was born. It's like an Elseworld's graphic novel came to life, and you don't get the feeling that this has to end in the way that gives us an infant Kal-El speeding away from an exploding planet. Anything is possible.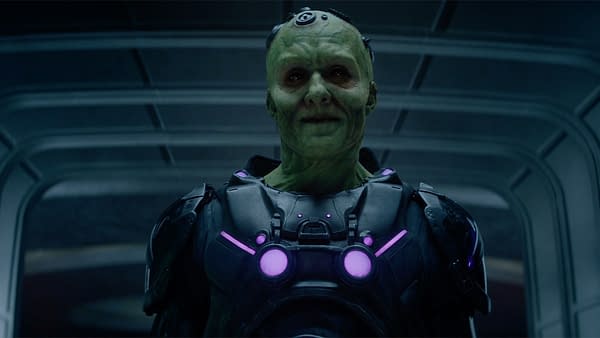 Syfy has released a sneak peek into the season finale. The episode is called 'The Phantom Zone', and this rather long scene from early in the episode explains why as General Dru-Zod (Colin Salmon) tells us about how he was sent into the Phantom Zone and met Val-El (Ian McElhinney) and stole a way out of the zone. Now he proposes going back in to get him to help them find a way to defeat Brainiac (Blake Ritson). Seg-El (Cameron Cuffe) and Nyssa-Vex (Wallis Day) don't trust him at all while Lyta-Zod (Georgina Campbell) doesn't really show what she is feeling. There is more to it, but I'll let you watch if you want more spoilers.
The episode description is very vague:
"Seg races to save his city from being overtaken as the bottling of Kandor begins."
Initial reports have said the creators of the series plan it to be a seven- or eight-season show, but is that seven or eight seasons of them trying to save Superman/stop Brainiac, or will we get a resolution here and then follow other threads and threats going forward? If the series goes forward, that is.
The series offered us a piece of the puzzle we didn't know, they why Krypton explodes and how it's tied to what Brainiac is doing — perhaps the season will have a happy ending for the current Krypton, but one that prevents Superman from going to Earth that way and the rest of the series swings us back to the point that baby Kal-El ends up in a ship. We'll find out how they wrap up season 1 soon and then wait to hear if the network wants more.
Krypton season finale will air Wednesday, May 23rd at 10 p.m. ET on Syfy.