Kyoto Animation Update: Studio President Makes Statement, Suspect Arrested
Japan is still reeling from the arson attack on Kyoto Animation's 1st Studio building that killed 34 people. This was the biggest act of mass murder in the history of post-war Japan. Kyoto Animation's president Hideaki Hatta appeared before the press to make a statement.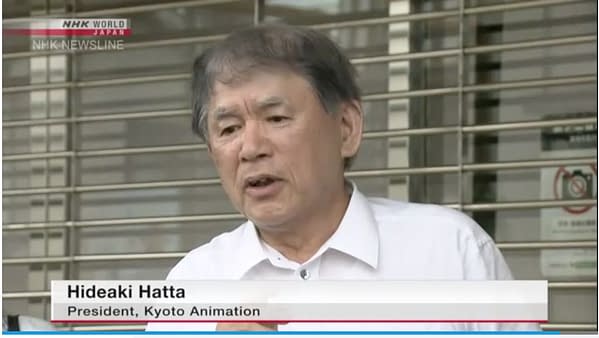 "Our company's philosophy is to create wonderful works. We are not sure whether there is something we did that displeased the suspect, but it is unacceptable to respond with violence."
The anime industry and fandom are also in mourning for a beloved studio known for its dedication to quality and artistic innovation. Kyoto's productions include acclaimed series and feature films like K-On, The Melancholy of Haruhi Suzumiya, A Silent Voice, Violet Evergarden and Free! Hatta declared that the studio's past animation materials and computers were all destroyed in the fire.
Hatta said, "The [monetary] amount of the damage? Extreme. I don't know the full details."
The studio's contributions to anime culture and storytelling is invaluable. The loss is incalculable.
"I am deeply heartbroken. I can't bear it. I never even in my dreams would have thought such a large disaster would happen." He later added, "This is a serious blow to our company and our industry. Every one of them was an excellent and wonderful colleague."
Suspect Identified
Meanwhile, Kyoto Prefecture Police have identified and arrested the suspect. The police released his name, which is not standard procedure, but chose to do it because of the severity of his crime. We are choosing not to name him.
According to news reports, the 41-year-old man has a history of mental illness and served a three-and-a-half-year sentence for robbing a convenience story. He previously lived in a shelter for former convicts before moving to an apartment in Saitama, Tokyo listed as his current address. The man was living on welfare and receiving treatment for mental illness. He claimed that the studio plagiarized his novel but has no known connection with the company.
The police have not fully arrested or interrogated him yet as he is still being treated for severe burns. The hospital has separated him from the 35 victims of the fire. The police are waiting to interrogate him to ascertain his motive for the attack before they issue an official statement. The 34th victim died on Friday.
On Saturday, South Korea's Ministry of Foreign Affairs released a statement that confirmed that one of the injured is a South Korean citizen. Hatta also said one of the injured had to have both legs amputated.
Prosecutors will almost certainly seek the death penalty for the suspect. In Japan, the death penalty is reserved for the most heinous of murderers and they are almost always found guilty at trial.
Donations and Messages of Support
Meanwhile, US distributor Sentai Filmworks has started a Gofundme page to help Kyoto Animation staff and their families. They pledged that the money would go to the intended recipients but have not said what it will do with the money or who it will go to. Kyoto Animation has yet to declare they would accept the money.
Crunchyroll is also accepting messages of support to send to Kyoto Animation on its website. These can include artwork and photos that they will forward to the studio and its staff.
On Saturday, studio president Hideaki Hatta appeared before the press to make further statements. He said the messages of support from around the world are "becoming our emotional support."
What Next?
Hatta is thinking about demolishing the 1st Studio building to build a public park with a monument in its place.
"When I consider the staff and the people in this neighborhood, there are people who don't want to see such a gruesome sight." he said.
He said he was considering holding a memorial service for the victims.
Sources: NHK, Anime News Network, Guardian, ANN