March 21st 2019 marks the 15th anniversary of HBO series Deadwood first airing, and we're REALLY hoping the cable network decides it's the perfect day to release a trailer for the upcoming feature film.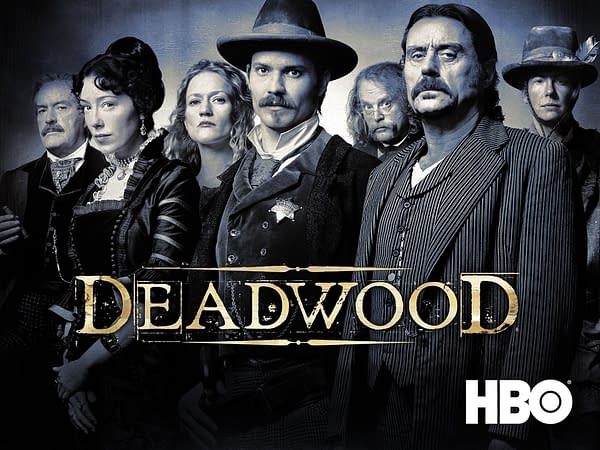 We've gotten some teases of what's to come in the movie, and some pretty great images of familiar characters together again, but, WE WANT MORE!
If you've never watched the almost-Shakespearean Western series, tomorrow is the perfect time to start. All three seasons of the show are available on HBO NOW (formerly HBOGO).
And, it DOES sound like you should probably watch the show before seeing the film, as EP Carolyn Strauss told Entertainment Weekly last year:
EW: The movie is set in 1889 as the town prepares to celebrate South Dakota joining the Union as the 40th state. What's the film about, basically?

CS: If you ask David, it's about the passage of time. The toll of time on people. It's mellowed some people and hardened others. And it's about the town's maturing and becoming part of the Union and what that event sets in motion, in a very personal way for the people that it brings in town and what ensues. The toll of time has not just struck Deadwood and the characters but all the people making it as well, you get to see the faces of people 12 years later. And it was really profound. Actors were crying at the table read — not necessarily from the script but the emotion of being back and doing something we all loved doing so much. You normally have a great experience and then it's over. You don't normally get the chance to do this in life. It was kind of a gift.

The time has taken its greatest toll on Swearengen. He's the person who really drove so much of the life of the town and there's a sense of that power waning somewhat, and what ensues of that is a big part of the story.

EW: Can the movie be watched on its own? Or is knowledge of the series pretty essential to keeping up with the story?

CS: I suppose you could [watch the movie without seeing the series] but it would be a much-enhanced experience if you brought your knowledge of the series to it. There are old scores, old relationships — lots of things in the film that really pick up where we left off.
In any case, March 21st seems like the perfect time to begin a rewatch of Deadwood ahead of the "spring 2019" release.
Enjoyed this article? Share it!