Let's Talk About America's Next Top Model Cycle 24 Episode 12
Let's talk about America's Next Top Model cycle 24 episode 12, "Beauty Is A Comeback". VH1's episode description for this week reads:
The final four's livelihoods come into question when the eliminated contestants return to battle it out for a chance to return to the competition: show legends join the models.
Also, if you missed it last week, you can catch up on what happened here. Don't forget that VH1 has this cycle's episodes on their website, within a day or two of airing. And you can watch the interview segment with judge Drew Elliot and the girl that went home in episode 10 here (spoiler: it was Jeana).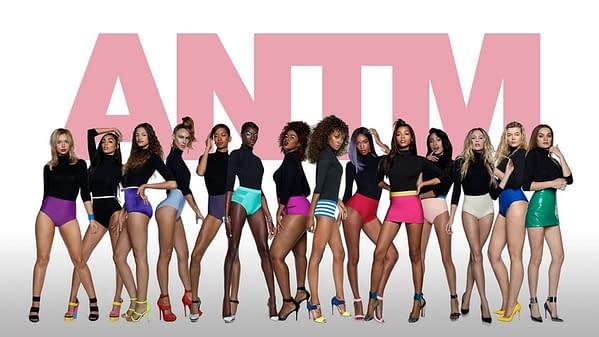 As a reminder, prizes for the winner of this cycle of America's Next Top Model include a cover and spread with Paper magazine, modeling contract with Next Management, and the new twist this year: an ANTM mobile game where the winner will be an avatar along with Tyra, and $100k from Pantene.
Things that happened in ANTM c24e12:
The episode starts with a recap of last week, when Jeana got sent home
Khrystyana got best photo from the video performance
The girls return to the house to see the clip playing on the TV
Jeana left a letter for Rio, but not for anyone else
TyraMail #1: "For nearly 15 years, ANTM has set a standard, so this week it's throwback week and fans voted to bring back a memorable challenge."
The girls start to talk about what the craziest challenge is that they can remember from the history of the series
Ashley Graham is waiting for the final four on set, and they notice a giant ballpit
Cycle 16's bubble runway is the challenge!
Stacey McKenzie comes out in one of the bubbles on the runaway to show them
Law Roach tells them they're also throwing it back to the previous contestants, and that one of the former contestants (Maggie, Ivanna, Ryan, Coura, Liberty, Christina, Sondra, Erin, and Jeana) has a chance to replace one of the current final 4 contestants.
"It's a throwback comeback", Ashley says
Law sends them off to hair and makeup
Kaiman is the designer of the show, her theme is future of fashion.
Law reveals that four of the coming back contestants will move back into the house, and at the end of the week- one girl will be talking a spot
Khrystyana doesn't like being in the bubble, she can hear her breathing, and she isn't doing too well
Erin wins the challenge, and is the first contestant going back into the house.
She's joined by Liberty, Christina, and Jeana
The remaining contestants aren't too happy about these picks, for obvious reasons
Jeana starts to feel left out by her former BBF Rio, who is making a point of ignoring Jeana, gotta admit
Christina walks into Rio, Kyla, Khrystyana and Shanice talking about how they're super unhappy with who came back
TyraMail#2: Welcome back to the ladies (for now) Next throwback photo shoot, "Don't get fear kill your dreams."
The girls talk about what they think it'll be, and Rio really lets loose in her confessional cam
Drew is waiting for the contestants, and the fan favorite photoshoot was the diamonds and tarantulas challenge
Eva Pigford (winner of Cycle 3) returns to shoot with the contestants, tells them to get ready and "Breathe"
The 4 girls get paired up with the returning 4 contestants
IT'S NIGEL BARKER back to shoot this challenge.
He was my personal favorite part of the previous series, I wish he was back full time.
Khrystyana is paired with Erin, and Erin isn't doing to well. Her fear is showing hardcore. Khrystyana is focused and doing her best.
Shanice is paired with Christina, and she says she'd rather shoot with the spider than Christina because "the spider isn't venomous but Christina is."
Liberty and Kyla are paired together, and of COURSE Liberty is complaining
Rio and Jeana are shooting together, and well?
Erin mixes it up, and asks to put the spider on her face, which turns out working so much better
Turns out Jeana's biggest fear is spiders, but she uses her desire to get back in to deliver during the shoot.
Rio is losing her cool again, being out modeled
Eva and Shanice hit it off, but then Shanice starts making some weird ass sounds during the shoot and Christina is doing ok
TyraMail#3: "Whos next level fierce enough to make a comeback and who's going home for good?"
Panel starts, Tyra introduces the judges and goes over the prizes again
Law shouts out to Jeana for working her butt off during the shoot
Drew says Rio is plateauing
Liberty just doesn't read model, she doesn't.
Kyla looks more Soap Opera than model
The Erin and Khrystyana shot isn't good, even Eva doesn't look anything other than cataelog
I wouldn't run any of the triad shots, personally.
Best photo called this week is Kyla, Khrystyana is second. Shanice and Rio are the bottom two of the final 4.
Rio is going home, and Shanice gets to stay, because of her weekly growth Tyra says.
Out of the returning hopefuls, Jeana gets to come back.