Let's talk about America's Next Top Model cycle 24 episode 14, "Next Level Fierce". This is the SEASON FINALE for Cycle 24, and the official episode description released by VH1 reads:
"The one who the judges deem next level fierce will be crowned America's Next Top Model in a star-studded runway hosted by renowned fashion designer Philipp Plein."
Also, if you missed it last week, you can catch up on what happened here. Don't forget that VH1 has this cycle's episodes on their website, within a day or two of airing. Normally, we share the interview segment with judge Drew Elliot and the girl that went home in the previous episode, but there WASN'T ONE in e13. Craziness.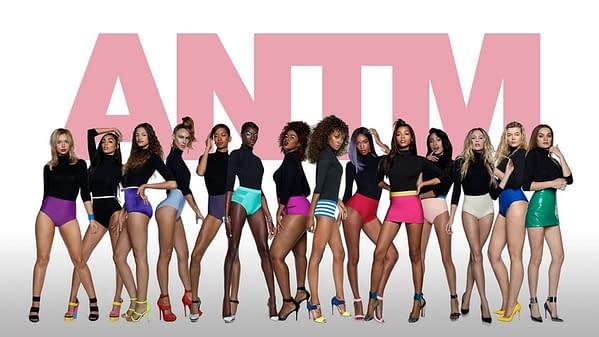 As a reminder, prizes for the winner of this cycle of America's Next Top Model include a cover and spread with Paper magazine, modeling contract with Next Model Management, and the new twist this year: an ANTM mobile game where the winner will be an avatar along with Tyra, and $100k from Pantene.
Things that happened in ANTM c24e14:

A quick rundown of the season
a reminder that Jeana was saved from being sent home by the designer sponsoring the finale runway (booo)
Things pick up right after last week's panel, and the remaining 4 contestants Shanice, Kyla, Khrystyana and Jeana head to a fitting for the fashion show
Philipp Plein's Rodeo Drive studio is insanely cool
Khrystyana's fitting and test walk doesn't go so great, Philipp tells her she doesn't know how to walk
Shanice goes in super professional, knowing her ultimate goal is to impress the designer.
Her walk has improved so much, but her nervousness still shows
Jeana's attitude is still an issue, as her confessional shows, but Philipp loves her walk
Kyla gets a 'good for the catwalk' comment from Philipp
Back at the house, Khrystyana has a bit of a cry, reacting to how her fitting went.
Don't cry girl, you're stronger than all the other contestants! You have a different kind of beauty and some of the most strong photos.
Tyramail #1 "Ready to add some paper to your portfolio? you already got the cover, great ready for the spread!"
the girls head to their Paper Magazine spread shoot, Drew is there waiting for them
He tells them based on their performance at the fitting and their body of work, one of the girls is getting sent home
Shanice is getting sent home, and I'm shocked! Wow, talk about the biggest transformation.

Tyra has since tweeted out a msg for Shanice:

Shanice, you are beautiful. You made Top 4. You are, and forever will be, part of the @ANTMVH1 family. Now go out there and become a powerful woman in the industry! #ANTM

— Tyra Banks (@tyrabanks) April 11, 2018

Drew introduced Mickey Boardman as their editorial director for the shoot
Jeana gets put in a pantsuit with a dash of color
her next look is very broken down 60s fashion doll, better than the paintsuit
Khrystyana brings brightness and love and joy to her shoot
Kyla still needs to work on her mouth
TyraMail#2 "The future of beauty awaits you at your final fashion show."
The three remaining contestants head to the fashion show, in an aircraft hanger.
Runway, runway, I get jokes.
Drew tells the girls they're walking in the show with several of the previous contestants, there are some nice moments of hugs and warm words.
No one says anything to Jeana.
Stacey McKenzie comes backstage to peptalk the girls too
Tyra comes back next to talk to them, dressed like a Grecian goddess
Tyra brings in a group of little girls, and says they'll they be walking in the show too
The show starts, the judges take their seats in the panel box
Rio opens the show with her young companion
Shanice's high fives with her walking companion was the cutest thing!
the kids were only for the first pass, now the girls are really working it
Kyla looks great, but her walk is terrible
Jeana's walk is good, but her arm needs to not go so far
The finalists all walk the final pass together, and Jeana's poses are (begrudgingly) fierce
The show ends, the judges come back stage and inform the girls that their final panel starts right now.
Tyra opens panel by reminding the contestants of the prizes
She informs them that based on their Paper Magazine shoot, one of them is going home imediately
Drew disagrees with Law about Khrystyna's photo, saying that she's exactly what Paper Magazine wants in a model
Law and Drew keep disagreeing, Drew saying that Jeana didn't work on set without her wig on, that it didn't look right
"I was there, and it's my magazine, and I didn't like it."
The model going home right away is Khrystyana
BOOOOOOO, HISSSSSS
Kyla and Jeana remain
Jeana gets called out for dropping the little girl's hand during the runway
The decision is made, and America's Next Top Model is Kyla
Enjoyed this article? Share it!