Let's Talk About 'Legion' Season 2 Premiere, "Chapter 9"
One of the surprise series to come with the superhero swarm of shows on tv is Legion. I say surprise because let's be honest here, the majority of us had no idea it was going to be as amazingly trippy as it was (and is).
The story of mutants and mental powers being told in the rich visceral era the original Chris Claremont X-Men stories were placed in was a genius move, and one that sets the show appart on FX from any of the other comic book based properties.
Season 2 of Legion begins with s2e2, titled simply "Chapter 9", and was written by Noah Hawley and directed by Tim Mielants. The synopsis reads:
"Unlikely alliances are formed and the search for the Shadow King begins."
We're going to dive into the episode right away, so if you don't want spoilers for tonight's premiere, you may not want to read further, or at least not until the episode ends tonight.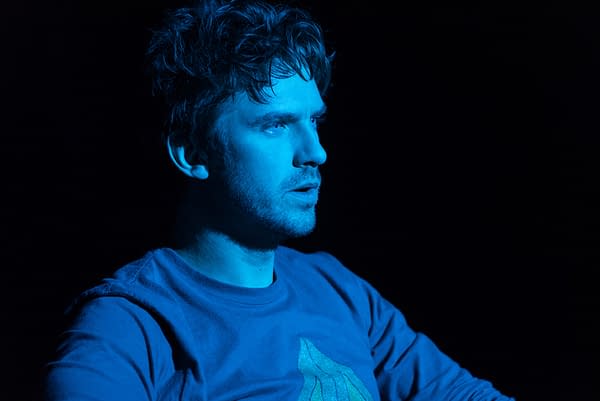 Things that happened:
The episode opens in a pool
Lenny (Aubrey Plaza) and Oliver (Jemaine Clemmons) are laying side by side on floats
Lenny starts laughing, Oliver asks what's funny
"We're trapped", she says, before launching into hysterics
This voiceover sounds like it's describing freaking Westworld, a maze in the desert.
It also sounds almost like the opening of Dream Theater's
Still the most Lynchian thing to ever Lynch, even more-so than Twin Peaks
(Maybe you'll recall how much the writers here detested the Twin Peaks revival)
The room full of chattering jaws is the stuff of nightmares, so elegantly disturbing
David is lost within the astral plane, his body is being rushed into Division 3,
through a pulsing corridor of red lights
Syd is fucked up, and it's unclear if it's her or the cat speaking/controlling her
movements
"Part Two: The Madness of Crowds"
The giant green hands floating above the city are trippy
Doctor Loudermilk breaks protocol trying to speak to David, taking off his hazmat
suit
He releases Kerry, who takes a protective stance.
Loudermilk manages to break through to David, pulling him back out.
"Do you have any waffles?"
But man, I want to go to a waffle-sushi boat restaurant
Also, wow Jeff Russo wasn't kidding when he was talking about taking the show in
different but familiar directions
The Women with Mustaches are such a great visual, I can't wait to see cosplay groups
David thinks he's been out for a day, but you get the sense it's been a lot longer
Ptonomy (Jeremie Harris) explains a bit more about what Division 3 is, what his new role was going to be
Syd comes to see David, she tells him they thought he was dead

Rachel Keller as Syd Barrett
Photo by Prashant Gupta/FX

"Can I kiss you?" David asks Syd.
"You'd better," she replies
The love scene of psychedelic romance, everything that makes this show unique
Such a genius transition of Oliver in his car, and the reveal of Lenny with him
We find out what the Catalyst is, some kind of result of Oliver being around
people. It causes them to freeze, and their teeth chatter rhythmically almost like a clock
"Destiny calls, what kind of bitches would we be to stand in their way." Oh Jean Smart, how I love you.
Doing drugs out of an ornate elephant statue, what a gorgeous shot (not the drugs part, but the idea and the resulting trip)
"Chapter Three: Delusions"
Ok well next time I feel like my leg isn't a part of my body, I guess I know what to blame
The makeup job on Clark (Hamish Linklater) is so so good
David finds out it's a race- to keep Farouk from reuniting the Shadow King's mind with his body, the three Women with Mustaches tell him.
David goes into a deprivation tank that Loudermilk built, in the hopes of finding anything he can about where Oliver may be hiding
There's a dance sequence. David is deep inside another realm, and he and Oliver have a freaking dance off with backup dancers
But then Lenny jumps in with her group, and it effects Loudermilk back in the control room
It's All That Jazz and Nine and a superhero music video we didn't know we needed
Syd is concerned that maybe David isn't telling her everything
David gives her a gift, a very special compass.
"If we get lost, we get lost together"
Such a simple and lovely game of light pictionary
Hallucination Syd gives David conflicting orders, she's silent and heartbreaking with her gaze, and it turns out that she's who captured David in the orb
David's memory of the dance club returns, along with a trippy almost naked version of Jefferson Airplane's "White Rabbit"
We see Lenny reach for him and kiss him, and the episode ends in a fever pitch of techno beats
I'm honestly astounded with the strength of this season 2 premiere, and it gives me hope that it'll continue with such ferocity and incredible visuals. I can't wait to see where the season goes from here.
Legion airs on FX on Tuesdays.