FOX series So You Think You Can Dance is back for it's 15th season. The competition show starts with a series of auditions across the country where dancers are chosen to be sent forward to a semi finals at The Academy before making the actual top 20 performers.
Continually one of the most enjoyable reality shows (FIGHT ME), contestants often will go on to be featured prominently in national tours (like Lady Gaga) and films like The Greatest Showman.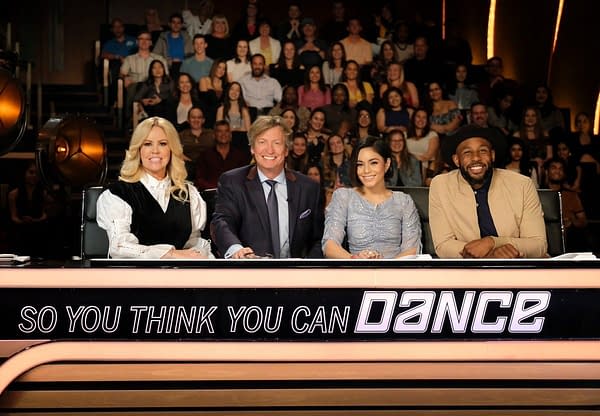 Judges for this part of season 15 are former So You Think You Can Dance contestant Twitch, actress/singer Vanessa Hudgens, ballroom champion and Hot Tamale Train conductor Mary Murphy, and series creator Nigel Lithgow. Longtime series host Cat Deeley is back as well.
If you want to know what happened and who we saw last week, you can catch up here.
This week sees the top 10 performing for the judges:
*The first live show of the season starts with Cat doing her signature opening,
*The first group dance piece is to Dream State by Son Lux, choreographed by Emmy nominated Travis Wall
*Gold costumes and staccato movements are well performed, but there are some missed marks. Pretty strong opening
*Top ten come out for their lil solo intros: Chelsea, Cole, Genessy, Darius, Hannahlei, Evan, Jensen, Jay Jay, Magda, and Slavik
*Cat shouts out to the various Emmy nominees for this year
*In addition to the prizes for season 15 of a quarter of a million dollars, and the cover of dance spirit magazine, the winner will join the cast of the new production of RENT that FOX is doing this fall
*The first couple performing together tonight are Jay Jay and Jensen, who were partnered up in the ballroom round during Academy week.
*Jean-Marc choreographed a samba for them this week, and Jensen says she felt overwhelmed during rehearsal
*They perform to "Mad Love" by Sean Paul and David Guetta ft. Becky G
*Some missed connections, Jensen looks at home (it's her style so duh), but you can see Jay Jay struggling, although he's faking it well.
*My quest for the perfect samba roll continues, as they just couldn't pull it off either.
*Mary actually loved it, but comments on the samba roll lacking.
*Turns out Jensen just got engaged, d'awwww
*Hannahlei is paired up Cole, and the pair will be doing a contemporary piece with Tyce Diorio (oh good, not Broadway, so it'll be good!)
*The piece is set to "They Won't Go When I Go" by George Michael, great movement in her costume, the speed and beauty of the movements are very well executed, the strength of both these two dancers cannot be ignored.
*Nigel calls it stunning, Vanessa calls it magical. Can't disagree.
*Chelsea is paired with Evan, and the pair is doing a jazz routine by Jay Leeper
*They dance to "Make me Feel" by Janelle Monae, high energy and all, but something is missing in their connection. Almost too juvenile for this level of competition.
*Genessy gets paired up with Slavik, and they'll be doing a hip hop piece by Luthor Brown
*They're dancing to "Round & Round" by Fabolus. It's easy to tell this is his style, but Genessy is too smooth, not getting down into the less pretty movements enough. Her hair is almost out dancing her.
*Twitch loves Genessy's confidence, and Nigel gets up to do an 'old man step'
*Magda gets paired up with Darius, and they're doing a contemporary piece by Travis Wall
*"Glass Heart Concerto" by Blondie and Philip Glass, a beautiful string arraignment of the classic song. OH MY GOD, this is passionate and reckless and amazing, the use of the bow alone just inspired, like something out of a Mozart In The Jungle fever dream. Seriously, you need to watch it.
*Mary says the routine makes them 'dangerous dancers' to go up against, Nigel says it's a routine SYTYCD will be talking about for years to come.
*Hannahlei and Cole pair up again, for a paso with Jean-Marc
*They perform to "Heroes of Chaos" by Tybercore, started out strong, but had a bit of a miss, maaaaaan, I was so excited about this one, and it just didn't come through.
*Mary says they did a good job, comments that Hannahlei fell in and out of the style throughout
*Jensen and Jay Jay are doing a Mandy Moore jazz routine
*They're performing to "Exs and Ohs" by Elle King, so much glitter. I want to like this, but there's something that just isn't working in this.
*Nigel mentions that perhaps the sharpness of Jansen's performance took something away from the implied sensuality, and that it left him cold. Agree, Nigel, agree.
*Evan and Chelsea are doing a tap piece by Anthony Morigerato, from "Singin' In The Rain"
*They're performing to "Singin' In The Rain" by Jamie Cullum, and it's obvious to see this is where Evan's passion is. Chelsea, for not being a tapper, is doing amazingly well, great fluidity, when she misses, she's powering through it.
*Vanessa calls Evan's tapping "another level", and says that Chelsea did her best to sell it.
*Genessy and Slavik are doing a contemporary routine this time, choreographed by Talia Favia
*They dance to "An Evening I will not Forget" by Dermot Kennedy, and I am highly impressed by Slavik's performance. They're partnered well here, they're dancing together, rather than just on the same stage.
*The judges gave them a standing O, and Twitch calls it a piece they could sink their teeth into, showing different textures and shades in their dancing.
*Mary says they've moved to the top of her list.
*Magda and Darius are doing cha-cha with Val Chmerkovskiy
*Darius mentions he has to think about leading Magda, and doing the steps correctly.
*They're dancing to "I Like It Like That" by Pete Rodriguez, very Spanish Harlem feel with the set and costumes. They really look like they're having fun, Darius is selling a style that isn't his, and of course Magda is gorgeous with her legs and her feet.
*Mary says Darius had a bit of an issue with his foot work, but on the whole did really well. We've got the first Hot Tamale Train of the year.
***
Some really great performances for the first live show night, talent charting across the board already. Frightened to see who's going home in e10, but excited to see who's at the top of the rankings.
So You Think You Can Dance airs on FOX on Mondays.
Enjoyed this article? Share it!