STARZ doesn't get enough credit for their series, but I personally think Sweetbitter might change that. While only half-hour episodes, the series has tremendous promise.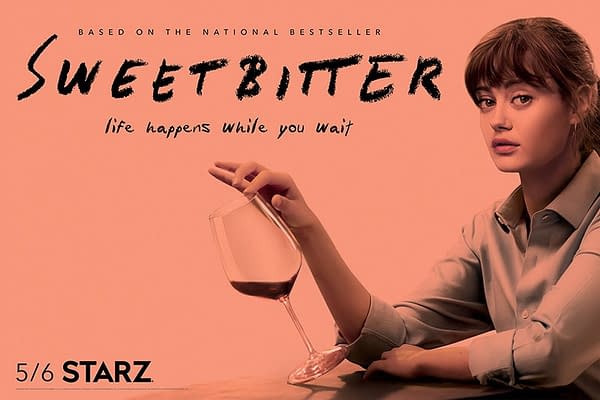 True, it's right up my personal alley — as someone who has a love affair with the culinary world, Sweetbitter is exactly the type of show that caters to me. This is series is based on Stephanie Danler's book of the same name, and this is her first writing credit on a series, which shows tremendous promise and obviously belief from STARZ.
The premiere episode of the first season of Sweetbitter series, 'Salt', was short but sweet and did its job introducing us to main character Tess, played by Ella Purnell. Episode 2, 'Now Your Tongue Is Coded', continued Tess's education in the world of senses, as well as her first night of vices. Episode 3, 'Everyone is Soigné', introduced a former employee at the restaurant, some character bond strengthening, and a choice for Tess. Episode 4, 'Simone's', was a beautiful exploration of Tess's relationship with Simone and more insight into who Simone actually is.
You can catch up with what happened last week here.
Episode 5's synopsis reads:
Tess arrives at the restaurant in high spirits, but soon realizes it's a night were everything will go wrong: Tess and Sasha embark on a drug-fueled night of adventure to burn off stress until the night takes a turn.
Things that happened in s1e5:

*The episode begins with Tess getting ready, picking the perfect bra for what she hopes will be a night with Jake
*We get flashes of her senses as she applies perfume (still one of my favorite aspects of the show)
*Tess heads out for the day, and helps a friend get a check cashed
*While out, she runs into Sasha, in a GORGEOUS suit, preparing for his review with Howard. He's hoping to get promoted to server
*Tess goes into the restaurant, and finds a new person behind the bar. Turns out Jake took off for the Cape early, and didn't tell her. She's crushed, of course.
*Dinner service starts, and Tess can't find her shoes. Will gives her a pair of bright orange clogs, and puts her on dish washing for the night.
*Not sure if punishment for breaking up with him or just general issues
*While on dishes, one of the chefs who's previously given her trouble feeds her a bite of octopus
*Poor Ari is on edge, stressed about her show that evening, and popping pills before going back out on the floor.
*Tess asks for some, Ari obliges
*Omg, poor Tess is f**ked up, trying to buss tables and help Sasha, but whatever it is that Ari gave her is reaaaaaally pushing her
*Turns out by helping the friend cash his check, she interrupted the flow of one of the other kitchen staff members who's been skimming off the top of the checks he cashes. A small fight breaks out, Chef steps in and intercedes, maybe he doesn't hate her after all.
*Becky, one of the other restaurant staff, bursts into dinner service, breaks a glass and screams for Howard. "I didn't tell ANYONE," she screams at him.
*"Weird night," Howard comments to Tess
*After service, Sasha convinces Tess to come out with him for the night, because she wants to "feel better".
*"How fucked up do you want to get?" Sasha asks her.
*He gives her a mystery pill, which she takes.
*Tess and Sasha are rolling, dancing on the floor during Ari's DJ set
*While in the throws of whatever it is she's on, Tess spies Chef on the floor, and plants a kiss on him. He accepts it, but pushes her away saying "Unprofessional"
*She moves on to Will on the floor, and the two end up in the bathroom
*They're…being intimate, and she's obviously kind of out of it, so Will stops and asks if she's ok. She apologizes to him, and says it was a mistake
*Sasha brings Tess from the club to a posh hotel room for Ari's afterparty
*There's more drugs again, and Tess and Sasha end up up in the shower, Tess shaving Sasha
*This is the strangest scene, and yet, it's beautiful and horrible at the same time
*I love this relationship between Tess and Sasha and I don't know why.
*The pair go up to the roof and smoke, Sasha reveals how depressed he really is, and Tess reveals that if Sasha doesn't make server, she'll quit
*Tess lets loose on every possible front of the restaurant, saying that Sasha should be manager, that he would make changes from food to personnel
*Sasha shoots her down, saying that "Tomorrow, Jake will be back and you won't care about any of this."
*She goes back in the room to get water, leaving Sasha alone.
*She comes back outside, and finds that Sasha has jumped. He doesn't fall very far, but it's enough that he wakes up in the hospital.
*Tess is with him, and he welcomes her into his hospital bed to cuddle.
*"You're just an innocent baby," he tells her.
*What an incredible performance, this is the type of roll that I would love to see Daniyar get a nomination of some kind for.
***
This episode is a perfect example of why I've fallen deeply for this show- action, character, passion and emotion.
Sweetbitter airs on STARZ on Sundays.
Enjoyed this article? Share it!