The 6th and final season of FX's Cold War era spy drama series The Americans continues with episode 9, "Jennings, Elizabeth". This is the second to last episode we'll ever get of the show, and I'm so torn between saying goodbye and the relief of finality.
Last week, Elizabeth (Keri Russell) discovered just how far Philip Jennings (Matthew Rhys) was willing to go in order to serve their country, including reporting to another high ranking informant on her actions. Stan Beeman (Noah Emmerich) continues to try to get to the bottom of the Russian spies' plans.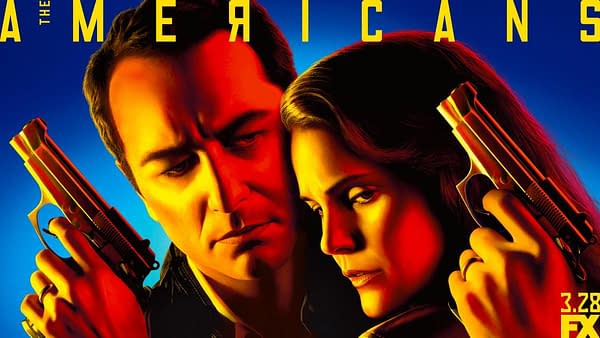 If you missed what happened last week in s6e8 "The Summit", you can catch up here.
S6e9 is titled "Jennings, Elizabeth", and the synopsis reads:
"Elizabeth wrestles with competing loyalties; Philip has an encounter that turns into much more than he had bargained for."
Things that happened in s6e8: (reminder that we update live)
The episode starts with a 'previously on', reminding us that Stan is hot on the heels of Elizabeth, her refusal to take out a mark, and her request to meet with Philip's contact
Philip is out and about, signaling to Oleg
Stan is running a background check on one Jennings, Elizabeth and no records are found
He runs a search for Philip but finds nothing, and a search for the Travel company, but finds nothing
Elizabeth still keeping an eye on the mark she wouldn't kill previously, protecting him
Philip is back at the travel agency, the weight of the world on his whip thin shoulders
Stan comes to visit, and Philip is letting the stress get to him
Philip admits that he and Elizabeth had a fight and are currently not speaking
Stan lets the info drop that Renee is interviewing for a role at the FBI, and you see a lightbulb moment for Philip
Stan manages to track down Pastor Tim, starts to ask him questions
Oh. No.
The questions slant to the Jennings', and Stan tells Pastor Tim that he's speaking to him now as a law official.
"Is there anything I should know as an FBI agent about the Jennings family?"
Tim tells Stan how impressed he's always been with Paige, but that Philip and Elizabeth were never members of the church.
"Nothing else?" "Not really."
Elizabeth is having a flashback, and we see her as a young woman come across an accident, motorcycle vs horse, and a man calls out to her for help but she walks away.
Back at the FBI- Stan goes to talk to Alderholt, but not about anything important, the two make lunch plans
Stan tells Aderholt that he can't shake the feeling that Philip and Elizabeth may have something to do with the current investigation, and possibly all the other issues
"Philip and Elizabeth Jennings are not Russian spies," Aderholt tells him
Oleg gets arrested on his way to meet with Philip
Another flashback to Elizabeth as a young woman, she's reporting to her superior, telling her about seeing the accident and not stopping to help him
"We do not leave a comrade to die."
Stan is questioning Oleg, these two men together again
Oleg won't say anything with Stan's superiors listening in, but gives him a look that very much says "I'll tell you, but not them."
Elizabeth is tracking her mark again, and she takes out the second spy sent to take him out, protecting him
Back at the FBI, Oleg reveals to Stan that the KGB are trying to get rid of Gorbachev, and that he's trying to prevent the assassination
Oleg tells Stan to send a message for him, the one he was on his way to pick up
Stan shows Oleg a photo of the Jennings, and Oleg shakes his head "no"
Elizabeth goes to visit Claudia, admits that she stopped the hit, and says she contacted Gorbachev's 'people', and told them everything the Center was planning
"I had so much faith in you, even when things were bad, I never lost faith," Claudia says.
Elizabeth is shaken at last by the question of what's left for her, but only for a moment
Philip is meeting with the priest, and he admits that he's broken some of his vows to Elizabeth
The Priest reveals that Oleg is talking to the FBI and Philip immediately goes on high alert. He's looking at every single person on the street, trying to spot possible officers from both sides
He's being tailed, and starts to run.
He's got the lead of them, ditches his coat and adds a hat, and makes it into a taxi
Back at the Jennings', Paige comes to visit.
Man this convo is not going to go well.
Paige tells a story about a party her boyfriend was at, and how a drunk political intern at the party was crying and talking about sleeping with an older woman who ruined his life.
Paige asks straight out if the older woman was her mom, and Elizabeth denies it
Elizabeth keeps lying, and Paige doesn't buy it at all.
Paige calls her mom a whore, says that's why Philip can't stand to be around her
Elizabeth has created in Paige what she hates about herself- the inability to trust, the distance
Paige leaves, and the house has never felt more empty
The FBI is sending out agents to watch all garages and safe houses for Philip
Philip calls home, and drops a code phrase alerting her to the situation that they're more than likely made
She immediately goes to the garage to their stash, going through their secret compartments to get money, weapons, license plates and passports
The last thing she grabs is their wedding rings
***
I thought I'd have an idea by this point of how I think it'll all end, but with the build up to next week in tonight's episode, it could be anything.
Can you believe we only get one more episode of this fantastic and amazing series? Next week's s6e10 will be the series finale, and we're so thankful we've had so long with these characters.
Tune in next week for the completion of The Americans on FX on Wednesday April 30th.
Enjoyed this article? Share it!