Let's Talk About America's Next Top Model Cycle 24 Premiere
It's hard to believe Tyra Banks's modeling competition show has reached its 24th cycle, but here we are. America's Next Top Model started in 2003, on UPN (which became The CW in 2006), until the series moved to its current home on VH1 last year.
Supermodel and business mogul Banks introduced audiences of all ages to a different side of the fashion and modeling industry, evolving throughout the seasons as well. Banks hosted all but one season of the show, Rita Ora taking that lead seat last year. Returning judges this year include supermodel Ashley Graham, Drew Elliot, and Law Roach.
Big changes this year, though, with no age limit set for the contestants. In all previous cycles, there was a hard cutoff age of 27. The girls also can get voted off anytime. ANY. TIME. (Why didn't we have this before, guys?!)
The first episode of Cycle 24 starts the way every season does — a casting session with each girl coming in for an in-person interview and a sample of their photo work. Unlike previous years, we didn't get the swimsuit walk, nor a runway walk at all. Maybe it was edited for time, but the episode did feel a bit rushed.
18 girls were selected from that casting, and they head into their first photo shoot of the season. Set at Greystone Mansion in LA with garments by Nicola Formichetti. The avant-garde styling is a good first test for the contestants, not as good as cycle 2 and the airbrush first challenge, but hey.
After the main shoot, some cuts are made and three girls are sent home. The remaining 15 immediately participate in a fashion show also on the Mansion grounds, walking with various degrees of success in the dresses. Following this, the contestants head to the ANTM house for the season to wait for the last cut before the 14 finalists are named.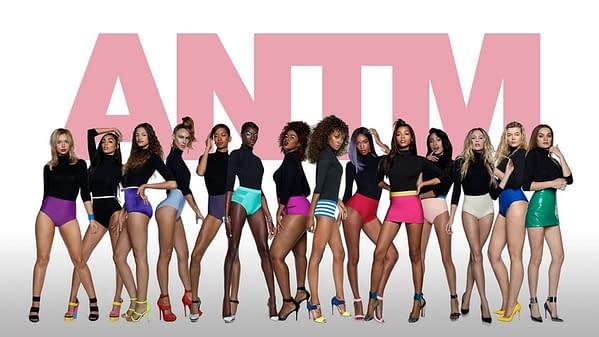 Now, if you're a ANTM watcher, you're highly aware this time is key for revealing who the problem children are gonna be during the season. I thought maybe it'd be 19-year-old Liberty, who makes it a point of talking about her political affiliations in relation to her upbringing, but it wasn't. That falls squarely on Liz Woodbury, who for whatever reasons, pours her heart out to fellow larger model Khrystyana Kazakova. It's an awkward scene, and perhaps points to both some cray in Liz, or some optimum editing for TV.
There was an emotional turn towards the end, though, when Tyra did a fakeout to keep the oldest of the hopefuls, Erin (who is 43 and looks AMAZING). Oddly enough, she's not listed on the official VH1 website along with the other contestants, which you can check out here.
Not a strong start for cycle 24, but not the worst first episode I've seen this year. It's back, I'll watch it, hopefully it'll get better.
We DO know that later in the season we'll get visits from original judge (my favorite) Nigel Barker, season 3 winner Eva Marcille (but why not Nyle DiMarco?!?), Director X, Patrick Starr, Jermaine Browne, Jourdan Dunn, and Maejor. There will ALSO be a VH1 crossover with RuPaul's Drag Race fan-favorites Valentina, Katya, and Manila.
America's Next Top Model airs on Tuesday nights on Vh1.