Marvel Studios, Lucasfilm Already Impacted by Disney Financial Woes?
Based on recent reporting, The Walt Disney Company's financial woes may result in a streaming series slowdown for Marvel Studios & Lucasfilm.
---
The month of February hasn't exactly been a great one for The Walt Disney Company & returning CEO Bob Iger. After a less-than-impressive earnings call, Iger and his team confirmed a number of major changes were on the way or already in play. Disney Media and Entertainment Distribution is gone, and in its place are Disney Entertainment (Co-chaired by Alan Bergman and Dana Walden, this division will include Disney+ and Film & TV assets), ESPN (Led by Jimmy Pitaro, the division will include ESPN and ESPN+), and Parks, Experiences & Products (Led by Josh D'Amaro, this division will include theme parks & consumer products teams).
In addition, TWDC is looking to cut approximately 7000 jobs as part of the restructuring, representing slightly more than 3% of the company's worldwide workforce. Except those cuts aren't expected to be heavy in the theme parks (what with its current continually-improving upswing in business, even though the theme parks represent the largest number of employees). Instead, the deepest cuts are expected to happen in the Entertainment areas (with sports looking to be off the table). And with those layoffs, Disney CFO Christine McCarthy confirmed that the company was looking for $5.5B in cost savings. Breaking that down, TWDC is looking at $3B in future content savings (non-sports related) and another $2.5B from costs such as marketing, staffing, technology, and other areas (with $1 billion reportedly already underway).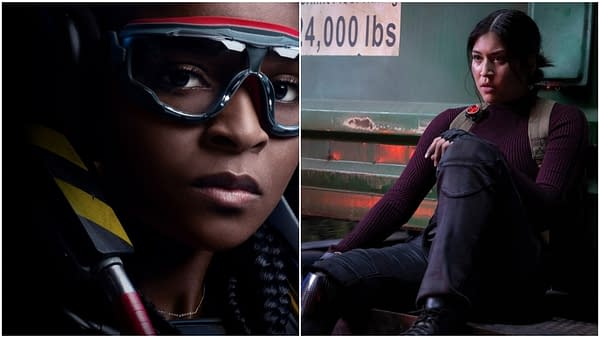 A lot to process, right? And when it comes to that last part, regarding the $5.5B in savings that "The Mouse" is looking for? It had us wondering (what with streaming being a big factor in Disney's financial conversations) when (not if) this would begin to have an impact on the streaming series pipeline from Marvel Studio and Lucasfilm ("We want the quality on the screen, but we have to look at what they cost us": Iger). Turns out, we may have started getting the-slightly-louder-than-whispers of it this week.
In a comprehensive interview with EW discussing the Marvel Cinematic Universe's (MCU) Phases 5 & 6, Marvel Studios head Kevin Feige referenced a recent Saturday Night Live sketch that made the point that there's so much content out there & available that viewers can't keep track to make the point that hitting the "zeitgeist" has gotten harder now that there's so much competition for viewers' attention spans. So in an effort to make sure that Marvel Studios and its MCU projects "really stand out and stand above," Feige shared that "the pace at which we're putting out the Disney+ shows will change so they can each get a chance to shine." When asked if that meant that series would be spread out more or if that meant fewer shows per year, Feige responded, "Both, I think."
And that brings us to today's report from The Hollywood Reporter, which addresses the issue along with some new details from what the THR report describes as corporate sources. With regards to Feige's comment about looking to change the pace at which series are released, THR's sources say that only Loki Season 2 and Secret Invasion will hit Disney+ screens in 2023 (with "Hawkeye" spinoff Echo and "Black Panther: Wakanda Forever" spinoff Ironheart "unlikely to arrive in 2023").
As for Lucasfilm and the "Star Wars" universe slate, a lot will be riding on the film side based on what's announced during April's Star Wars Celebration in London. But on the streaming series side, viewers have the third season of The Mandalorian, the Rosario Dawson-starring Ahsoka, and the Jude Law-starring Skeleton Crew on the way. So, while Marvel Studios may be dialing back, Lucasfilm looks to be building up… cautiously. Again, a number of questions project-wise will be answered in about two months, but Lucasfilm's task isn't an easy one. It's looking to build up a franchise on a budget that's on unsteady ground. "Lucasfilm may ramp up, but it will have to abide by the same fiscal discipline as the rest of the company," a source shared with THR.