Marvel's Cloak and Dagger Season 1: Has Tyrone Found His Cloak?
Tonight we get the fourth episode of Marvel's Cloak and Dagger where we see Tandy Bowen (Olivia Holt) and Tyrone Johnson (Aubrey Joseph) come together to try to figure out what is going one with them, how their powers work, and how they are connected.
So far we've been focused on their individual stories — Tandy trying to run from an assault charge, and Tyrone going after the cop that killed his brother. However, the Cloak and Dagger comics were focused on them together so it would seem weird if we got too far into the television series before they started working together. And a new clip below shows us that maybe Tyrone found his cloak.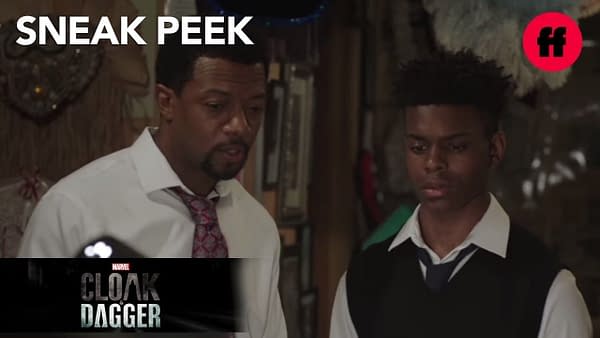 We don't get much context for the scene. Tyrone's father Otis (Miles Mussenden) is showing him what appears to be a side that he's never shown his son before. They're talking about putting beads together on a costume — or regalia, as Otis calls it — and how each year you make a new one to show who you are at the end of that year. The work takes time and many don't finish. They have a room full of failed projects. What the costumes are for isn't made clear, but since this is New Orleans it is possible that they're for Mardi Gras. We then follow Tyrone as he is walking through what may be the failed/unfinished projects when he comes across a blue and black striped cloak — one that looks surprisingly close to the one his comic book counterpart wears.
Marvel's Cloak and Dagger airs tonight at 8 p.m. ET on Freeform.