Mike Tyson will appear once again for AEW, the company announced on Twitter. Tyson will be on the next episode of AEW Dynamite, though what exactly he'll be doing is unknown. "Fresh off his appearance at AEW's Double or Nothing Pay Per View, Iron @MikeTysonwill make his #AEWDynamite debut LIVE THIS WED, May 27th at 8/7c on TNT!" the official AEW Twitter account wrote.
Mike Tyson was on hand at AEW Double or Nothing last night to officially present the TNT Championship to the winner of the match between Lance Archer and Cody Rhodes. Tyson came out at the beginning of the match holding the title and sat ringside for most of the match. Tyson, who is a fan of AEW, could be seen watching and occasionally chanting along with the crowd during the match.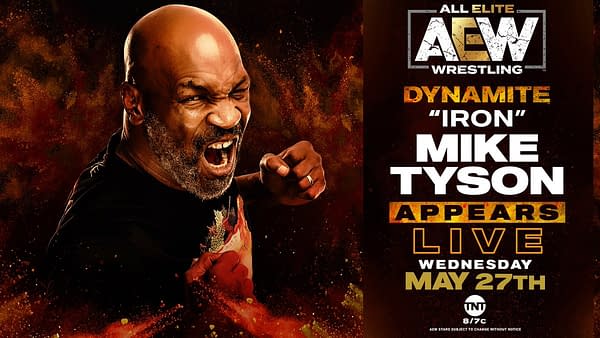 Prior to the match, AEW had been teasing that Tyson could get involved in some way, with Jake "The Snake" Roberts suggesting that Lance Archer might want a piece of the former boxing champion. Prior to the match, Arn Anderson also suggested that Tyson could knock out Roberts, Anderson, or both. A lot of people were expecting that Tyson would at least throw a punch at Archer, either costing him the match or after the match took place.
However, Tyson's involvement in the match was minimal. When Anderson was caught interfering during the match, Tyson refused to back Anderson up and he was ejected from ringside along with Roberts. However, Roberts came back out later with his snake in a bag. At that point, Tyson got up and took his shirt off, discouraging Roberts from bringing the snake to ringside. Soon after, Archer lost the match. With Tyson set to appear on AEW Dynamite on Wednesday, it looks like we may finally get that confrontation between Tyson and Archer and Roberts, and it would be really surprising if Archer doesn't get knocked out by Tyson this time.
Enjoyed this article? Share it!