"Modern Family" Season 11 "Spuds" Suffers From Awkward, Unnecessary "Clip Show" Gimmick [SPOILER REVIEW]
This week's episode of ABC's Modern Family brought me back to what I love about the series – only to have the emotional impact undercut by awkward, oddly-placed "clip show" flashbacks. Those moments aside, it was enjoyable ride that took some turns I wasn't expecting.
From the emotional "feels" standpoint, this episode hit pretty hard on a number of levels – emphasizing that the moments you will remember forever are those spent with the ones you love. While that has always been in the backdrop of the series, the theme is really being driven home as the season continues focusing on the family on a number of levels.
[rwp_box id="0"]
"Spuds" follows three main storylines that smoothly connect mid-episode and then get tied together – your standard sitcom format. Jay (Ed O'Neill) and Gloria (Sofia Vergara) go to see Joe's first play. Seeing Jay complain about his pain medication, his back, and not put up that much fight against volunteering on the play made it feel a bit foreboding to me. I am not sure why, but I feel that there will be some strong emotional moments coming…
Mitch (Jesse Tyler Ferguson) and Cam (Eric Stonestreet) chaperone Lily (Aubrey Anderson-Emmons) on her first date… on Cam's anticipated job decision day… so you could say emotions ran a little high. Ahem. Their relationship with Lily has evolved and it has become quite beautiful.
Their dynamic went through some rough patches, but they appear to have come through it – I really hope they get the other baby they have been hoping for so badly. I really did not see the bad news coming though—I thought for sure Cam would get the job and they would move to Missouri. I can't shake this feeling that there might be a change on the job front – it didn't have that "done" feel to it.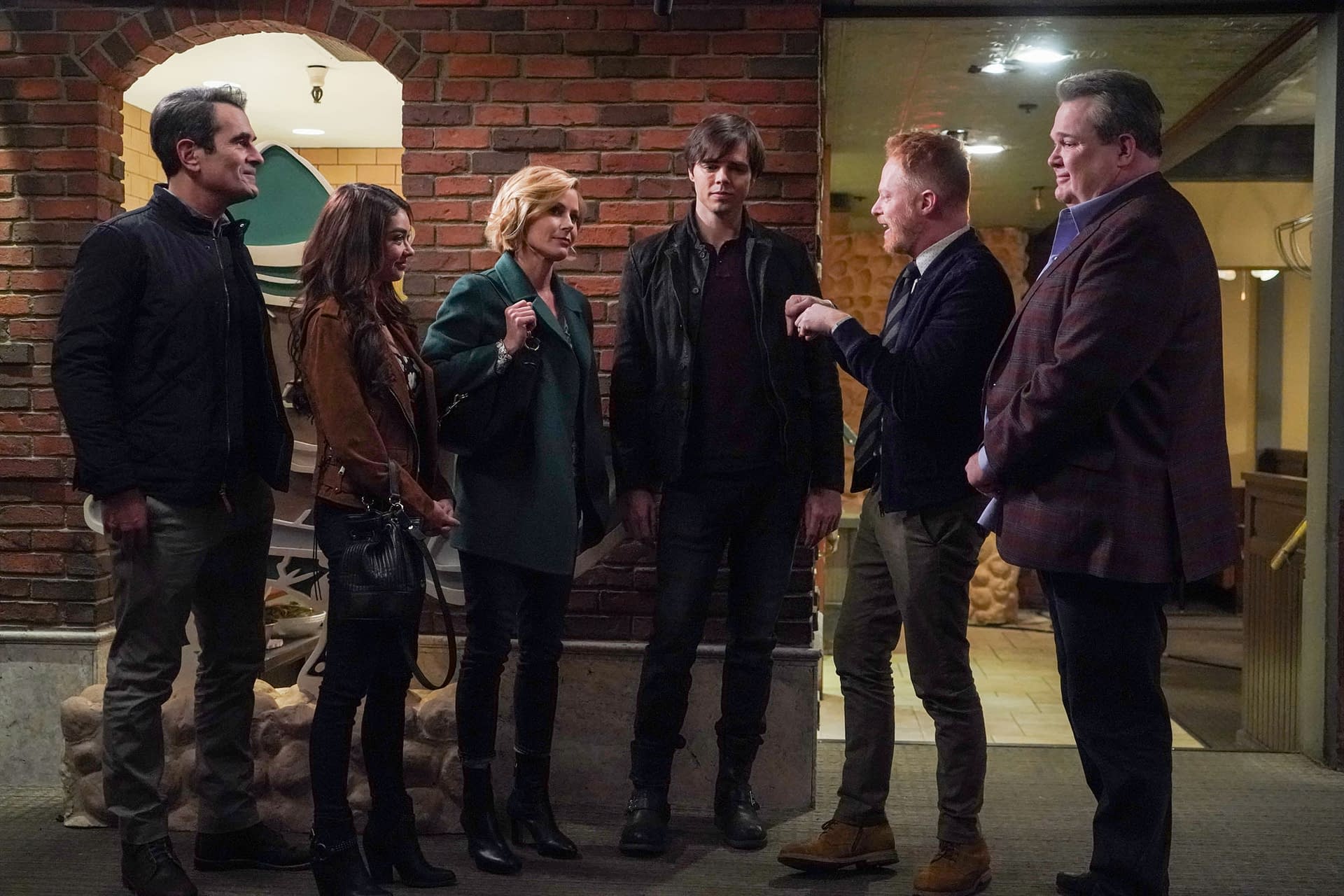 Claire (Julie Bowen) and Phil (Ty Burrell) take Haley (Sarah Hyland) and Dylan (Reid Ewing) for dinner to convince them that they are not bad parents. It was a nice complement to see three generations converging at dinner and seeing the action play out. Haley and Dylan's concern of being bad parents was pretty endearing.
There was so much for potential to connect to the family on a deeper level with their memories… but then they showed us those memories and quite frankly? It really took me out of the mood whenever they jumped to a different flashback.
I feel sometimes they lean on the funny to soften the emotional blows – but sometimes, those leans are a little too hard. However, Jay's speech at the end saved the day – and that is where I wish they would've placed the flashbacks (though it did nothing to ease my concerns for Jay).
It was a really good episode that lost points for how the flashbacks were utilized – thankfully, a drugged-up, emotional Jay was able to bring the meaning of the episode back around. Now excuse me while I start prepping my Kleenex – with only four episodes of Modern Family left, I have a feeling we will need them.