Mojo Rawley Makes It An Even Ten As WWE's Latest Release Today
It has been black Thursday in WWE today as they have released several wrestlers from their contracts with the company less than a week after Wrestlemania. While a post-Wrestlemania release spree had been commonplace in WWE year after year, they had seemingly abandoned the practice in recent years. Well, it came back with a vengeance today as this afternoon WWE put out a statement announcing the releases of nine different wrestlers from the company, and now tonight, we can add another name to that list: Mojo Rawley.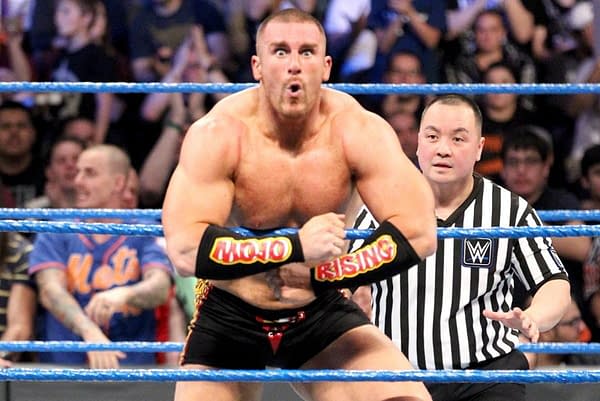 In the post-mortem of Mojo Rawley's WWE career, we can take a look at the highs and lows, both in his potential and his accomplishments with the company. Rawley (real name Dean Muhtadi) had a lot of what WWE and Chairman Vince McMahon classicly look for in their potential stars. He's a big muscular guy with an NCAA and NFL background, playing for the Green Bay Packers and Arizona Cardinals and he's a lively personality with tons of charisma. With all of that going for him, it's obvious why WWE signed him in 2012 with no pro wrestling background.
From there he learned the ropes at the WWE Performance Center and spent three years in NXT, where he eventually teamed with Zack Ryder to form the tag team, The Hype Bros, which briefly resurrected Ryder's WWE career. The team was called up to Smackdown in 2016 and Mojo Rawley found success with the team and as a singles competitor, having won the Andre The Giant Memorial Battle Royal at Wrestlemania in 2017 and winning the 24/7 Championship seven times.
Over the past couple of years, Mojo Rawley helped recruit his friend, NFL superstar, and media personality Rob "Gronk" Gronkowski to WWE for a series of appearances starting in 2017. This eventually led to Gronk hosting Wrestlemania last year and winning the 24/7 title himself. Rawley was always featured at the side of Gronk during these appearances. The company and Gronk were set for a long run together, but then the NFL's premier jerk Tom Brady convinced Gronk to reunite with him in Tampa Bay to win another Super Bowl. Big deal!
Unfortunately, as Gronk disappeared, so did Mojo Rawley as he was rarely featured on tv after Gronk moved on. Did WWE management hold a grudge against Rawley for Gronk's leaving? It's very possible and as we've seen many times before, WWE isn't the most non-vindictive group when it comes to things like this.
So what's next? Of course, that's up to Mojo Rawley. But if he continues his wrestling career (and at 34 years old, there's no reason to believe he won't) then the likes of AEW or IMPACT immediately come to mind as possible landing spots. Or maybe he could head over to Japan and perfect his craft a bit more and make a bigger name for himself, which many have done before him, and he could reunite with WWE in the future as a bigger star. In the wrestling business, it's rarely a "goodbye" as much as it's a "see you later."