Motherland: Fort Salem Season 1 Episode 4 Hail Beltane Review
Last episode of Freeform's Motherland: Fort Salem picked up right where it let off previously, and it was packed with lots of little details and world-building. The show feels like it is starting to pick up and tension is building faster. There are still a lot of questions that have yet to be answered. Viewers get front row to the Beltane tradition. This episode has a bit of everything in it, from sexy times to the beginning of love, to betrayal, and even death. "Hail Beltane" starts with the death of Scylla's (Amalia Holm) ex-boyfriend who Raelle (Taylor Hickson) sees jump from the roof. She could not save him but seems to be experiencing his last memories and feelings. The thing with Raelle is, out of the three girls in the unit, she is the most inconsistent character.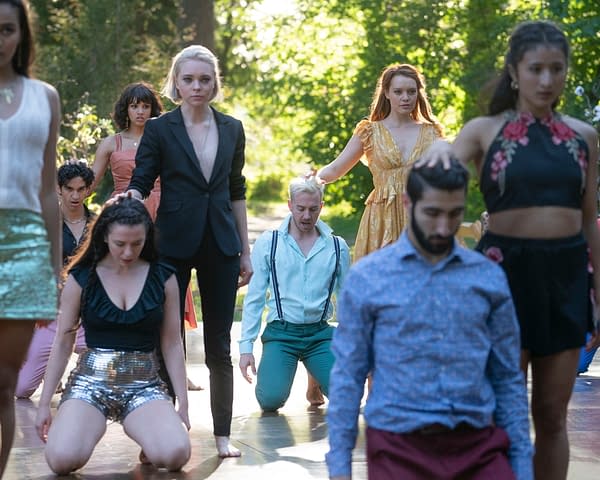 She seems one way at times and then it is as is she remembers she is supposed to be brooding and have an attitude. I am really not sure how I am supposed to be feeling for her character, but what is so great about her? We have yet to see what has everyone around seemingly shook. Surprisingly so they are still going through with the Beltane ceremony. With this tradition witches in-training are encouraged to play along and find a male counterpart who they can become intimate within whichever way they see fit. The purpose of this ceremony is to increase the witches' powers. Despite feeling a tad uncomfortable (I mean, bear with me, as nice as it was to see I am not used to females treating males like sex candy so openly), it was still such an interesting and fun perspective. I am very curious about which oter traditions this matriarchal society holds.
On her end, Tally (Jessica Sutton), seems to fall more and more for Gerit (Kai Bradbury) who ends up being her chosen one. Abigail (Ashley Nicole Williams) does not conform with just one boy-toy and goes for two instead. Both Tally and Abigail do show a lot of growth and better development as characters, much more so than Raelle. I do wish Abigail would have told the other two about her relationship with her mother and the reason why she invited them to her cousin's wedding. I felt like the trio's relationship was strong enough for her to be that open and honest with them.
As per Scylla and the Spree, there seem to be more of them around the school and making sure Scylla gets the job done. It seems they are targeting the Bellweathers for whatever is coming next, or maybe that is the end goal. I do wonder who is hiding behind the balloons. Given that the next Spree member who threatened her was dressed as a higher rank, I wonder which general is behind this. All-in-all, it was a really good episode and has me looking forward to the next one. Speaking of which, here's a look at this week's episode of Motherland: Fort Salem, "Bellweather Season":