Netflix Gives "The Endless Scroll" a Facelift with New Logo Animation [VIDEO]
As Netflix continues down its righteous path towards the streaming nirvana that is "The Endless Scroll," the service is hoping to both distract and seduce unsuspecting"non-believers" with a new logo animation set to play before its Originals programming. The new logo will be in place for Originals premiering on or after February 1, 2019 (go look!), and retroactively added to older Originals over the course of the next several months.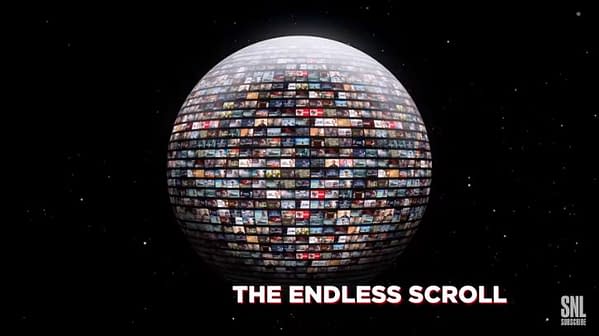 While viewers will still recognize the familiar "clicking" sound and "N" ribbon animation in the beginning, it's the flood of color and light that reaches out to viewers that marks the biggest difference. Created through a collaboration between Netflix's in-house design team and an independent agency, the two-years-in-the-making animation is meant to evoke a sense of depth – building upon the streaming services desire to be seen more as a production studio and not "just" a streaming service. In a conversation with Fast Company on Thursday, a Netflix representative explained that the barcode-like visuals in the new animation were created from the idea of what thumbnails of Netflix's shows would look like if you placed them sideways.
In case you haven't noticed it by now… enjoy!
As for Netflix's true endgame and where all of this is headed… thankfully, the hard-hitting investigative journalists at NBC's Saturday Night Live got to the bottom of the streaming service's "master plan" during a December 2018 edition of the long-running sketch comedy series (hosted by ex-star of British royal drama The Crown – possible SNL informant Claire Foy) – and the answer may very well "Netflix-n-Chill" you to your very soul:
"We've gone crazy. We're spending billions of dollars and making every show in the world. Our goal is the endless scroll; by the time you've reached the bottom of our menu, there are new shows at the top and thus the singularity will be achieved."

– No One at Netflix