New Trailer for Season 3 of Amazon's 'The Man in the High Castle'
Amazon's alternative history series The Man in the High Castle is coming back for a third season, and this latest trailer is something different, to be sure. The series is, of course, based on Philip K. Dick's work of the same name, which posed the alternative history of Imperial Japan and Nazi Germany successfully winning WWII and taking over the United States.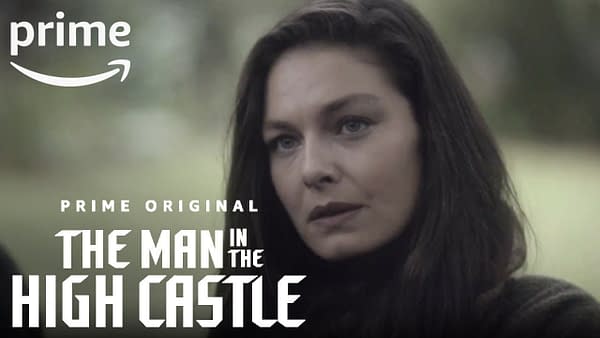 Specifically, the song you'll no doubt recognize in the trailer as U2's 'Pride (In The Name of Love)', although in a decidedly different version. The version is by Lxandra, who is apparently the first artist allowed to cover one of U2's songs.
Amazon says that season 3 of The Man in the High Castle:
finds Juliana Crain (Alexa Davalos) grappling with her destiny after seeking safety in the Neutral Zone. Realizing that their fates are intertwined, she works with Trade Minister Tagomi (Cary-Hiroyuki Tagawa) to interpret the mystery of the last remaining films. Meanwhile, as tensions between the Reich and the Empire continue to rise, Joe Blake (Luke Kleintank) returns from Berlin and is sent on a diplomatic mission to San Francisco, where he and Juliana reunite and come to a turning point in their relationship. Also in the new season, Obergruppenführer John Smith (Rufus Sewell) finds himself celebrated by Nazi high society, but political forces are closing in as North American Reischsmarschall Lincoln Rockwell and J. Edgar Hoover plot against him. Helen (Chelah Horsdal) takes drastic action to protect her family while they struggle with the aftermath of Thomas' death, and Smith learns of a shocking and ambitious new Nazi program that has personal and global ramifications.
The Man in the High Castle season 3 is set to hit Amazon on Friday, October 5th, 2018.