Nikki Bella Says WWE Could Use Women Wrestlers Better & She's Right
Appearing on The Tamron Hall Show, Nikki Bella explained her issues with WWE Raw 30, which featured 18 male Legends but only 1 female Legend.
---
Since WWE Raw 30 aired earlier this week, Nikki Bella has been speaking out about the lack of representation for the women who were the stars of WWE Raw over those three decades. While the show featured numerous male stars in segments throughout the night, including Hulk Hogan, Jimmy Hart, Ric Flair, The Godfather, JBL, Jerry "The King" Lawler, Ron Simmons, The Million Dollar Man, IRS, Diamond Dallas Page, The Undertaker, Triple H, Shawn Michaels, X-Pac, The Road Dogg, Kurt Angle, and Teddy Long (just off the top of my head), it featured exactly one female legend: Allundra Blayze, who was seen losing in a hand of poker backstage.
Soon after, Bella took to Instagram Live to comment on the lack of representation and claim that WWE wanted to avoid mentioning the accomplishments of certain women who were no longer with the company, like the former Sasha Banks, aka Mercedes Moné. Nikki and her sister Brie Bella were in town to promote Nikki's new reality show, Nikki Bella Says I Do, but she says WWE told them they had nothing for the Bellas to do and canceled their appearance.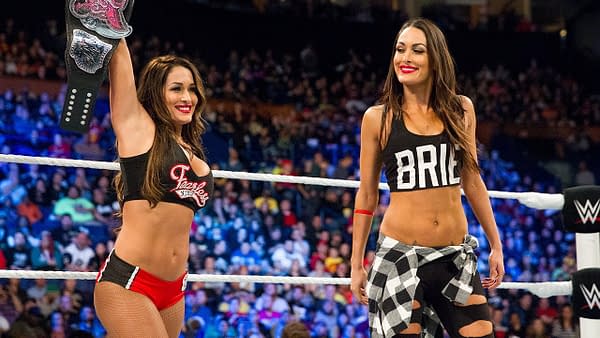 Nikki Bella & Brie Bella Appear on The Tamron Hall Show
Now, The Bellas appeared on The Tamron Hall Show, where Nikki Bella discussed her comments in more detail. We transcribed it so you can read the whole exchange:
Tamron Hall: I was so struck by an Instagram post that you just posted. There's the big event. The Raw 30th anniversary, supposed to take place in Philly. Your names were up, and then your names came down because you weren't, I guess, fully booked. We know how these things happen. But beyond the event, as you always do, you rise to such great occasions. You have spoken out about the lack of representation of women at the event and other events. What made you want to again defy the odds and say, If we can do it, we want other women in the ring too?

Nikki Bella: Well, I think for what anyone does, when you have a love and passion for something and you put your heart and your soul in it, you want to be appreciated. And I think that's in any industry. And for us female wrestlers, it was Raw 30, the 30th anniversary. And throughout those 30 years, women have done a whole lot to make Raw what it is.

Tamron Hall: Yes.

Nikki Bella: So when you have a three-hour show and it's male-dominated, and women are being honored pretty much at all, you just sit back and you're like, why aren't we being appreciated? Like, why don't you even have a video package showcasing what all these incredible women have done? And even when I speak out.

Tamron Hall: Yes, absolutely.

Nikki Bella: Yes. And I'm someone who they've always called "no filter" Nicki.

Brie Bella: Oh, yes.

Nikki Bella: And I know sometimes my team is, like, back there like, "oh my gosh, if we could just take her phone." But I just, you know, it made me upset for all the women because I know that feeling of walking out to the ring, and it happens to some of the men, but whenreou walk out, and you put your body on the line, and you give it your all just to entertain the fans and the TV viewers, and you just come back and you want to feel appreciated for that. Some of us have had career-ending injuries, and we shouldn't go away. And even if, I feel, that if a wrestler even leaves the company or they're no longer there, it doesn't mean that they shouldn't be remembered.

Brie Bella: 100%.

Nikki Bella: So I just, I wished and I hoped, and maybe that will be more in the future, and we still have a way to go, but that women will finally be appreciated for what they do.

Tamron Hall: Absolutely. Absolutely. And I know you feel the same way. I mean, you want other women to be able to defy the odds that you were able to do in that industry.

Brie Bella: Exactly. And I think the biggest thing is that what the women are doing today at WWE is amazing. Like, the present day, women wrestlers are doing incredible things, but it took so many women from the past to pave that road. And it's okay to say thank you and recognize that. And I think when Nicki and I speak, it always makes headlines. I'm always like, uggghh.

Nikki Bella: Clickbait.

Brie Bella: Yes, but the thing that we love is that we come from passion for women, not from ourselves. The Bella twins don't have to be at Raw 30. It's all the other women that we can give you a whole long list that should have been there.

Tamron Hall: Well, no, I knew it when I read it. You know, as I said, I've known you for a very long time and you are the real deal and really stand up for other women in all industries. And that's why we love you.
Nikki Bella said it all, and she's 100% right. And she was bold in saying it, considering she's currently promoting a new reality show that WWE owns. But as one of the founders of WWE's so-called "Women's Revolution," a branded reaction by WWE to its own shoddy treatment of women's wrestling in decades prior, that's nothing new for her.
As I was listening to Bella's comments, I was reminded of the 2018 Royal Rumble PPV, which was the first one to feature a women's Royal Rumble match. Two things struck me during that match: first, WWE didn't have nearly enough women on their roster, so they needed to pad the match with retired wrestlers from the previous two decades. And second, that those retired women could really go.
The fact is that female wrestlers have historically seen their careers end around the age of 30 in the last several generations, with that paradigm not really shifting until this one. Wrestlers like Charlotte Flair, Becky Lynch, Bayley, Bianca Belair, and Alexa Bliss would all statistically be at, or a few years past the age they would retire if their careers had started just five years earlier. That would be around the age of 30, when past stars like Trish Stratus, Lita, Torrie Wilson, and Beth Phoenix retired. And if that happened, we'd be missing out on these wrestlers in the prime of their careers.
While watching that Rumble match, I was stuck on a particular thought: god dammit, we should have gotten another decade of Trish Stratus! And while watching WWE Raw 30, seeing the members of DX all admit they were too old to get physical in the ring or watching Hulk Hogan stumble through obviously reciting a boring script, I couldn't help but wonder why nobody in WWE bothered to call up Straus, or Lita, or Kelly Kelly, or one of the dozens of top stars of the women's division of the past who could still hit their finisher or take a bump. And why, for that matter, more retired wrestlers, in general, are not used in on-screen roles aside from these occasional anniversary shows, as viewers and current wrestlers alike could stand to benefit from their charisma as managers or on commentary. But that's probably a rant for another day.
Hopefully, someone in WWE was paying attention to what Nikki Bella and Raw 35 (or, let's face it, Raw 30 and a half — they gotta get those nostalgia ratings boosts) will be a little more balanced. Or, if nothing else, maybe the new owners of WWE were listening.