Only Murders In The Building BTS Images Reveal S02 Guest Star & More
Only Murders in the Building is a series I've fallen in love with and one that I hope has a successful process filming season two, but by the looks of cast members' photos from the set, things are going pretty well so far.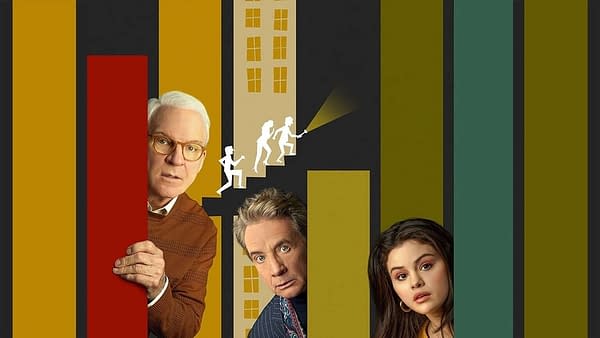 I love the occasional photos we seem to get from Steve Martin on Twitter, reminding us viewers of how much we need more information after a cliffhanger of an ending. Well, we've been blessed and we get to witness our favorite true crime podcasting trio of fiction behind the scenes and with a look at extra cast members. I look in the recent photo from Martin, featuring Selena Gomez, Martin Short, and a very familiar face to the right with a bright smile on her face…it's Andrea Martin! If you're like me, I share of love for her character Aunt Voula from My Big Fat Greek Wedding, but that's because I can't help but love a fantastic romantic comedy like that one. Whoever she ends up playing in the second season of Only Murders in the Building, it'll be fantastic and her general presence will be a character in itself. Also, Gomez's outfit is a great Mabel-centered aesthetic and I now want to know how I can have a similar pair of shoes.
The way these three interact with one another is likely a reason why the series works so well and why I look forward to seeing how things go down in season two. Recent sightings of Gomez on set give me joy because the coats we're witnessing are amazing and of course, the iconic orange one is back in action. Only Murders in the Building will be seeing the trio receiving some merch from their hardcore fans in the series, with titles such as "the bassoonist did it" on mugs. While random fun props have been recognized, no true sighting of other guest appearances is being seen during filmings such as Amy Schumer or Shirley MacLaine. As always, any social media (as random as it can sometimes be) from Martin is more than welcome as we wait for season two updates outside of the casting.