Last night on Dynamite, AEW set up an angle that looks like it could lead to a match between Mike Tyson and Chris Jericho, or perhaps between Tyson's posse and Jericho's Inner Circle. But maybe the bigger story of the night, or at least the one with the most long-term potential, was the appearance of freshly retired former UFC Champion Henry Cejudo, alongside fellow MMA legends Rashad Evans and Vitor Belfort. Cejudo, at 33, an Olympic gold medalist and UFC champ in two different weight classes, has the talent, mic skills, star power, and combat sports credibility to transition into a successful pro wrestling run, in the fashion of Ronda Rousey or possibly even Kurt Angle. Depending on Cejudo's plans, that elevates the angle above short-term gimmick match between wrestlers and fighters and into the territory of potentially the start of something much bigger and more longterm.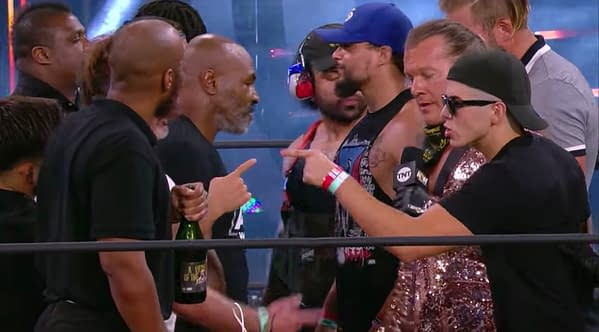 In the short term, last night's angle on Dynamite has succeeded in gaining mainstream attention for the fledgling pro wrestling company, with the brawl between the two groups talked about throughout the sports world. It comes at a time when Tyson has been in the news ahead of a potential combat sports return, and with few other sports, stories to compete for attention. It also comes at a time when AEW is creatively firing on all cylinders and coming off the hot Double or Nothing PPV that culminated in a well-received Stadium Stampede match.
That all translates into a winning formula where mainstream attention and crossover sports star could draw eyes to AEW's product, and, perhaps most importantly, where those new viewers would witness a pro wrestling show that's actually compelling. Using crossover sports stars to get eyes on a pro wrestling product is not a new or novel idea, but it also doesn't have an excellent track record. In large part, that's less due to a failure of the first part of the formula, as sporting news organizations are always game to report on stars getting involved in wrestling, but more often because once the product gets new eyes on it, the product fails to deliver. Both are required for this kind of angle to succeed. For an example, look no further than Mike Tyson himself getting involved in the angle between Stone Cold Steve Austin and Shawn Michaels at WrestleMania XIV, which happened right at the start of arguably WWE's greatest creative period of all time, the Attitude Era.
Though there's been a lot of praise for last night's angle on Dynamite, there's also been some criticism, though I'd argue much of it is unfounded. You have the bad faith or ignorant argument from factions of die-hard WWE fans that AEW is ripping off WWE by involving Tyson in the angle. Especially as it plays on the history of Jericho and Tyson from a 2010 WWE angle, which is itself a follow-up to the WrestleMania XIV event. But WWE didn't invent bringing sports stars into pro wrestling, as every significant wrestling company over the past 50 years or more has used the tactic often. Others complain that Tyson is past his prime, or that the involvement of Tyson and his crew sullies the reputation of AEW's wrestlers by making them look like lesser stars. However, that criticism is largely mitigated by the sheer pedigree of the people involved, as Tyson, Cejudo, Evans, and Belfort are all legit, credible badasses. Even so, while it's almost certain that the angle ends with Jericho and the Inner Circle on the losing end, there's no indication so far that AEW intends to make them look like chumps in the process.
That crew needs a woman representation @AEWrestling https://t.co/dWv1qYluto

— @CrisCyborg on Youtube (@criscyborg) May 28, 2020
One more complaint is that Tyson and Crew don't have the wrestling skills to work a good match. Still, this angle is happening at a perfect time, when the match can be pretaped and edited in a cinematic style that can largely compensate for any flaws in the competitors. Most of the praise and criticism so far is based purely on speculation, as we don't really know anything other than that the angle between Tyson and Jericho will continue. But setting aside inter-company bias and whether or not AEW will pull off this angle successfully, it's hard to argue that there isn't a huge upside if it does succeed. We'll get a taste, perhaps, if ratings rise for next week's episode of Dynamite after all the attention, AEW receives this week.
Enjoyed this article? Share it!