Preacher Done Cowboy Bebop Style? 5 Shows Begging to Be Made Anime
We have seen anime brought to life before, but today we're switching things up. Today we talk about which live-action shows would make great anime. It seems it might be a bit more effective to translate live-action shows into animated form than the other way around considering all the failed attempts at making live-action versions of anime we already love. I do not believe there has been any "nailed it" ones so far. Does anyone remember the Dragon Ball one? Haha! Same with Death Note. I think the closest one has been the Attack on Titan attempts, which I have yet to finish.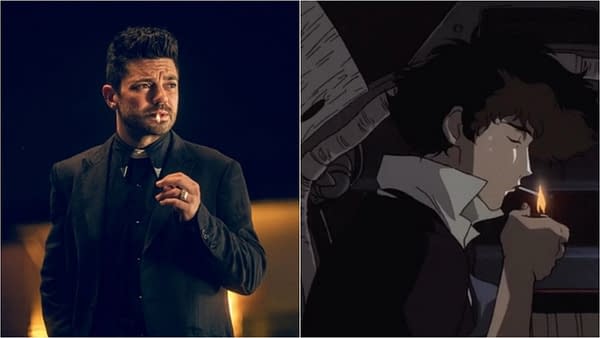 "The Boys": The sheer gore and action of this show make it a perfect fit for anime. I can imagine the animation being a lot like Hellsing, dark and gloriously gory. The beginning is even the perfect anime set-up, with A-Train (Jessie T. Usher) running through Hughie's (Jack Quaid) girlfriend. So much potential in a "tragic origin story" like that.
"The Umbrella Academy": This one I imagine in a more Black Butler style, elegant and quirky as hell. Great balance of drama and action. However, I imagine the soundtrack being a lot like Vampire Knight's. White Vanya (Ellen Page) would make a very pretty and aggressive ecchi anime girl.
"Happy!": I feel Happy! would lend itself to a Ghibli treatment, detailed yet able to blend reality and fantasy seamlessly. It would be the perfect way to depict this sad story without skimping on the action and blood. I think it would bring out the heartbreak even more so.
"American Gods": I imagine American Gods would be as grandiose and balls-to-the-wall like Demon Slayer. I can picture the New and Old Gods being just as eccentric as the Hashira and the Demons themselves, with their respective themes playing as they enter a scene. For example, I believe the animation would serve well during the carousel scene when Shadow Moon (Ricky Whittle) sees the Gods as they truly are. It would definitely help enhance the magical aspects of the scene.
"Preacher": I figured Preacher would be very detailed and stylized, along the likes of Cowboy Bebop. Jesse Custer (Dominic Cooper) even smokes like Spike and could look even more dashing. This does not even exist and I am already loving Tulip (Ruth Negga) in Faye's getup. I feel the best scene though, would be the one where Jesse is just killing the angels over and over again. Oh, and anything involving Cassidy (Joseph Gilgun).