Critical Role Meets Pro Wrestling in New Series Roleplay of Honor
With live wrestling events with crowds still shut down due to the coronavirus pandemic, wrestling companies without massive television deals need to get creative to keep their fans supplied with content. Ring of Honor's latest venture into finding ways to use its wrestlers is one that has the potential for crossover appeal with other geeky fandoms. ROH has launched a new YouTube show in which its wrestlers play "Dungeons and Dragons," called Roleplay of Honor.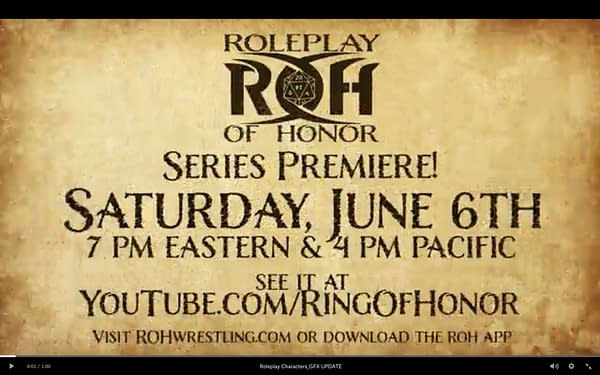 In a press release sent out by the promotion this week, ROH describes the party:
Beer City Bruiser as Maynard the Malt-maker, a mountain dwarf cleric
Brawler Milonas as Ander the Goliath Barbarian with his great axe
Cheeseburger as Santi the Bard with his blonde wig and popular singing skills
Joe Hendry as Mega the Successful half-elf Bard
Session Moth Martina as Thia as the flirtatious half-elf wizard-thief
Roleplay of Honor is set to debut on YouTube this Saturday, June 6th, at 7PM Eastern time. The live stream video is already up on Youtube, though the stream itself won't actually start for a few days. However, we can see that the show will apparently take place over a Zoom style conference call, with the wrestlers doing their roleplaying from their homes.
This seems like a smart move by Ring of Honor, appealing to the large Dungeons and Dragons fanbase and allowing their wrestlers to show off their creativity and personality. ROH is billing the show as "the best Dungeons and Dragons ever," which, of course, remains to be seen. But you can get a brief preview in the video below.
What do you think? Will Roleplay of Honor live up to the expectations ROH is setting? Let us know in the comments what you think and whether you'll be checking it out this Saturday.