This week, FOX's Prodigal Son can only be described as hot and sexy, yet still maintaining its usual track of suspense and violence making it much more enticing. Malcolm (Tom Payne) continues to venture between dreams and real life hallucinations, seeing the "girl in the box" more frequently and in a more aggressive manner. His subconscious is demanding to be heard, and according to his psychologist the 'call' might be one of a sexual nature. Getting stabbed in the chest in one of his dreams with a long sword? Maybe Bright needs to get a personal life.
"Sex is like psychological gasoline."
Malcolm conveniently bumps in to Eve (Molly Griggs) after his therapy session and decides to take his doctor's advice and ask her out. Malcolm and normal – this has the makings of disaster written all over it, although endearing to watch him be so happy.
Next on the agenda a brutal murder. Malcolm is called to a bloody crime scene, the victim with his head bashed in lying naked on a bed. The crime itself nothing out of the ordinary, except the victim doesn't actually live there. The owners of the condo come home with their child and are shocked to discover the NYPD there and a dead stranger.
Bright goes in to profiler mode and upon interviewing the family realizes the wife is acting odd, cornering her in the bathroom he discovers she is part of a "Fantasy Group" into kinks and apartment swapping, essentially sex concierge to the freaky elite.
The wife admits to knowing the dead man and having slept with him on a number of occasions, although not the night before. She insists that her husband knows nothing about it, and it's just a satisfying outlet. She reveals that the sex games are organized through email and the head of the group is a man by the name of Jasper who not she nor any of the members have ever met. Bright decides to draw out Jasper by pretending to be a client.
Simone shows up for lunch on behalf of Jasper to assess him, he invites her back to his place where she seductively insists she needs to test his skill set and interests, a very erotic scene which makes Bright utterly uncomfortable, especially since he is wearing a wire. The NYPD storms in and Simone admits to having nothing to do with the murder, although she has slept with the victim – she refuses to divulge any information regarding the elusive Jasper.
"All women should be a little dangerous."
Jessica (Bellamy Young) continues with her sweet yet intrusive nature, and comes over to help her son get ready for his date. Bright starts to hallucinate and ushers his mother out of his home indicating that he would rather have a simple date with no bells and whistles. Probably one of the most enjoyable scenes of the episode is Bright and Eve meeting J.T (Frank Harts) and his wife at a Pool Hole.
Such normalcy, such charm: even though Bright can't play pool, Eve upstages him quite well. Things go very sour, when Eve encourages Bright to profile her and he hits a nerve. It appears Eve has a traumatic past which is why she decided to dedicate her life to preventing human trafficking. Normalcy turns to disaster as she storms out of the bar and J.T. and Bright are called to a crime scene.
The NYPD finds Charles Garner aka Jasper dead in his home, apparently someone sped up the process, the man was wheelchair bound and dying of a terminal illness. He created the "Fantasy Club" for his wife Simone when he realized he could no longer satisfy her needs in the bedroom, how wickedly kind of him. The NYPD suspects Simone and call her to come in to the station, however the killer gets to her first.
Bright figures out who murdered the original victim and the team rushes to the initial crime scene. When they get there the husband is cleaning up the mess of the apartment after a lovers quarrel with his wife. Seems the couple had a lot of skeletons in their closet. Hubby was a voyeur enjoying to watch his wife have sex with random men from a secret room in the bedroom behind a mirror.
The wife didn't venture out past the hiding place and has Simone beat up and captured, the NYPD find her as she shoots her husband. She broke the #1 cardinal rule, and fell in love with one of the "players" – then things spiraled out of control.
"You scare me, Malcolm Bright."
What better way to end the night than with a gorgeous woman on your doorstep. Eve stops by Bright's house unannounced and he quickly takes his therapist's advice. After a night of erotic overtures, Malcolm gets some much needed rest – waking up to Eve still sleeping on the floor.
His past won't let him sleep, as the girl in the box makes her appearance urging him to find her, she's frustrated and as she puts her hands around his neck, a horrifying scene, Malcolm tries desperately to defend himself swinging a knife in the air, only to wake up and realize the he almost killed Eve in the process. So much for a normalcy and a personal life. Even has plenty more reasons to be afraid of Malcolm Bright.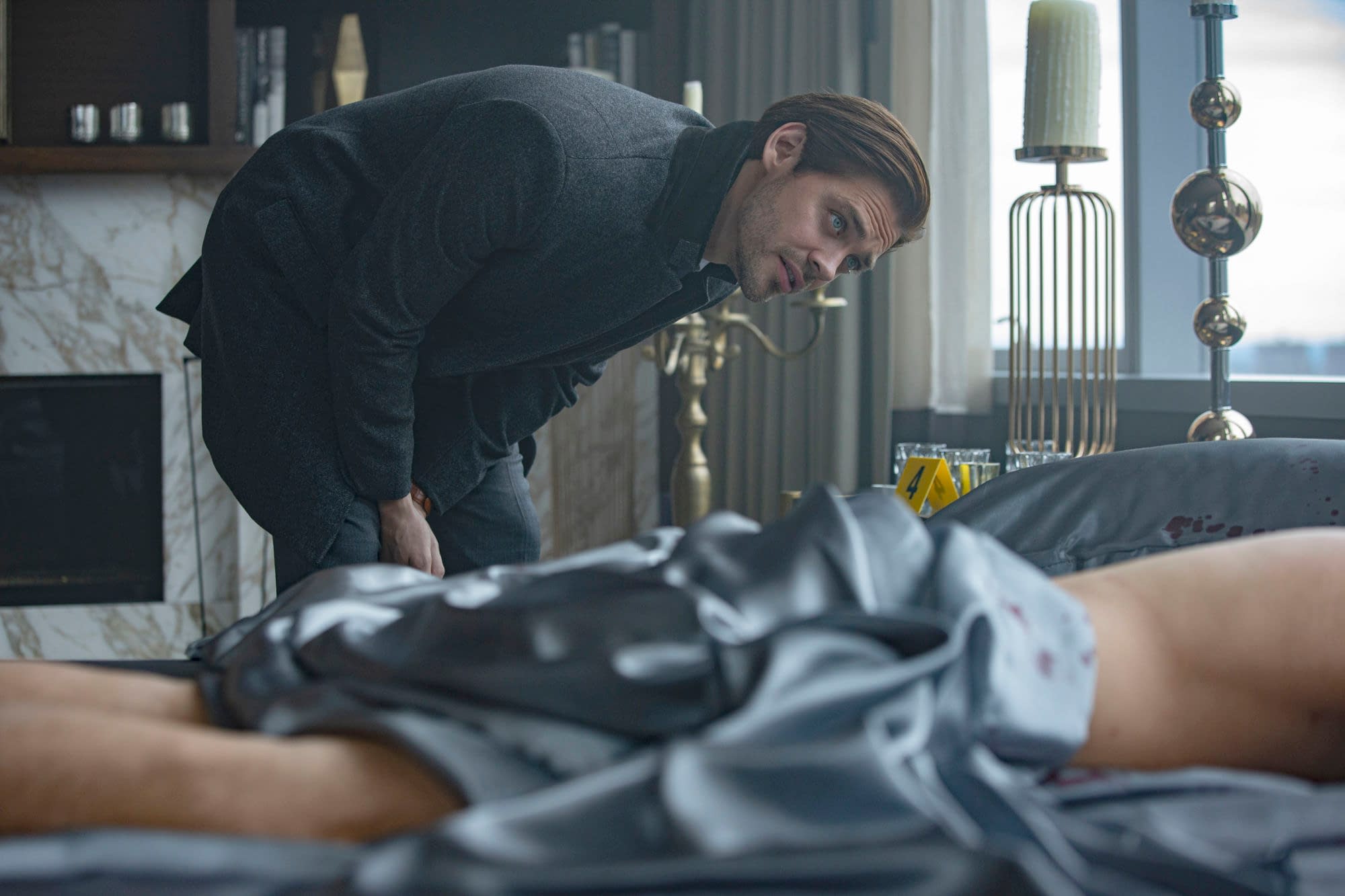 A brilliant episode, one that I'd watch again and again. With only one more episode of FOX's Prodigal Son to go before the break, will we see Martin (Michael Sheen) and where is Paul (Michael Raymond-James)? Have the FBI caught up to him? It's apparent that Bright's hallucination will continue to get worse until he locates the "girl in the box" so what dark path will this send him on? Jessica made it clear that she is sick and tired of Martin torturing her family and it's time for revenge, so what does she have in store for The Surgeon?