"Prodigal Son" Season 1, Episode 2 "Annihilator" Proves Twisted, Surprising Family Affair [SPOILER REVIEW]
FOX's Prodigal Son definitely doesn't lack in shock value: two possible quadruple homicides, a family "Annihilator," and black mambas slowly creeping out of a victim's mouth – hello! This week, Malcolm Bright (Tom Payne) is sucked deeper into his own night terrors forcing him to come face-to-face with his persistent father and get insight into memories of a "girl in a box".
Against the better wishes of his mother and sister, Bright won't let his past go, a puzzle that needs to be solved – as if mass homicide is not enough of a distraction. Dr. Martin Whitley (Michael Sheen) is relentless in trying to drag his son back to his prison so they can continue to solve murders together – for his own good, regardless of the cost to Bright's sanity.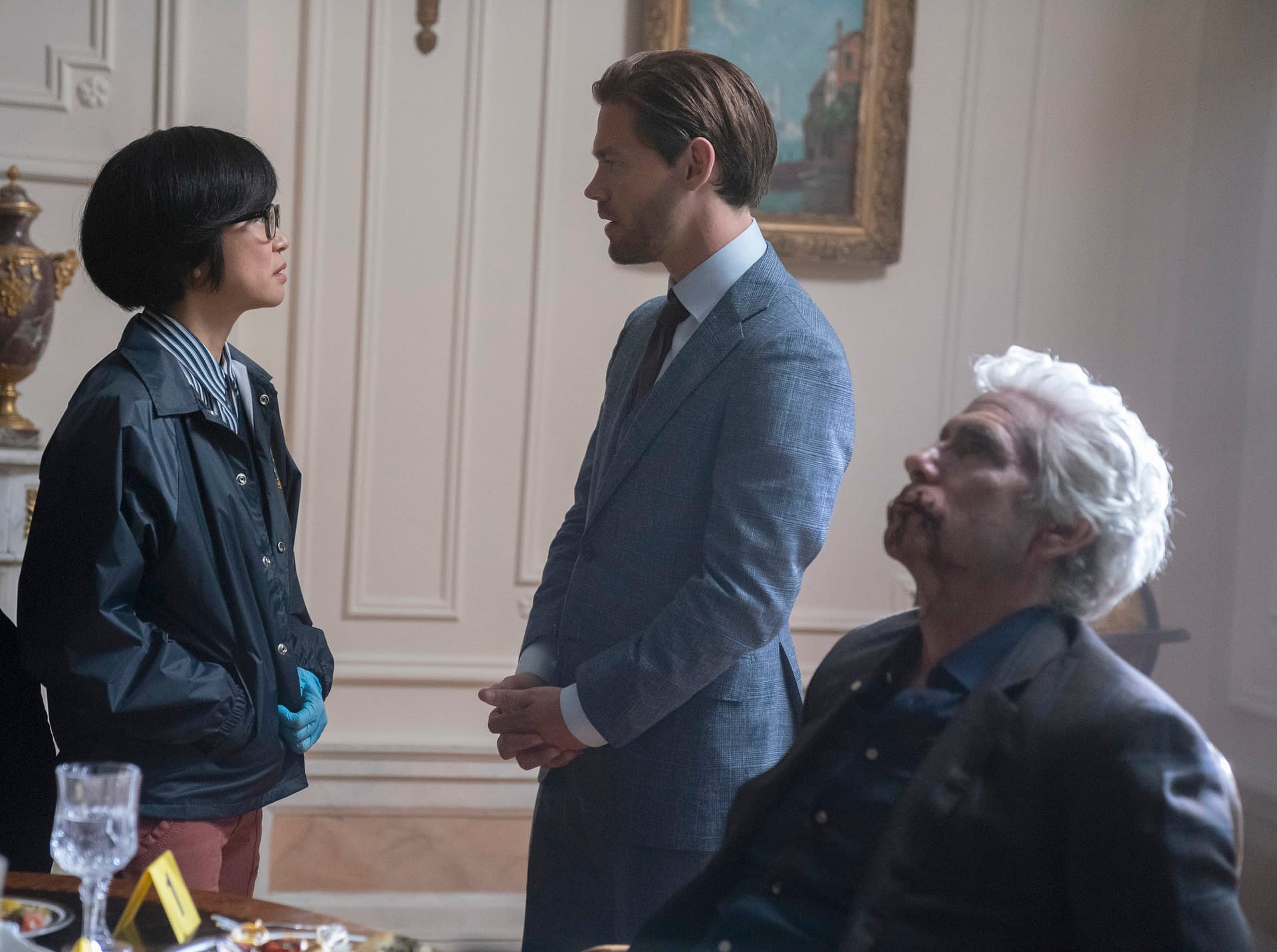 "That's your problem. You think Life is a case to be solved. Sometimes? It's just a tragedy to be ended."
This week's episode "Annihilator" did a great job balancing two plots at the same time: Bright's quest to get clarity into the missing 'girl in the box' while also solving a quadruple homicide. Bright is called in by Detective Gil (Lou Diamond Phillips) as a consultant against the support of the other detectives to consult on a brutal scene: a family killed and set up on display over a dinner. The father's mouth sewn shut and the remaining members bound. It appeared that the killer tortured the father by making him watch as his family was poisoned and then – and here is the best part – the killer inserted black mambas into the father. A wicked scene that's very much worth a watch.
"I don't need your help."
Dr. Whitley contacts Bright while he is at the crime scene. Interesting how obsessed he is with both of his children yet finds Bright clearly the more interesting one – or maybe he just wants to torture him out of boredom. Bright has hand tremors because of the night terrors that are becoming both more frequent and intense in their severity – having his father blow up his phone and leave messages is not making things that much better. Bright confronts his mother for answers, but slams into a brick wall of resistance. Everyone around him is working extra hard to convince him that the "girl in the box" he saw as a child never actually existed and was not one of his father's victims.
Bright assists the NYPD in identifying the possible killer as a son who distanced himself from the family and even went as far as changing his name. Interesting parallel to Bright, minus the whole son being a black-market animal dealer and taking a dive off a building ending his life. In all the mayhem, Bright yet again ignores protocols and instructions – and has a poisonous snake thrown at him for his troubles, landing him in the hospital.
"Hello, Malcolm. It's your dad."
Malcolm admits to his sister that he has been communicating with their father and he must seek him out to get answers to his dreams. What he gets instead is a lead on the case: the biological son was not the killer, but an illegitimate one was. It appears that dad is a great sounding board, and they kind of do make a great team. It's fascinating to watch the two of them interact, and they dynamic and chemistry is spectacular: the love and hate bleeds out through the screen. I can watch just the two of them go head-to-head for an entire episode. As it turns out, the killer was consumed by his love for his father and to be accepted into the family. Instead, his father spurned him with an offer of $50K to go away.
Another quadruple homicide? Not exactly. Bright and Detective Powell (Aurora Perrineau) pay a visit to the victim's lawyer – who is with his family. Again, the shock value of the show is quite admirable: as they converse, the daughter gets on a swing and soon after collapses. It appears the "Family Annihilator" strikes again. The illegitimate son poisoned his own family – that is just harsh. Unlucky for him (but lucky for the family), Bright is able to save them all – including the killer, against his wishes.
Bright solves the case… but does he care? Does it matter? Not as much as viewers would expect – which again, differentiates it from other shows in this genre/type. Bright returns and demands he tell him what happened to the "girl in the box". Dr. Whitley plants an interesting suggestion, instead: how long exactly did it take his boy to call the police? Was he possibly responsible for the indirect murder of many others.
The ending was probably the best part: a guard at the prison contacts Bright's mother Jessica (Bellamy Young) to let her know that her son has come back to visit his father. So did the girl exist? What does mother know, and just how much control must she have over Bright's life? Is she simply protecting her son… her family… or herself?
Looking forward to next week's brutal murder,family festivities, and more on Dr. Whitley's and Bright's toxic relationship. Before you go, here's a quick preview for next week's episode, "Fear Response":
https://www.youtube.com/watch?v=iDEYgnppju0
Prodigal Son season 1, episode 3 "Fear Response": A drug-induced homicide forces Malcolm to rethink his fears; Gil, Jessica and Ainsley catch wind that Malcolm has been seeing his father again.