Psych 2: Lassie Come Home Cast Talk Returning, Timothy Omundson & More
With NBCUniversal's Peacock ready to take flight on July 15, I recently had the opportunity to sit down (virtually, of course) with Psych stars James Roday, Dulé Hill, and Maggie Lawson on behalf of Bleeding Cool to chat about their upcoming streaming service movie sequel, Psych 2: Lassie Come Home. Yes, I am still freaking out about it as a long time "PsychO" (for those of you not in the know, that's the term for the show's fan base), but we must regain composure and press on, as there are important questions to dive into!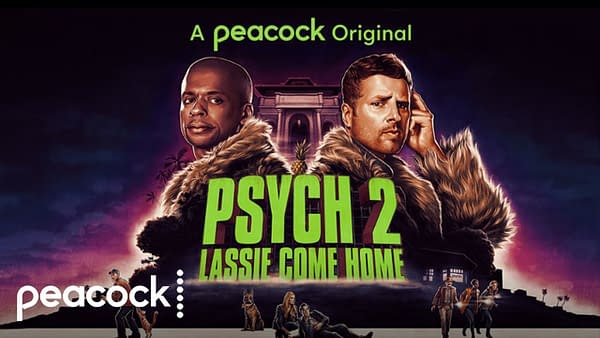 What is it like for them slipping back into these characters, for now, a third time? As Hill explains (with a pretty great Al Pacino impression), "Every time I try to get out, they keep pulling me back in." That sentiment also seems to scream Gus, and it's perfection. But the rest of the cast agrees with Hill: the characters feel comfortable- as Lawson says, "It's like putting on a big warm green Psych snuggie."
The fun they have with their respective character as well as with their interaction shows – that level of comfort allows them to play with other aspects of the story and add additional layers to their characters. This week's Psych 2 is a perfect example of this, in that we get to see a new side of basically everyone while still retaining the characters we fell in love with. Roday believes that much of that was due to how emotionally charged things were when co-star Timothy Omundson returned to work after recovering from a massive stroke.
"There's no way to get around the fact because of how emotionally steeped we were all going to be in in Timothy's return that this Psych movie was probably going to have an emotional layer to it that felt a little heavier than the stuff we've done in the past. Knowing that going in, we sort of just leaned into it and this is going to be the one that really hits you in the heart, and that's okay, as it should be."
The new movie takes on a super emotional tone, but doesn't compromise on the wit and humor fans of the show know and love. Could this be a turning point for the characters and if we see more of them? Could the stories and things hit a little harder emotionally speaking?
Psych creator Steve Franks has made it known that he has four more Psych movies in his head and would love to make them all happen. So what does the cast think about that? Hill took the lead on that question and said that they'd love to slip back into the world of Psych as much and as often as possible, but it's all up to the fans. It's what they've been saying all along: as long as us "PsychOs" keep making noise about wanting more, there's a good chance we'll be getting more.
Psych 2: Lassie Come Home drops exclusively on Peacock on its launch day, July 15. I can't wait! Be sure to slice up your pineapple and get ready for an epic watch party right here with me.