Ric Flair, Tommy Dreamer & More Dark Sides of the Ring (Opinion)
If you ever needed an example of why docuseries such as Evan Husney & Jason Eisener's Dark Side of the Ring are important, you need to look no further than this week's episode "The Plane Ride From Hell." Already considered a dark time in the history of professional wrestling, the 2002 private flight back to the U.S. from the now WWE's European Tour saw a number of wrestlers onboard getting more and more intoxicated as the plane remained grounded for several hours following severe weather conditions. Once in the air, the "urban legend" about the incident tended to only revolve around the drinking, Brock Lesnar & Curt Hennig getting into a "play fight" (???) near the emergency door, and examples like that to paint an almost "boys will be boys" spin on things. Thankfully, Husney & Eisener had a chance to speak with flight attendant Heidi Doyle. And words can't express how brave Doyle was to speak on camera about the incident. Because what you didn't hear mentioned about the incident over the past 19 years or so are is what Doyle alleges she was forced to endure during the flight- from Scott Hall reportedly attempting to lick her to Ric Flair allegedly exposed himself to her and making her touch his genitals.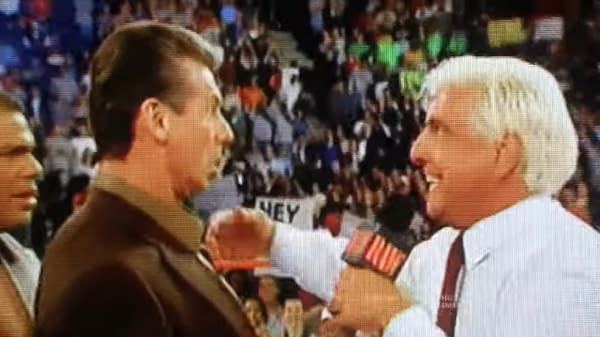 "I was in the galley… Ric Flair was naked in a cape only, and then he decided to come back to the galley to get a coke, and then he wouldn't leave the galley. He had me up against the back door, and I couldn't move," Doyle related during the hour. "I couldn't get away from him… I couldn't… I couldn't move. He was spinning around his penis and he wanted me to touch it. He took my hand and put it on him."
It should be noted (as it was by the producers) that Flair has denied the allegations and that a settlement was reached at the time between Doyle and the professional wrestling company. On a recent edition of Renee Paquette's Oral Sessions podcast, Flair appeared to be coming across more as the victim when asked about the incident and the then-upcoming docuseries episode on it. "God, I've heard about it too. Just when things are going good for me," Flair responded. But he also appeared to be putting the word out there that "if the heat falls" on him, he's ready to bring some folks down with him. "We'll see how it plays out because I was there and I don't care whose name I gotta drop if the heat falls on me. I know who was where and what and who and what took place. I know the whole story."
One person who apparently doesn't have to worry about Flair, it's current IMPACT Wrestling wrestler Tommy Dreamer. Over the course of the episode, Dreamer attempted to downplay Doyle's allegations with the "he's the 'Nature Boy' for a reason" defense. In an example of someone clearly not understanding the line between reality and the character you play in the ring, Dreamer appeared to use Flair's body as some type of defense: "He could move his hips, twirl it and so his well-endowed penis spins around like a helicopter. So, hey, he's the 'Nature Boy' for a reason, he's got a hammer on him." Dreamer continued by shifting to the "everybody's going to laugh" defense: "Ric Flair's not going to try to impose by force any sexual stuff onto anybody. He's just flaunting, styling and profiling, doing the Ric Flair stuff where everybody's going to laugh about it. But obviously, someone took offense to it." As for Doyle settling the matter with the WWE at the time instead of risking the matter going public and ruining Doyle's life, Dreamer seemed to imply that Doyle's motivation was money: "If that's how she felt, maybe she should have not taken a payout and went to the fullest extend of the law to then truly put this heinous person in jail. My opinion."
As for why Hennig and Hall were both fired and Flair was allowed to keep rolling with his career, AEW commentator (and the WWE's head of talent relations back during the incident) Jim Ross was blunt and honest with his response. "I guess, for lack of a better term, he was a made man. He got a pass. Was it the right thing to do? I dunno. You're listening to it, folks, you decided. He got a pass." But should folks still keep getting a pass? While I respect Ross for being willing to speak on the record, he was in a position at the time to take a much more direct hand in what was happening. And what about the other WWE officials aboard the plane who appear to have had "no idea" what was going on? We're talking about some names that are still active today.
Sadly, time will be the excuse used to wipe clean the new and disturbing details that were learned. So nothing will happen because "times were different." For Flair, there will always be more than enough "star-f***ers" out there who will support him no matter what as long as he has a brain cell left to let out a "Whooooo!". The best thing there? Flair should be persona non grata with AEW and any other self-respecting wrestling company (key phrase "self-respecting"), and as for Dreamer? Accelerate his slide down the IMPACT ladder by putting over some younger faces before cutting him. Because folks need to still pay for this. Because Heidi Doyle and the crew deserve an apology and their pound of flesh- whether it was nine days ago or nineteen years ago. And yet? I can't shake this feeling we'll have moved on to who's joining what company by the end of the day, like none of it mattered. Prove me wrong, Vince & Tony.