As Bleeding Cool's resident Riverdale expert Adriel continues making the world a better place – and getting her brain exactly where it needs to be for another week's worth of reviewing – we thought now would be as good a time as any to offer up the promo and preview image (!?!) for this week's "Chapter Sixty-Three: Hereditary".
Speaking of… we're definitely on "Team Adriel" when it comes to her Sabrina crossover theory (more on that below), because it really is looking like all roads lead…
Wait… did the writers really name the dude trying to be a bad influence on neighborhood kids "Dodger"? So we don't even shoot for "subtle" with our literary metaphors? Wow…
"Riverdale" season 4, episode 6 "Chapter Sixty-Three: Hereditary": UNEXPECTED VISITORS — As Archie (KJ Apa) struggles to keep the neighborhood kids away from Dodger's (guest star Juan Riedinger) influence, he turns to an unexpected ally for help. Jughead (Cole Sprouse) uncovers a mystery surrounding the author of the Baxter Brothers books, while Betty (Lili Reinhart) confronts Charles (guest star Wyatt Nash) about his past.

Finally, Veronica (Camila Mendes) deals with a major shake-up at home, and Cheryl (Madelaine Petsch) and Toni (Vanessa Morgan) get some unexpected visitors at Thistlehouse. Marisol Nichols, Madchen Amick, Mark Consuelos, Casey Cott, Skeet Ulrich and Charles Melton also star. Gabriel Correa directed the episode written by James DeWille.

Now we know what you're thinking:
"Thanks for the promo, Ray – and we don't understand why The CW gets rid of their promo videos on YouTube, either. They act like they have an expiration date or something. Hell, we can find AMC behind-the-scenes videos from the fourth season of The Walking Dead – but that's besides the point. Now let's get to those sweet, sweet promo images!"
Did you say "preview images"? Well, here they are!
Or more like, "here it is"… we don't know, either: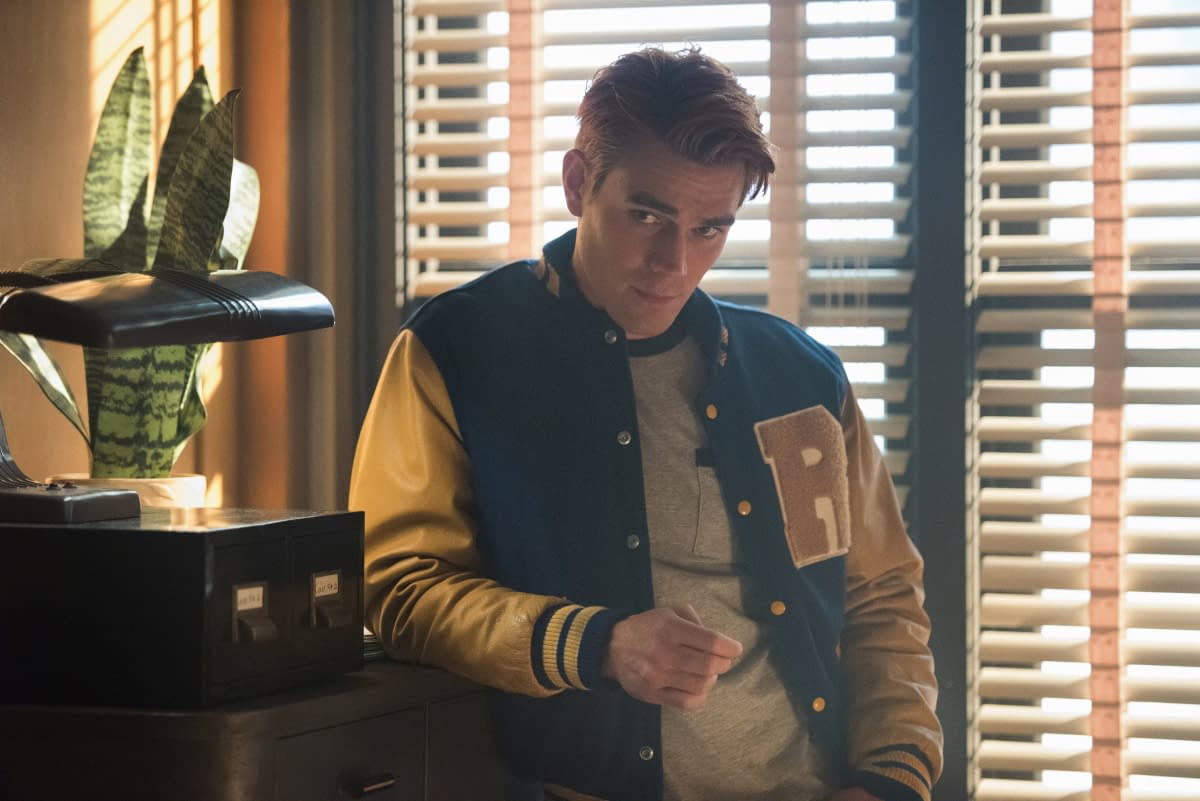 This year's New York Comic Con (NYCC) proved to be an eventful one for Riverdale – with special announcements, casting news, and exclusive footage – as well as the cast and executive producer Roberto Aguirre-Sacasa having fun discussing the past season's wild ride of storylines while teasing what fans can expect when Riverdale returns for a fourth season.
Two of the more jucier takeaways from the panel should catch the interest of both Twin Peaks and Chilling Adventures of Sabrina fans:
● While it doesn't appear there will be a direct Riverdale/CAOS crossover this season, Aguirre-Sacasa revealed that the show is "seeding hints left and right" and that fans will "see more of them this year."
● As for the beloved David Lynch series, Aguirre-Sacasa would like to see Riverdale pay its respects: "One of our big influences is 'Twin Peaks'. One thing we're talking about is doing a David Lynchian episode."
Without missing a beat, Mädchen Amick (Twin Peaks' Shelly Johnson) asked the only question that needed to be asked at that point: "Can I direct that one?".

● Kerr Smith (The Fosters, Life Unexpected) has been cast in a recurring role as new Riverdale High principal Mr. Honey – appearing in the second episode of season four, "Chapter Fifty-Nine: Fast Times at Riverdale High." Mr. Honey is a bit of a hard-ass who takes a harder line with the students this year, especially with the seniors.
● Sam Witwer (Supergirl) has been cast in the recurring role of Mr. Chipping. Handsome, bookish, and cool, Mr. Chipping teaches creative writing at a prestigious prep school near Riverdale. He recruits Jughead (Cole Sprouse) for his seminar – and while he's eminently inspiring to his students, there's a darkness hidden far beneath the surface.
Enjoyed this article? Share it!