Back in October, WWE Superstar Roman Reigns announced that his Leukemia had returned and he would take a leave of absence from WWE to fight it, relinquishing his hard-won WWE Universal Championship in the process. Tonight, Reigns returned to WWE Monday Night Raw to give fans his first update since departing back in October.
Was it to announce his return?
The show opened with a video package reliving Reigns' announcement from October 22nd set to dramatic music. "My real name is Joe, and I've been living with Leukemia for 11 years," Reigns said that day. "And unfortunately it's back."
Once the video package ended, Reigns' music hit and the crowd roared in approval, the first time that's happened since Reigns was a member of the Shield during their original run. Reigns walked out looking to be in great shape and maybe a little emotional due to the enthusiastic reception. After slapping hands and exchanging hugs with audience and family members up and down the entrance ramp and around the ringside area, as the crowd chanted "Roman," Reigns walked up the stairs, paused to soak in the crowd and look at the WrestleMania sign, and then entered the ring. The crowd chanted, "Welcome back!"
#TheBigDog @WWERomanReigns is ALL SMILES as he greets the @WWEUniverse once again! #RAW pic.twitter.com/TA6SZXFWvB

— WWE Universe (@WWEUniverse) February 26, 2019
"I'm probably gonna say this a lot, but I'm gonna start off by saying thank you," Reigns said. "I miss y'all. I'm serious. I missed y'all. There is no other job like this. There's no other fanbase like you guys."
Reigns paused to choke back tears as the crowd chanted "this us your yard," a 180 degree turnaround from the night after Reigns defeated the Undertaker at WrestleMania.
"I'm ad-libbing a little bit here," Reigns continued. "I used to say this is my yard, but this is our yard. And I said this before. I'm a man of faith. I've always believed in God and believed that he's favored me and looked out for me, but I'm not gonna lie, before my announcement in October, I was terrified. I was scared. I was insecure and I didn't really know if I wanted to share that secret with the world."
The crowd booed, oddly, and then chanted "Roman."
"I was scared to tell everybody because I didn't know how you'd react," he said. "By the time I got home, the outreach, between people texting me, calling me, tweeting me, Instagramming me, facebooking me… If there was a way to get to me, y'all figured out how to do it. The amount of thoughts, blessing, and prayers that you sent my way was completely overwhelming and god sent. Thank you very much.
"It wasn't just WWE fans. It was everyone. It felt like people who liked me, people who didn't like me, everyone was at my aid. Everyone was surrounding me with their love and support. I'm telling you, so many people prayed for me, God's voicemail was full. To the max. I truly believe he was in his head thinking, man, what is going on down there? All for this one guy? All those people? That was the magnitude. That was how strong it was to be surrounded by y'all's love and y'all's grace
"And to be able to feel all that, the strength that you gave me, I can do anything like that. I can do anything with that type of strength and love. And that overwhelming support that you gave, it me gave me strength, it gave me new life, it gave me a new opportunity, and it gave me a new purpose. You see, here in WWE, a lot of your purpose as a young superstar is to win titles and climb that mountain to achieve the top and put your flag in. And that's still important, but to me, the only thing that's important is that I have the ability to step foot in this ring every single night.
"And if I can do that, I'm gonna use this platform, this giant WWE platform that is global and the whole world can see, and I'm gonna use it to raise awareness and I'm gonna use it to support those who are in need just like I was."
The crowd chanted some more.
"Well, we advertised it as an update, so, should we get to the update?" Reigns asked.
The crowd chanted "Yes!"
"So when I made my announcement, I said that I was gonna swing for the fences," Reigns said. "We did better than that, y'all. We didn't just swing for the fences, man, we hit a home run. So when I tell you this, I am so grateful, I am so humbled, and I'm so honored to announce this.
"We'll get to that later," Reigns said in response to an indecipherable chant from the crowd. "We've got to walk before we can run."
"The good news is, I'm in remission all."
"The good news is, I'm in REMISSION…THE BIG DOG IS BACK!"

Officially… WELCOME BACK, @WWERomanReigns! #RAW #RomanReigns pic.twitter.com/MENeYPRjZI

— WWE (@WWE) February 26, 2019
The crowd cheered wildly.
"So with that being said, The Big Dog is back!" Reigns confirmed as the crowd barked. "And just one last time…"
The crowd interrupted to chant, "welcome back!"
"So before I go… I'm'a say it probably a whole bunch more times, but I'm'a say it one last time," he concluded. "Thank you so much, y'all. I love y'all."
As Reigns left, Seth Rollins' music hit, and Rollins took to the stage to stand side-by-side with Reigns as the show went to commercial.
So there it is. Reigns is cancer free and back. Which is great.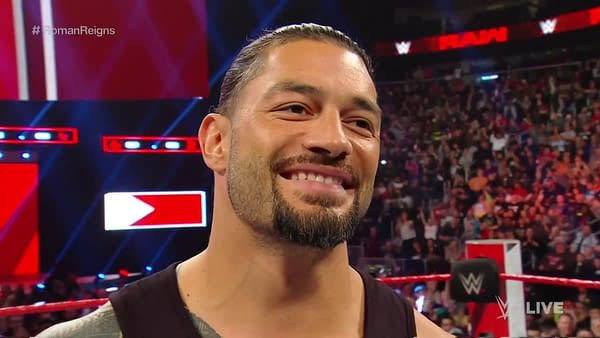 Now, with that out of the way… what does this mean for WrestleMania?
REUNITED AT LAST.#RAW @WWERomanReigns @WWERollins pic.twitter.com/75JGCTMBkG

— WWE (@WWE) February 26, 2019
Enjoyed this article? Share it!