RuPaul's Drag Race Season 11 Quaran-Stream Rewatch: Bigger, Not Better
I know it's been a hot minute, but honey, we are back and watching RuPaul's Drag Race! Now, we did skip a few seasons, but honestly, seasons 7 – 10 are a little hard to come by as they're not on a streaming service. But regardless, we're back covering all the drama, sequins, sass, and shade. Oh, the shade of it all! These ladies are a little shady, but they make up for that with a lot of personality.
Speaking of biiiiiggggg personalities, Silky Nutmeg Ganache has just about the biggest everything this season – especially annoying factor. Right out of the gate, she makes it known that she doesn't so much want to be America's next drag superstar as she wants to be famous; she wants her own spin-off show, her own line of products, and to be a household name. Yawn – I get it's reality TV but come on casting directors, can you please pick someone who is less grating? Silky is so obsessed with being a big personality that she doesn't really put in the work the competition demands…and yet, she still stays in it all the way to the finale stage.
On the other end of the personality spectrum, we have Miss Congeniality, Nina West. She's affable, kind, and wholly charming. We'll forgive the fact she's from Ohio – that's how charming she is. I was also taken with quite a number of queens this season – Plastique Tiara, Shuga Cain, and of course, one of my top queens this season, Vanessa Vanjie Mateo. Can we just ki-ki for a second about how she was absolutely robbed of a spot in the finals? Silky should have gone home long before that disastrous makeover she gave Soju, and at very least, Vanessa should have won that lip-sync. Yes, I will be salty about that for at least the next five minutes.
But, it all came down to the final two, and honestly, I wouldn't have been mad either way the final lip sync turned out. Shout out to my local queen Brooke Lynn Hytes – she's serving distinguished, polished queen vibes at all times, and I am here for it. Being raised in the ballet and dance world, I totally get her frustration with the judges telling her she's too polished and perfect; ballet prides itself on being a very structured art form, and when you're so defined by that, it can be hard to make things "messy". But Brooke Lynn brings class to the competition right up to the end, though sadly not to the title.
The title of "America's Next Drag Superstar" this season belongs to Yvie Oddly. Honestly, it was down to two complete opposites: a polished, pristine queen and an oddball who revels in her weird-ness. Yvie gave me flashbacks to season 3 winner Raja, and it's fantastic. She took zero guff from anyone and showed them all up by being herself and embracing her own style. Ultimately, I think that's what swayed the competition in her favor; RuPaul seems to favor the queens who know what they're about and are settled in their own subversive style.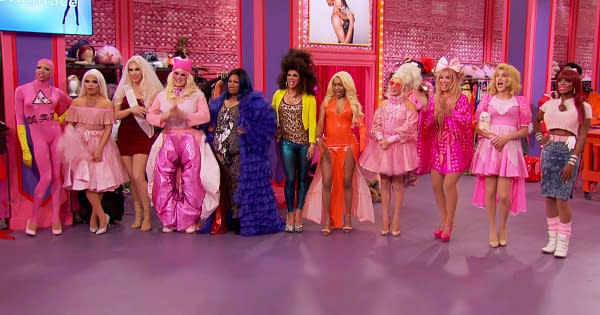 Now, I'm going to make an apple pie and get ready for season 12 – it's America themed, and it all just makes me want a hot dog real bad. Don't forget to drink water, tip your queens, and of course, come back here for my opinions on all things Drag Race. Gentlemen, start your engines, and may the best woman win.